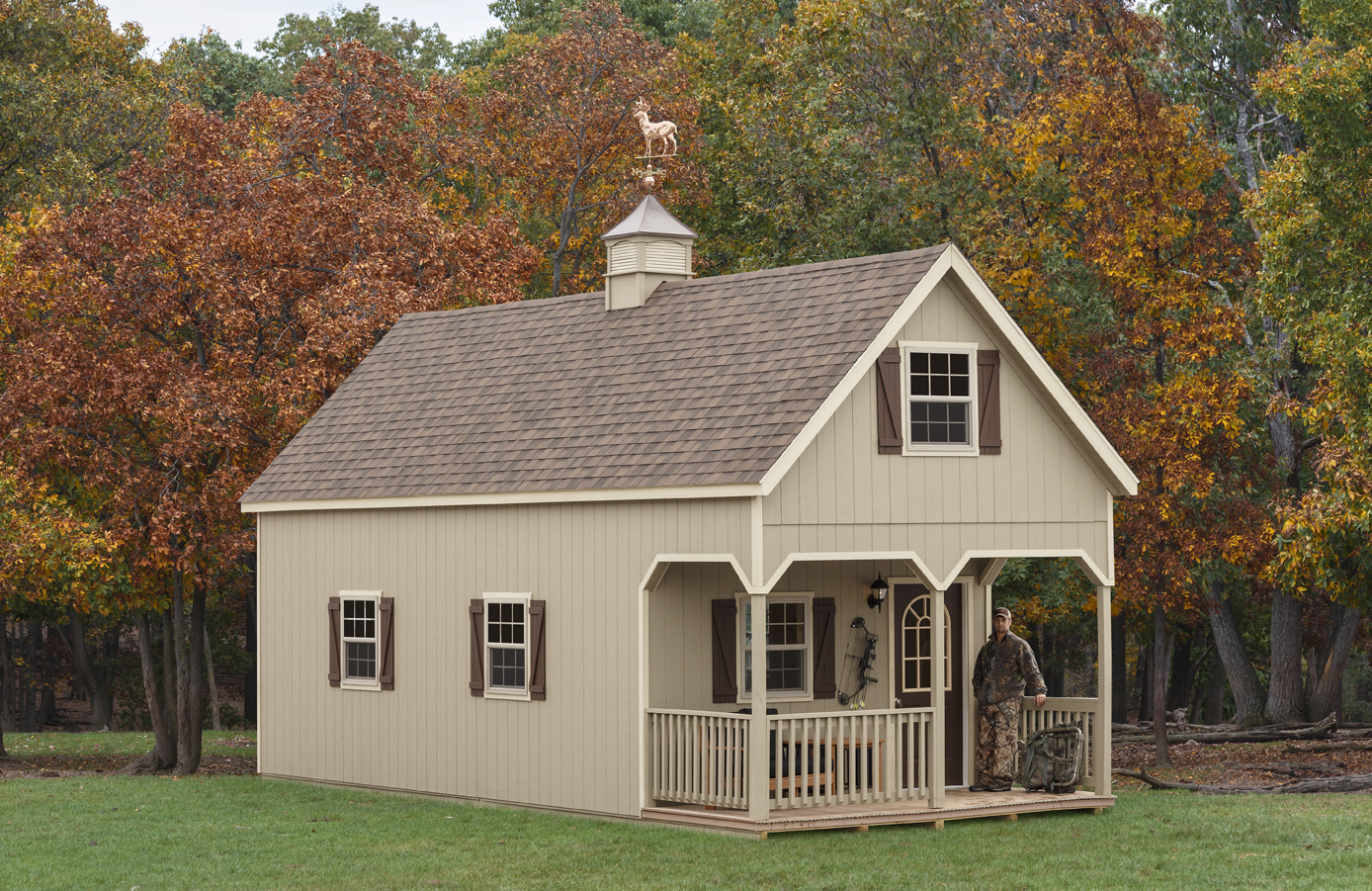 Cabin Retreats
Stoltzfus Structures' Amish-built cabin retreat is a perfect place to get away for the weekend, a place to get away from the fast pace life and just enjoy the beauty of God's creation. What's better than to cuddle up by a roaring fire, soak in a hot tub, or sit out on your porch and watch the wildlife in a cabin.
Why A Cabin Retreat??
Cabin Retreat might not sound like your dream home, but you would be surprised at how many people dream of one day having a cabin retreat. Our Amish hunting cabin retreats are designed to bring family and friends together to share stories, lots of good laughs, and memories.
Our deer camp is all about having fun. We have a blast and if we are lucky we'll shoot a couple of bucks too. We all have fun, shoot the bull, and enjoy every minute in our Amish built cabins as well as out in the woods.
NOTE: The cabin retreat is not meant to be a permitted house but is intended to be a backwoods cabin where no permits are needed. We do not install plumbing, bathrooms or kitchens.
AMISH-BUILT CABIN RETREAT STANDARD FEATURES
5- 4×4 Pressure Treated Foundation Skids
2×4 Floor Joist 12 OC
Insulated Floor
3/4″ T&G Smart Finish Wood Flooring
2×4 Wall Studs 16″ OC
10′ Side Walls
(8′ First Floor Height)
½" LP Smartside Siding Finishes the Exterior OR

Optional (Cedar Creek Vinyl Siding w/ ½" Wood Sheating) OR
Optional (Painted Smart Side LP Lap Siding)

1-11-lite House Door
4-30×36 Insulated Windows w/ Screen and Shutters
Stairway to 2nd Floor w/Rail
Frame in Area Around Stairs and Install Insulated House Door
and Interior Door for Storage under Stairs
Ridge Vent and Vented Soffit
Insulated Walls And Ceiling on First Floor only
Finish Interior with Pine T&G Clearcoated Boards
6′ Porch with Wood Railing
Second Floor

2 X 6 Floor Joist 16″ OC (On 12′ Wide Buildings)
2 X 8 Floor Joist 16″ OC (On 14′ Wide Buildings)
5/8″ Smart Finish Wood Flooring

2×6 Rafters 24″ OC
12:12 Roof Pitch
8″ Overhang on Gables
Painted MiraTec trim one Eves and Soffits (On Wood Buildings)
2-30×36 Insulated Windows w/Screens and shutters
15 Lb Tar Paper
30 Year Architectural Shingles
Electrical Package Including:

100 Amp Breaker Box
5- Outlets (Downstairs)
4- Outlets (Upstairs)
1- Outside Outlet
2- Fan/ Light Combos
2- Bulb Lights (Upstairs)
1- Outside House Door Light
3-Switches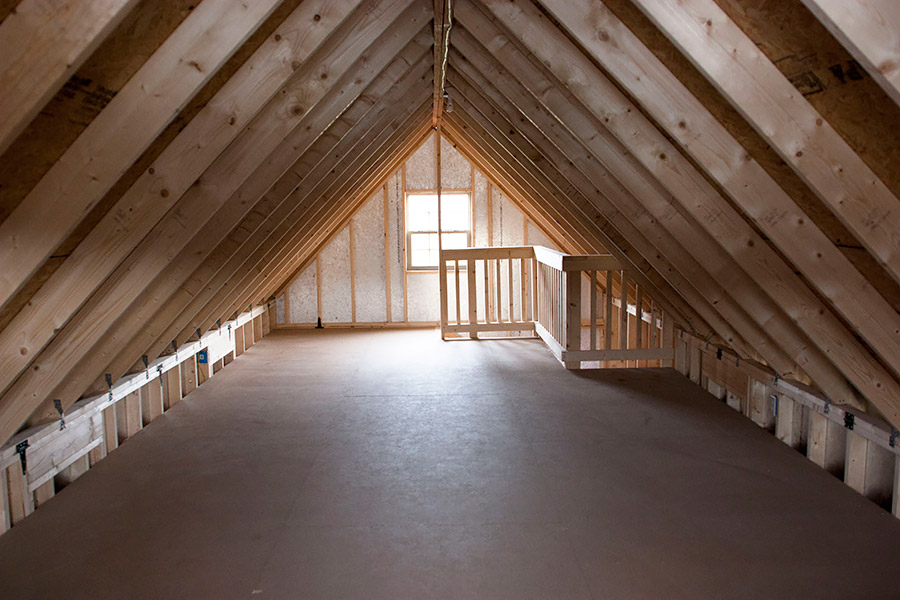 The Upstairs does not come finished, it would be great experience for a group of guys to finish it out on their own and to save some money on the project, you could make your own custom bedroom, but we can give you a quote on how much it would be for us to finish the upstairs for you. Feel free to ask our experts any questions about our cabin hunting plans!
CABIN RETREAT PRICES
| | | | |
| --- | --- | --- | --- |
| Size | Wood | Vinyl | Lap |
| 12 x 24 |  $       20,915 |  $     23,245 |  $     24,995 |
| 12 x 28 |  $       23,003 |  $     25,555 |  $     27,470 |
| 12 x 32 |  $       25,086 |  $     27,855 |  $     29,935 |
| 12 x 36 |  $       27,170 |  $     30,160 |  $     32,400 |
| 12 x 40 |  $       29,177 |  $     32,370 |  $     34,765 |
| 14 x 24 |  $       23,805 |  $     26,535 |  $     28,580 |
| 14 x 28 |  $       26,355 |  $     29,370 |  $     31,630 |
| 14 x 32 |  $       28,970 |  $     32,275 |  $     34,755 |
| 14 x 36 |  $       31,605 |  $     35,210 |  $     37,910 |
| 14 x 40 |  $       34,250 |  $     38,155 |  $     41,080 |
Cabin Retreat Options
Paint / Shingle Colors for Cabin Retreats
Paint Colors
Vinyl Colors
Aluminum Trim Colors
Metal Roofing Colors
Shingle Colors
Get a Quote on a Cabin Retreat