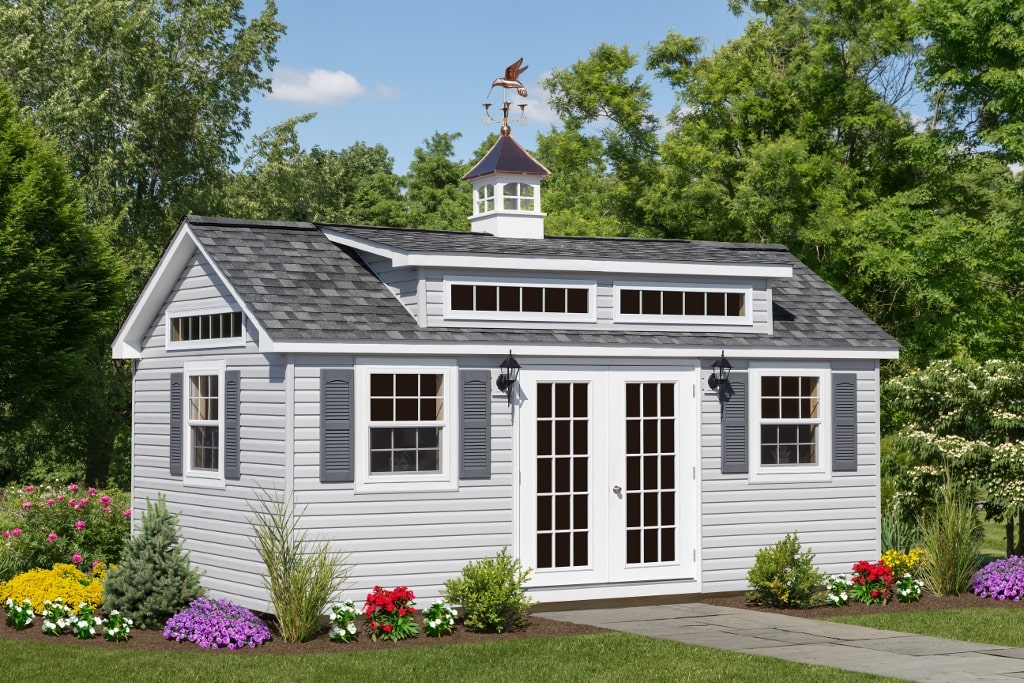 She Sheds
She needs a place to escape. She needs a regular getaway to relax after a long day at work. Finding respite at home can feel impossible. That is why she needs a She-Shed.
A She-Shed is a backyard shed that is used as a retreat of any style. She may decide to have a home office, a recreation room, a place to meet friends, a home gym or even her own private spa.
All She-Sheds come standards with insulated floors, walls, doors and ceiling for comfortable use throughout the year. Other standard features include vinyl flooring, windows with trim and shutters, electric wiring, ceiling fan, two exterior lights and two light switches.
She-Sheds can be designed from the ground up specifically with what she plans to do with the space in mind. There are multiple types and styles with a variety of customizable options. You can choose a small, 10 x 12 She-Shed that is perfect for lounging, cocktails with a few close friends or enjoying favorite hobbies. The largest size for a She-Shed is 14 x 40. This Amish-built shed provides room to combine all of one's favorite activities in one relaxing, reliable space.
Size is only one of many features that can be customized. She can choose the color of the shed. She can choose a beautiful blue, a daring red or a nature-inspired green. She may want the She-Shed to be an extension of the home. A variety of colors are available in the most popular house shades. She can also choose the color of trim and the shade and style of roof. She-Sheds are available with wood doors, fiberglass doors and house doors. She can upgrade the windows and shutters. She can even add a window box for planting her favorite herbs or flowers.
She-Sheds are available with ramps for those who need assistance. They can also include decorative features like cupolas and weathervanes. Interior floors are offered in a multitude of colors and styles. If you are interested in learning more about She-Sheds or if you have questions or would like a quote, contact the experts at Stoltzfus Structures.
It is possible that she may find that she wants an entirely different style of She-Shed than those that are standard. Any of the sheds available through Stoltzfus Structures are wonderful choices. An Elite Shed is a beautiful choice. This Amish-built she shed with electricity is offered with optional insulation and wiring. A sunroom is perfect for those who want to bask in warmth while they rest in comfort. Cabin Retreats include a second floor that can be used for storage or an even more secluded getaway. The second floor can even be used as a bedroom for those nights that she wants to be on her own.
She-Sheds are not only for women. Anyone who wants a place to getaway from it all can have an Amish-built Me-Shed. All it takes is a call to Stoltzfus Structures to learn more about your design options. You can also complete the online form to receive a free quote. There is no obligation to learn just how soon you can begin to enjoy your backyard hideaway.
View Our Virtual Tour
She Shed Standard Features
4×4 Pressure Treated Skids
Floor joists are standard 2×4's 16″ on center
Insulated Floor
5/8″ Smart Finish Wood Flooring
Vinyl Flooring
2x4s 16″ OC Wall Studs
Insulated Walls and Ceiling for Year around use
Tongue and Grove Pine Interior with Clearcoat Finish
7′ High Walls
1/2″ Painted Smartside Siding or Cedar Creek Vinyl Siding w/ 1/2″ Wood Sheathing
(1) Set of 6′ Insulated 15 Lite House Doors
3- 30″x36″ Windows w/Trim and Shutters
7 Pitch Rafters are constructed of 2x4s 16″ OC
7″ Overhangs on Gables
Transom Dormer w/ Insulated Transom Windows
(1) Insulated Transom Window in Each Gable
1/2″ OSB Roof Sheathing
30 year Architectural Shingles w/ tar paper
Ridge Vent and Vented Soffit
Electric Wiring run including: 100 Amp Breaker Box, 4 Outlets, Ceiling Fan/Light Combo, 2 exterior lights, and 2 Switches
She Shed Prices
| | | | |
| --- | --- | --- | --- |
| Size | Wood | Vinyl | |
| 10 x 12 |  $    10,230 |  $    11,010 |  $    11,470 |
| 10 x 14 |  $    10,980 |  $  11,840 |  $   12,330 |
| 10 x 16 |  $    11,700 |  $  12,620 |  $   13,150 |
| 10 x 18 | $     12,460 |  $  13,460 |  $   14,020 |
| 10 x 20 |  $  13,210 |  $  14,290 |  $   14,880 |
| 10 x 22 |  $  13,960 |  $  15,120 |  $   15,570 |
| 10 x 24 |  $  14,700 |  $  15,930 |  $   16,600 |
| 10 x 26 |  $  15,440 |  $  16,760 |  $   17,450 |
| 10 x 28 |  $  16,190 |  $  17,590 |  $   18,320 |
| 10 x 30 |  $  16,970 |  $  18,450 |  $   19,210 |
| 12 x 12 |  $  11,030 |  $  11,880 |  $   12,370 |
| 12 x 14 |  $  11,880 |  $  12,820 |  $   13,350 |
| 12 x 16 |  $  12,740 |  $  13,760 |  $   14,330 |
| 12 x 18 |  $  13,600 |  $  14,710 |  $   15,310 |
| 12 x 20 |  $  14,460 |  $  15,650 |  $   16,290 |
| 12 x 22 |  $  15,310 |  $  16,590 |  $   17,270 |
| 12 x 24 |  $  16,160 |  $  17,530 |  $   18,240 |
| 12 x 26 |  $  17,020 |  $  18,470 |  $   19,220 |
| 12 x 28 |  $  17,880 |  $  19,410 |  $   20,200 |
| 12 x 30 |  $  18,740 |  $  20,360 |  $   21,180 |
| 12 x 32 |  $  19,600 |  $  21,310 |  $   22,170 |
| 12 x 34 |  $  20,450 |  $  22,240 |  $   23,150 |
| 12 x 36 |  $  21,330 |  $  23,210 |  $   24,150 |
| 12 x 40 |  $  23,030 |  $  25,080 |  $   26,090 |
| 14 x 20 |  $  16,450 |  $  17,940 |  $   18,700 |
| 14 x 24 |  $  18,550 |  $  20,250 |  $   21,120 |
| 14 x 28 |  $  20,560 |  $  22,470 |  $   23,430 |
| 14 x 32 |  $  22,560 |  $  24,680 |  $   25,720 |
| 14 x 36 |  $  24,570 |  $  26,880 |  $   28,010 |
| 14 x 40 |  $  26,580 |  $  29,100 |  $   30,310 |
She Shed Options
Paint / Shingle Colors for She Sheds
Paint Colors
Vinyl Colors
Aluminum Trim Colors
Metal Roofing Colors
Shingle Colors
Get a Quote on a She Shed