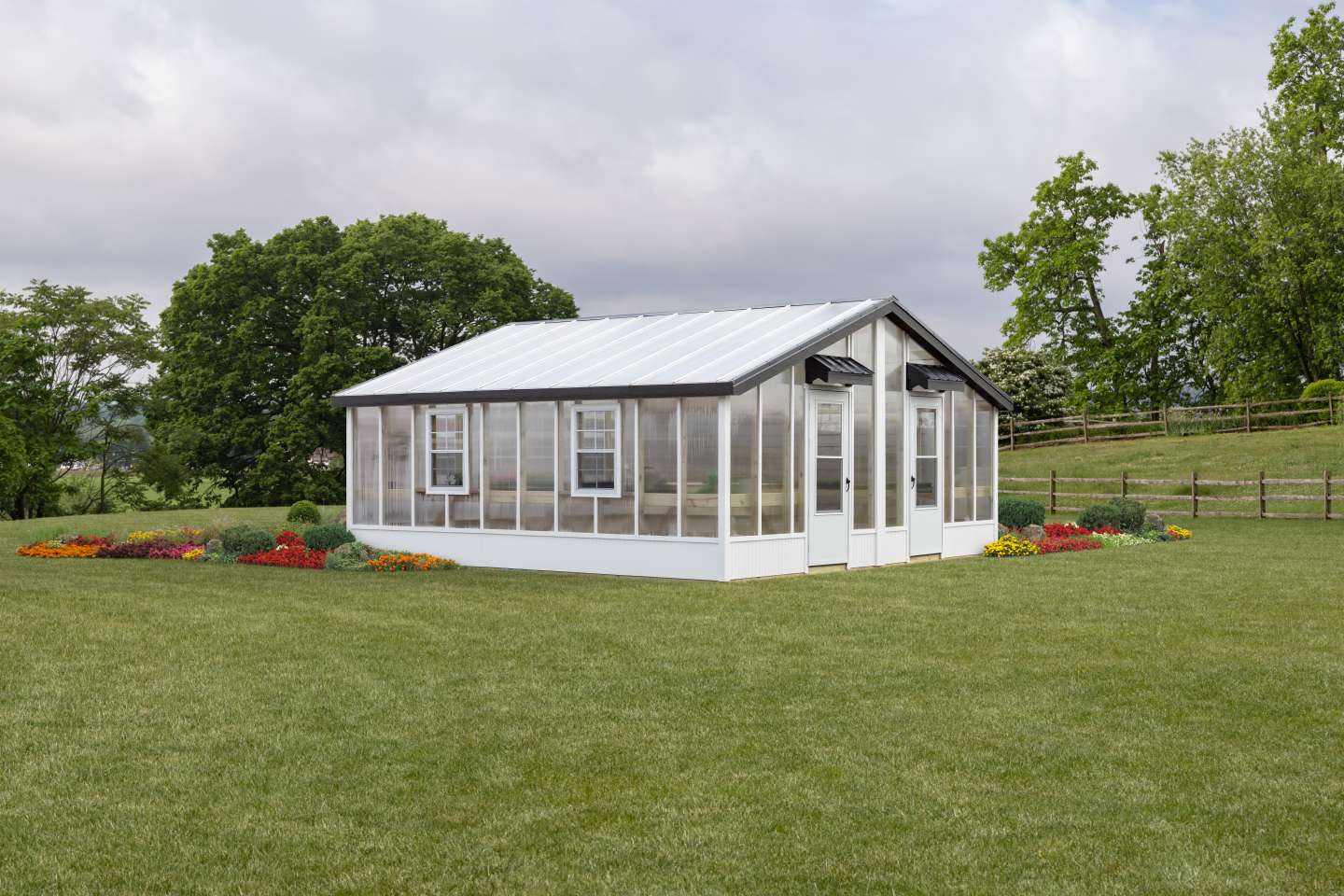 Double Wide Greenhouses
Grow your gardening enterprise in an instant with this huge double wide greenhouse option. The 24" potting shelf invites the keen gardener to amass masses of plants through the season, with its bountiful square footage. Wide open interior space can accommodate a potting bench of your own creation or space to place taller plant stock.
Aside from the spacious interior don't overlook all the special features that address the needs and wants of both the serious amateur and professional gardener such as the 2 x 16" electric exhaust fans for mechanical ventilation and easy access of two storm/screen doors.
The modern materials that comprise the exterior frame include a maintenance free vinyl composite framework set over a substantial pressure-treated 6" x 6" foundation frame.  These ensure the building will stay 'green friendly' for years to come without the need for replacement or painting.
Twin polycarbonate panels help level up temperature variances and won't be blown out or create an annoying whistle every time the wind kicks up. And talking of kicking up, damage from the kids playing football or launching a baseball nearby are not a worry. Our greenhouse designs are user friendly, inside, and out.
When it's time to grow, you know where to go! Give us a call with any questions and don't forget we offer financing to get your project going so you can start making your green right away.
COLOR: White
STANDARD FEATURES INCLUDE:
Pressure Treated 6×6 Perimeter
2 x 4 Pressure-Treated Wood Frame
Twin Wall Polycarbonate Panels
Vinyl Composite Trim
18" Beaded Wainscoting
(2) 32″ x 80″ Storm Screen Door
(4) 24" x 36" windows
24" Potting Bench around building perimeter
(2) 16" Electric Exhaust Fans
Double Wide Greenhouse Examples
Double Wide Greenhouse Pricing
| | |
| --- | --- |
| Size | |
| 18×20 | $14,610 |
| 18×24 | $17,530 |
| 20×20 | $16,235 |
| 20×24 | $19,470 |
| 20×28 | $22,720 |
| 24×20 | $19,860 |
| 24×24 | $23,375 |
| 24×28 | $27,270 |