Greenhouses
Are you new to gardening? Someone with a few growing seasons under your belt? New or experienced, a backyard greenhouse allows you to take your 'green thumb' to the next level. And, with a Stoltzfus Structures pre-built greenhouse it's easy and relatively inexpensive to do!
A greenhouse in the backyard allows you to…
Extend the growing season (maybe even year-round depending on your location).
Start seeds early and inside.
Expand your options for a wider variety of vegetables and flowers.
Stop worrying about the weather.
Protect plants from bugs, birds or pesky nibbling rabbits, squirrels and other wildlife.
Maintain correct and consistent moisture and temperature levels for bigger, healthier, and faster growing plants.
Use built-in potting benches to work with ease and comfort. No aching back or kneeling in the dirt. (*potting bench optional)
Store containers, tools, and gardening supplies in one convenient place.
Choosing Right Prebuilt Greenhouse
Choosing the right backyard greenhouse for sale is not a decision to take lightly. There are plenty of options available and many models to choose from. Large big box stores sell greenhouses. Greenhouse kits are also available online. However, neither of these is necessarily the best choice in the long run. Here's why… A Stoltzfus Structures pre-built greenhouse is the right choice for a number of reasons. First and foremost, the strength, weight, quality and durability of our raw materials ensure that a Stoltzfus greenhouse stands up to harsh wind and weather throughout the seasons year after year after year. Another advantage is that Stoltzfus prefab greenhouses are NOT kits. We deliver them fully assembled and ready for immediate use. You won't waste time fumbling around putting our backyard greenhouse together. As soon as we get it off the truck, you can dig right in and start getting your hands dirty! Let the planting begin!
Attractive, classic design in a wide range of sizes: 6' x 8' – 10′ x 16′ or larger
PREBUILT greenhouses are delivered fully-assembled and ready for immediate use – THIS IS NOT A KIT!
No special site prep required
We ship throughout the Continental United States
Available year round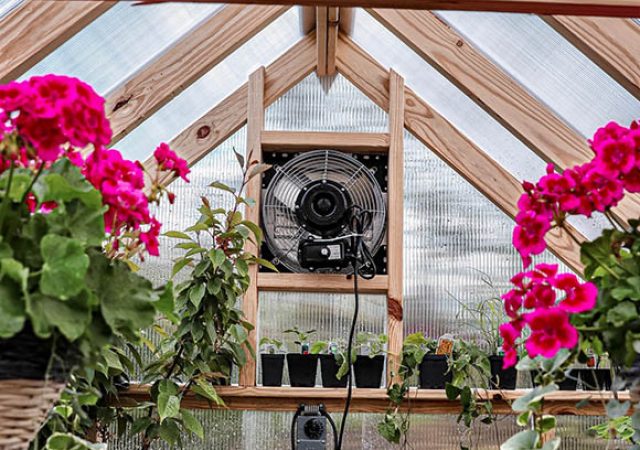 Base / Frame / Foundation
As a general rule, greenhouses are relatively light compared to their size and may blow over or suffer wind damage if not properly anchored. We're proud to say, there's nothing lightweight or flimsy about a Stoltzfus Structures greenhouse. They're heavy and sturdy incorporating a robust 4×4 pressure-treated wood foundation 'frame' that keeps the structure upright, square and solidly in place.
This extra strong foundation – or base frame – securely holds the structure together AND enables you to easily anchor it firmly to the ground for increased peace of mind.
The pressure treated wood also reduces (or eliminates) damage from dampness in the ground and insect infestations.
Siding And Framing
Stud walls and roof rafters are sturdy Southern Yellow Pine ('SYP') 2 x4s  24" o.c. construction.
Increase the capacity (… and beauty!) inside your greenhouse by adding hooks for hanging plants. The solid framing won't let you – or your plants – down!
Steeper pitch roof sheds snow efficiently
Roof and wall panels are heavy-duty 8mm twin wall polycarbonate. This UV-resistant greenhouse material is 12 times lighter than glass.
Clear polycarbonate panels make up the roof and sides of the greenhouse. They are neatly sandwiched between the interior wood framing and composite exterior trim.
The composite trim is a multi-purpose construction material made of cellular PVC. It is durable and long-lasting. It does NOT require paint for protection but holds paint well should you decide you want something other than the standard white.
Composite trim never needs maintenance. And, unlike wood, it resists mold, mildew, stains, and scratches. It's splinter-free and comes with a 30-year manufacturer's warranty.
The 8mm twin wall polycarbonate panels offer improved insulation for both hot and cold weather and are superior to fragile glass or plastic sometimes used in greenhouses. In the unlikely event these durable panels need replacement, simply unscrew the trim and put in a new panel.
View Our Watering System Option
Other Benefits Of Polycarbonate…
Will not film over after long exposure to sunlight.
Tough, practically shatterproof.
Maintains light transmission over years of use.
Hollow, twin-wall construction gives superior insulating capabilities for better heat retention
Virtually no UV penetration.
Highly flame resistant, with a flashpoint of 1,166˚F.
5-year manufacturer's warranty.
Ventilation:
32' x 80' storm door. Includes solid, clear windowpane with screen option.
Exhaust Fan on the rear gable
Our greenhouses are beautifully crafted from the ground up by Amish carpenters and include a pressure treated, 4 x 4 Southern Yellow Pine (SYP) base that will stand the test of time. All that's required is a level, well-drained area. A specially prepared site is not necessary unless you prefer that route.
The 'floor' of your greenhouse can be finished in a myriad of ways before or after delivery…
Concrete slab
Pavers, bricks
Gravel
Mulch
Your choice!
Upgrades make it even better!
Have us add a sturdy, built-in potting bench. Benches are attached to the wall creating a stable, wobble-free workspace.
Surface is a heavy-duty polypropylene panels. Durable, smooth and non-porous. Easy to clean – No splinters or rough edges – UV protective – high impact – abrasion resistant. Securely screwed onto wooden bench frame so there's no slipping or sliding around. Square holes allow water, potting soil and debris to drain right through.
Holds everything from your delicate seedlings to bags of potting soil. Will not dent or warp.
Choose 17" or 24" deep
Thermostatically controlled fan to provide automatic ventilation during hot weather. 1-year warranty included. 110v.
Fan has 3 speeds
Thermostat range: 40˚F to 110˚F
Tolerates moist conditions: water spray and high humidity
Resists corrosion