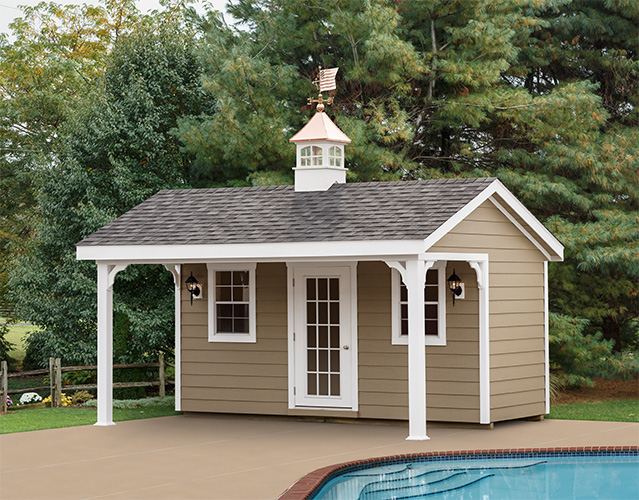 Poolside Oasis
The poolside oasis small pool house is a great way to end your long hot summer day! Just relax under the shade while your children play in the pool. Getting a backyard pool house takes a lot of time, and planning but here at Stoltzfus Structures we will walk right beside you to make sure you get the pool house that you will love for years.
Get a Quote
Poolside Oasis Pool House Features
The Royal Retreat prefab pool house and the Poolside Oasis are in the same family line, a couple of the differences are that the royal retreat has to be built on site, and it has trusses, and the poolside oasis can be delivered fully build and it comes with a finished interior and an electrical package, but we can add any options to any of our pool houses.
4 X 4 Pressure Treated Foundation Runners
2 X 4 Floorjoist 16″ OC
5/8″ Smart Finish Wood Flooring
Wood Grain Vinyl Flooring
2 X 4 Wall Studs 16″ OC
½" LP Smartside Siding Finishes the Exterior
OR
Optional (Cedar Creek Vinyl Siding w/ ½" Wood Sheating)
OR
Optional (Painted Smart Side LP Lap Siding)
36″ Fiberglass House Door with 15 Lite Glass
2 – 24″ X 36″ Windows with Screens
Trim Around Each Window
2 X 6 Rafters 16″ OC
5 Pitch Roof
7″ Overall Overhang
½" Wood Sheating on Roof
15 Lbs Tar Paper
30 Yr Architectural Shingles
Finished Interior with Beaded Plywood and Clearcoat Stain
6′ Hinged Overhang, Finished with Clearcoated Pine T&G Boards
Includes 6 X 6 Post and Victorian Braces (Floor OPTIONAL in Porch Area)
Electrical Package Including:

70 Amp Breaker Box
1 – Bulb Light
2 – Recepticles
2 – Exterior Wall Lights
2 – Switches
Poolside Oasis Pool House Examples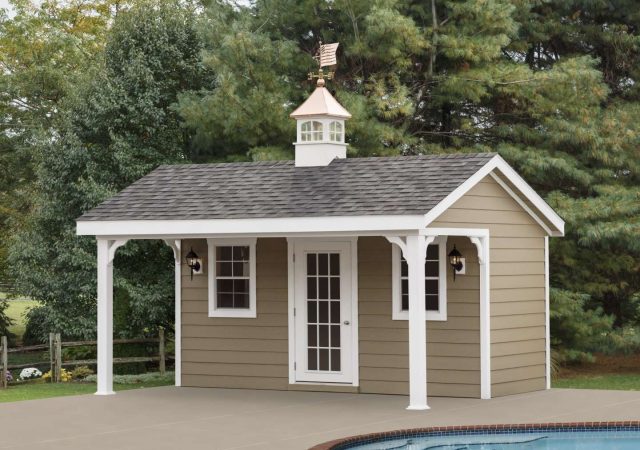 Click to Enlarge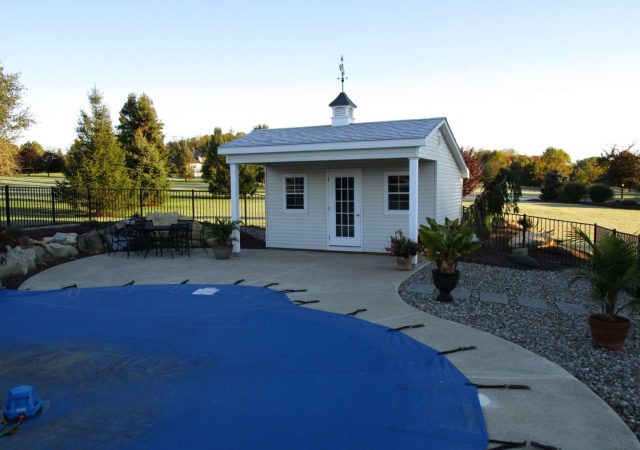 Click to Enlarge
View Additional Photos & Videos
Gallery
Poolside Oasis Pool House Prices
Prices shown are meant to be a guide and don't include delivery or custom features. Once you find your size, click "Get A Quote" and fill out the form to submit your ideas to a project manager, who will reach out to you with a full quote!
| | | | |
| --- | --- | --- | --- |
| Size | Smartside | Vinyl – LP Board & Batten | LP Lap – Pine B&B |
| 12 x 14 | $14,285 | $16,320 | $17,675 |
| 12 x 16 | $15,550 | $17,770 | $19,255 |
| 12 x 18 | $16,820 | $19,225 | $20,840 |
| 12 x 20 | $18,085 | $20,685 | $22,410 |
| 12 x 22 | $19,475 | $22,265 | $24,115 |
| 12 x 24 | $20,735 | $23,705 | $25,680 |
| 12 x 28 | $23,250 | $26,590 | $28,815 |
| 14 x 14 | $17,975 | $20,885 | $22,830 |
| 14 x 16 | $18,995 | $21,995 | $23,990 |
| 14 x 18 | $20,165 | $23,290 | $25,375 |
| 14 x 20 | $21,360 | $24,585 | $26,730 |
| 14 x 22 | $23,050 | $26,555 | $28,885 |
| 14 x 24 | $24,500 | $28,210 | $30,685 |
| 14 x 28 | $27,470 | $31,630 | $34,405 |
| 16 x 16 | $20,320 | $23,460 | $25,550 |
| 16 x 18 | $22,395 | $25,895 | $28,235 |
| 16 x 20 | $24,305 | $28,125 | $30,680 |
| 16 x 22 | $26,345 | $30,485 | $33,250 |
| 16 x 24 | $28,015 | $32,405 | $35,330 |
| 16 x 28 | $32,275 | $37,420 | $40,860 |
Poolside Oasis Pool House Options
Paint / Shingle Colors for Poolside Oasis Pool House
Paint Colors
Vinyl Colors
Aluminum Trim Colors
LP Smartside Stain Colors
Shingle Colors
Ribbed Metal Roofing Colors
Standing Seam Metal Roofing Colors
Get a Quote on an Poolside Oasis Pool House