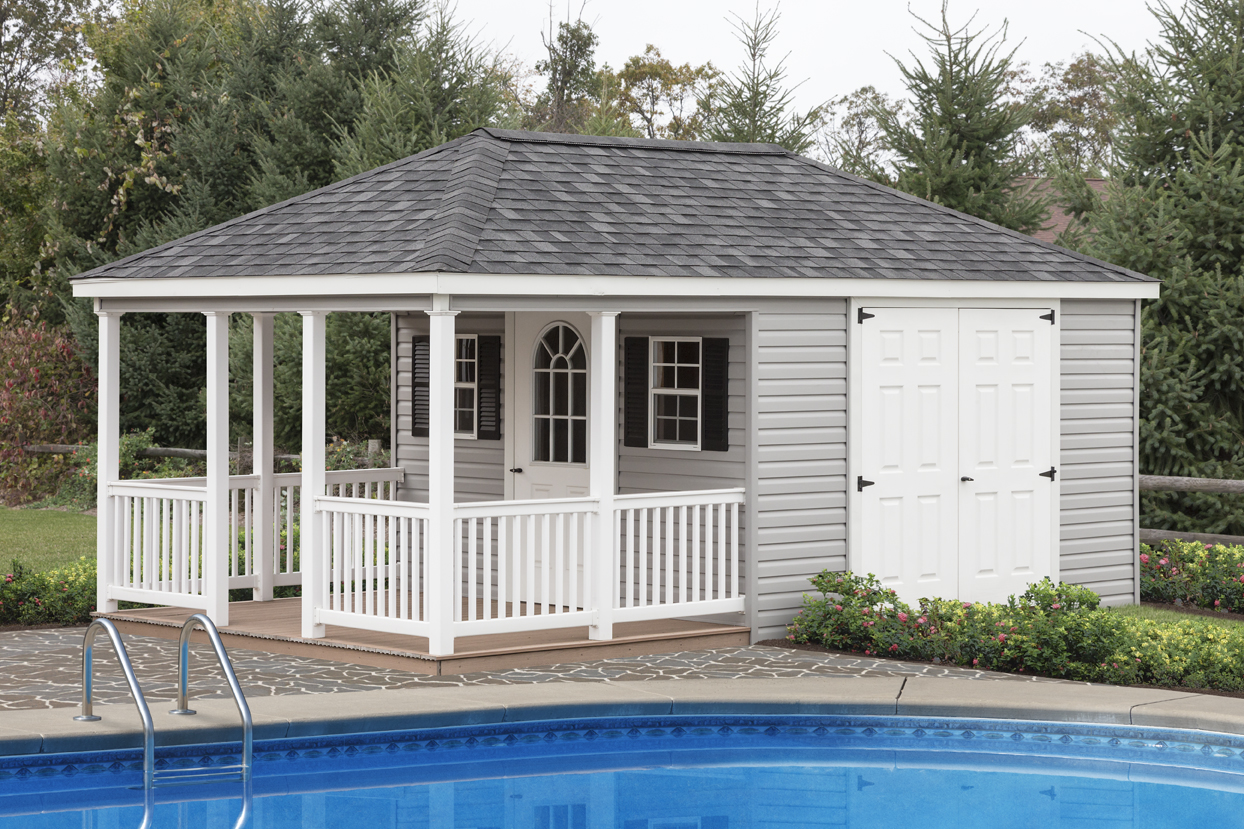 Colonial Style
Searching for colonial pool houses, or a pool house of your own design? A pool house can be a discreet spot to towel off, change and use the bathroom, your poolside bar where you entertain friends and family or just storage space for pool equipment. Either way you'll enjoy it for years.
Colonial Style Pool House Features
Here at Stoltzfus Structures, we are waiting to help you fulfill your home project. We're here to help you from this moment on, until the final nails are nailed and the drinks are being served. For more than 39 years, we've been providing people like you with pool houses in the Eastern US area. Choose from many pool house styles, sizes, and decorative options. Your choices are pretty much unlimited and your chances for getting the exact small pool house design you're looking for are near perfect!
Don't hesitate if you have any questions about our backyard pool houses, call one of our experts at Stoltzfus Structures and we will be glad to help you customize your pool house.
4 x 4 Pressure Treated Foundation Runners
2 x 4 Floorjoist 16″ OC
5/8″ Smart Finish Wood Flooring
2 x 4 Wall Studs 16″ OC
1/2″ Painted Smartside Wood Siding, LP Lap Siding over 1/2″ Wood Sheathing, or Cedar Creek Vinyl Siding with 1/2″ Wood Sheathing
(2) 18 x 27″ Sliding Windows with Shutters
Double Hinged Door w/Aluminum Floorguard
2 x 4 Rafters 16″ OC
1/2″ Wood Sheathing on Roof
Tar Paper
30 Yr Asphalt Shingles
Hip Roof Style Roof
8′ Porch with Vinyl Decking
1 Fiberglass Single Door with Arched Glass Window
Porch with Vinyl Railing and Posts (Porch is included in overall size of the building NOT added on)
Colonial Pool House Prices
| | | | |
| --- | --- | --- | --- |
| Size | Wood | Vinyl | Lap |
| 10 x 16 | $6,830 | $7,755 | $8,365 |
| 10 x 18 | $7,100 | $8,105 | $8,775 |
| 10 x 20 | $7,360 | $8,445 | $9,165 |
| 10 x 22 | $7,625 | $8,785 | $9,565 |
| 10 x 24 | $7,880 | $9,115 | $9,945 |
| 10 x 26 | $8,140 | $9,455 | $10,335 |
| 10 x 28 | $8,405 | $9,805 | $10,7035 |
| 10 x 30 | $8,685 | $10,165 | $11,155 |
| 12 x 12 | $7,150 | $8,005 | $8,565 |
| 12 x 14 | $7,435 | $8,375 | $8,995 |
| 12 x 16 | $7,720 | $8,745 | $9,425 |
| 12 x 18 | $8,005 | $9,115 | $9,855 |
| 12 x 20 | $8,290 | $9,485 | $10,275 |
| 12 x 22 | $8,580 | $9,855 | $10,715 |
| 12 x 24 | $8,860 | $10,225 | $11,135 |
| 12 x 26 | $9,145 | $10,595 | $11,565 |
| 12 x 28 | $9,430 | $10,965 | $11,985 |
| 12 x 30 | $9,715 | $11,335 | $12,415 |
| 12 x 32 | $10,010 | $11,715 | $12,855 |
| 12 x 34 | $10,290 | $12,085 | $13,275 |
| 12 x 36 | $10,590 | $12,475 | $13,725 |
| 12 x 40 | $11,150 | $13,205 | $14,565 |
| 14 x 20 | $9,810 | $11,295 | $12,275 |
| 14 x 24 | $10,560 | $12,265 | $13,405 |
| 14 x 28 | $11,245 | $13,155 | $14,435 |
| 14 x 32 | $11,920 | $14,035 | $15,445 |
| 14 x 36 | $12,595 | $14,915 | $16,455 |
| 14 x 40 | $13,275 | $15,795 | $17,475 |
Colonial Style Pool House Options
Paint / Shingle Colors for Colonial Style Pool House
Paint Colors
Vinyl Colors
Aluminum Trim Colors
Metal Roofing Colors
Shingle Colors
Get a Quote on an Colonial Style Pool House