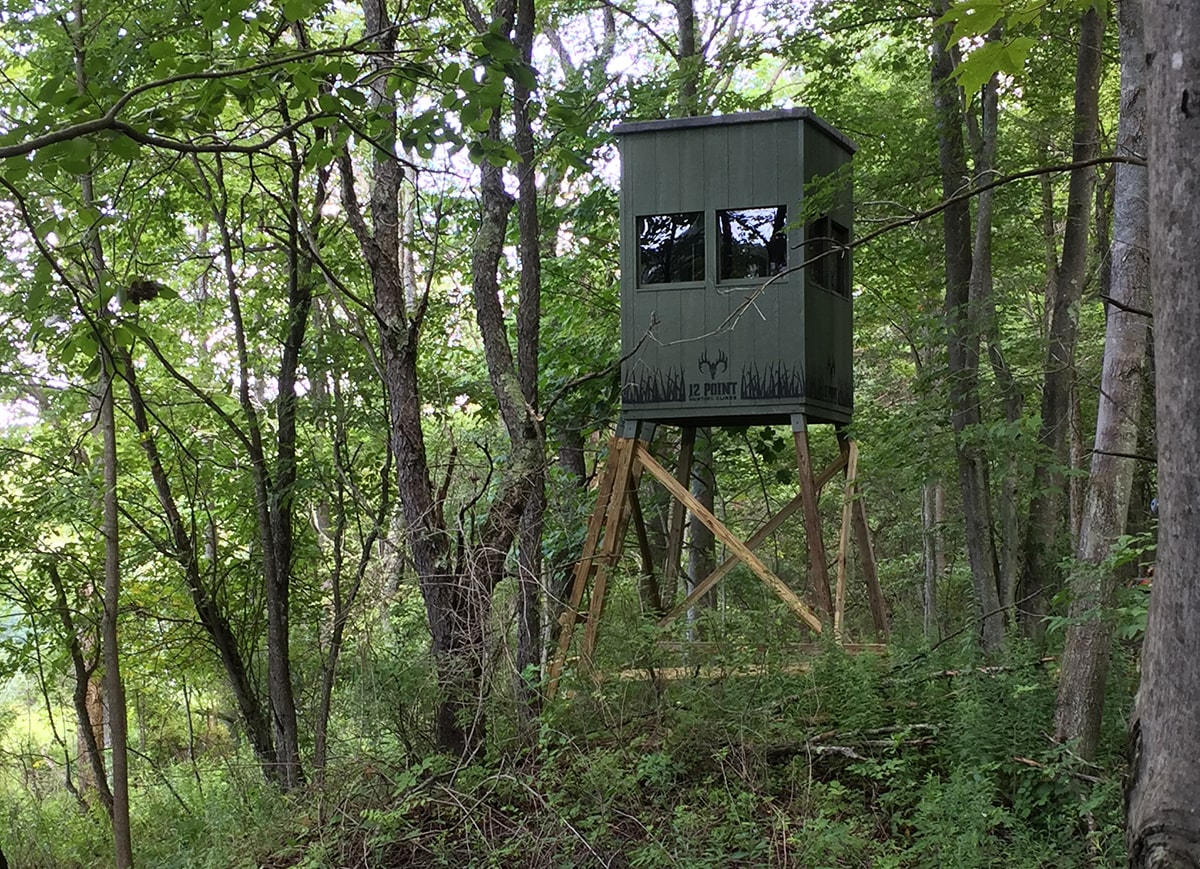 12 Point Hunting Blinds
12 point hunting blinds are perfect for those hunters who want to remain safe and hidden while hunting. Stoltzfus Structures offers four styles of hunting blinds with features and benefits that will make you wonder how you ever managed to go hunting without one.
The Big Tom is an Amish-built deer hunting blind that is perfect for turkey hunting. The 6 x 6 turkey blind rests directly on the ground so you can have the best chance at eyeing your prey without being detected. Along with other standard hunting blind features, the Big Tom comes standard with wooden fold down windows and screens that allow you to move without being seen by a wary old Tom.
Other deer blinds available through Stoltzfus Structures are the 5 x 5 Booner and the 6 x 6 Double Barrel. Both are square blinds that offer plenty of space for you and a hunting partner. The 6' Octagon is our hunting blind that gives you a circular view of your surroundings. This is a popular choice for serious hunters who want to see as much of the landscape as possible without being detected.
All Amish made hunting blinds come standard with features that increase the quality and longevity of the structure. We start with an LP SmartSide siding with a 50 year warranty which reduces the risk of mold, mildew and rot. Unlike pine and some soft wood, SmartSide siding has a composite veneer which keeps bugs from burrowing into it.
The smart floor offers the same features with a 10 year warranty. You don't need to worry about rain or snow damaging the floor and walls. All floors in deer blinds are carpeted to muffle the sound of movement and dropped objects.
Windows are tinted to keep you concealed. The windows are located on all sides of every hunting blind regardless of the style you have chosen. All windows are large enough to be used with compound bows and cross bows as well as rifles. They are weather proof and felt-lined for a quite hunting experience.
The egg foam crate on the interior offers sound suppression and insulation.
Our rubber roofed hunting blinds keep you dry and protected while quietly deflecting the falling rain.
Unlike some other hunting blinds on the market, our deer blinds come standard with 7' high walls. You won't feel cramped from crouching in a blind that you can't stand up in without hitting your head.
Each of these deer blinds for sale are made to be transportable, easy to set up and easy to take down. We know you may want to change locations at some point. You should not have to sacrifice comfort and safety by purchasing a hunting blind that must stay in one location at all times.
Call us at Stoltzfus Structures to learn more about our hunting blinds. We are happy to help you choose the one that is right for your hunting plans. You can fill out our online form or pick up the phone! What are you waiting for?
Make sure you have your new hunting blind before the next turkey or deer season rolls around.
Our Models
Click to read about each design.