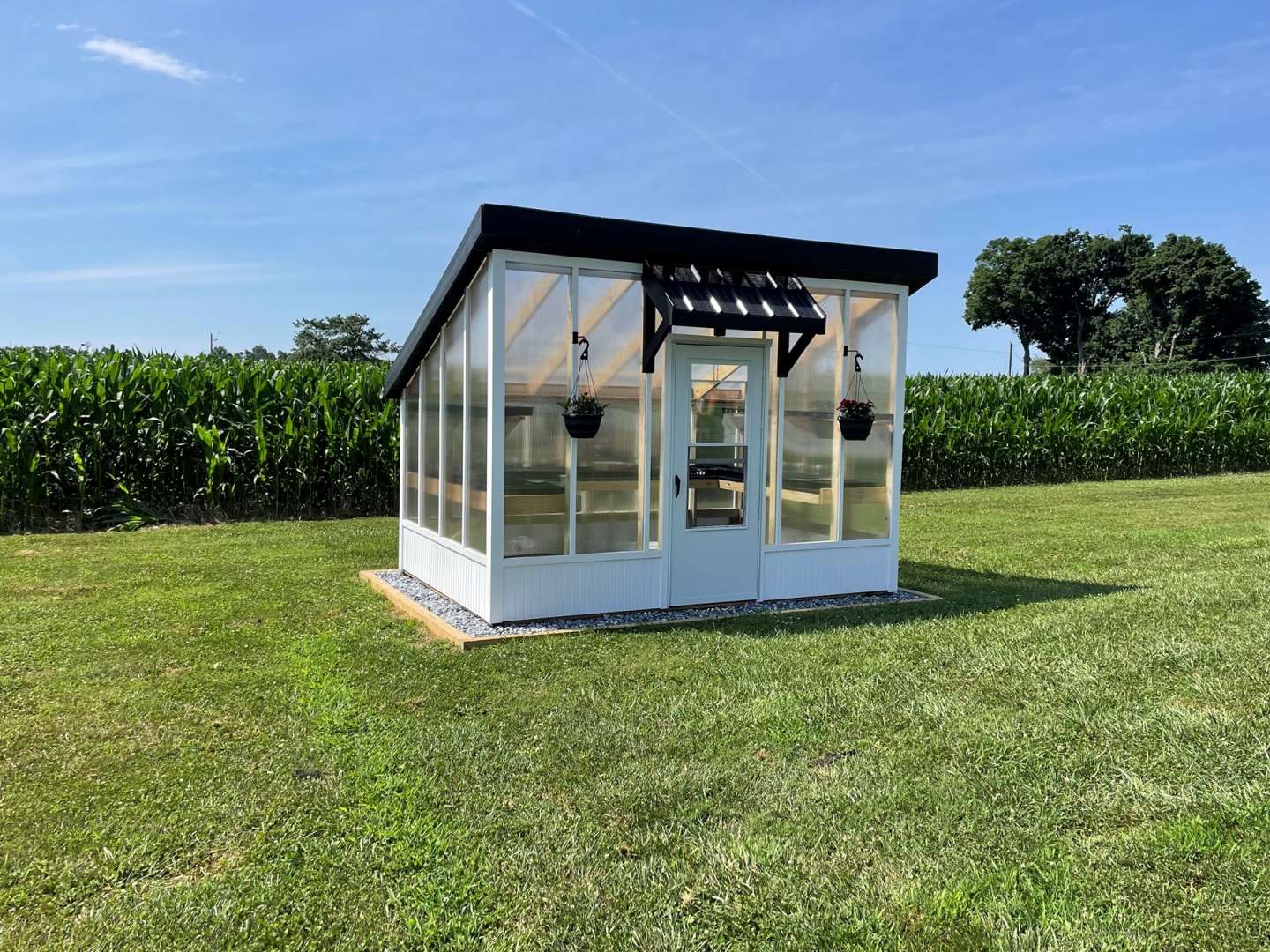 Lean to Greenhouses
There are lots of great reasons to take your love of horticulture to the next level and add a greenhouse to the garden. Our Lean-To greenhouses answer the call with their modern aesthetic and low maintenance, 'green thumb friendly' materials. Each and every greenhouse structure is crafted with care and attention by our professional Amish craftsman. Learn more about Lean-To greenhouses for sale below!
The Lean-To greenhouse structure fits easily into your garden design and available footprint while offering all the attributes you'll need for a successful greenhouse growing experience. Cultivate the best vegetables, herbs, plants, and flowers possible by protecting them from adverse weather, pests, and diseases.
Packed with all the delights a professional gardener enjoys, the Lean-To offers room to store your soil, planting pots and supplies underneath 3 robust potting benches. The efficient 16" fan will help keep the interior temperature of the greenhouse just where it needs to be, and the polycarbonate twin panels, and vinyl frame ensures you won't spend time on painting and maintenance when you could be enjoying growing and harvesting time in your greenhouse.
Modern day greenhouse design replete with every 'tool in the toolbox' that the gardener needs to be successful make the Lean-To greenhouse a budget friendly and highly functional method of making more green with your 'green thumb' gardening talents.
COLOR: White
STANDARD FEATURES INCLUDE:
2 x 4 Pressure-Treated Wood Frame
Twin Wall Polycarbonate Panels
Vinyl Composite Trim
18" Beaded Wainscoting
32″ x 80″ Storm Screen Door
24" Potting Bench on 3 sides
16" Electric Exhaust Fan
Wall Heights

8 Wide 76 1/2″ Back and 107 1/2″ Front     Roof Pitch 4 1/4 Pitch
10 Wide 76 1/2″ Back and 116 1/4″ Front    Roof Pitch 4 1/4 Pitch
12 Widw 76 1/2″ Back and 122 7/8″ Front  Roof Pitch 4 1/4 Pitch
Lean to Greenhouse Examples
Lean To Greenhouse Pricing
Lean To comes standard with Roof over door and potting benches on 3 sides.
| | |
| --- | --- |
| Size | Cost |
| 6 x 8 | $5,755 |
| 8 x 10 | $6,835 |
| 8 x 12 | $7,235 |
| 8 x 16 | $8,420 |
| 8 x 20 | $9,605 |
| 10 x 10 | $7,970 |
| 10 x 12 | $8,580 |
| 10 x 16 | $9,880 |
| 10 x 20 | $11,060 |
| 10 x 24 | $12,370 |
| 12 x 12 | $9,730 |
| 12 x 16 | $11,420 |
| 12 x 20 | $13,110 |
| 12 x 24 | $14,720 |
| 12 x 28 | $16,490 |
Options
| | |
| --- | --- |
| Size | Cost |
| Pressure Treated 2×6 Floor | $3.50 Per sq/ft |
| Additional 24" x 27" window on side | $150 |
| 12′ Flower Pot Shelf  (approx. 6" deep) | $125 |
| Electrical Package: Grow Lights on every rafter, 1 outlet and 1 switch (in PVC Conduit) up to 16′ Greenhouse. Add $240 for every 4′ after 16′ | $1,290 |
| Electrical Package: 2 outlets, 1 light and 1 switch (in PVC Conduit) | $740 |
| Water Misting System  (Greenhouse Warranty doesn't cover misting system) | $350 |
| Upgrade to Black Greenhouse: Includes Black Painted trim w/ Black Door w/ Full Glass | 8% |
View Our Watering System Option