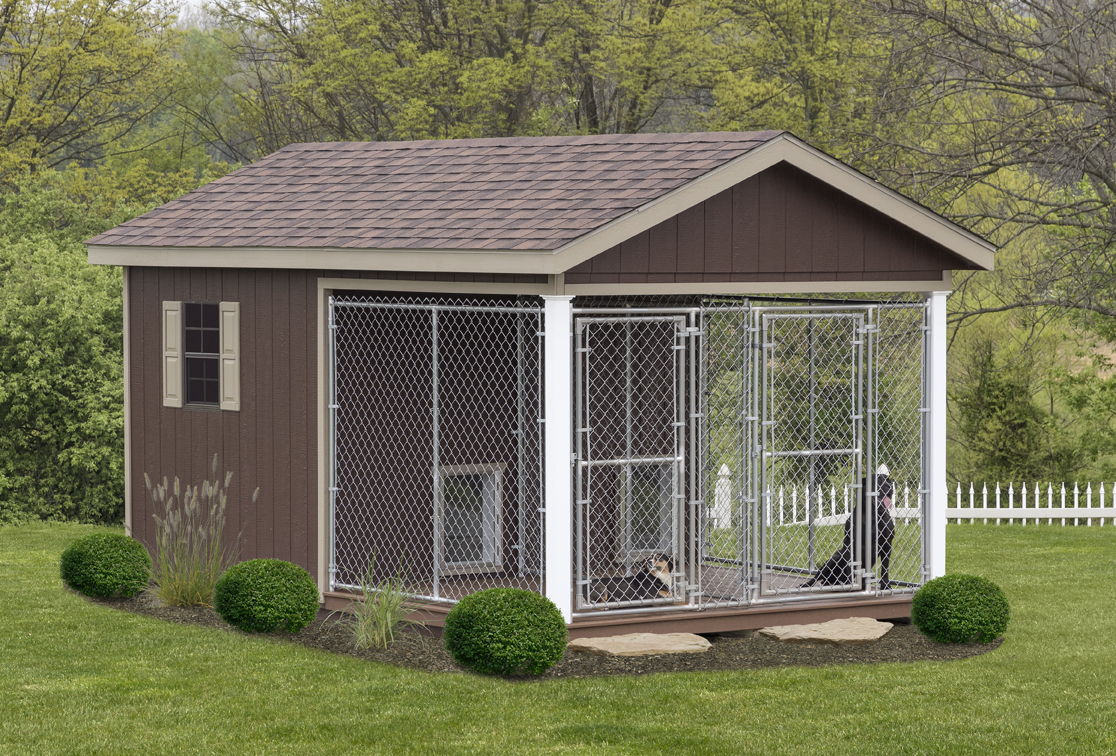 Dog Kennels
Our outdoor dog kennels provide every item a good kennel needs: an epoxy floor, an insulated box area with truss core finish to keep your dog safe and an exterior run area.
Get a Quote
The Allure of a Stoltzfus Structures Dog Kennel
Whether you want to keep your dog outdoors or let him or her roam throughout the day, a large outdoor dog kennel is a great way to keep your dog contained while still providing ample space to run around in a large outdoor dog enclosure. At Stoltzfus Structures, we make custom dog kennels for sale in four convenient sizes. Get even more outdoor space with an office shed or a she shed.
8×10 Floor Plan
8×16 Floor Plan
10×16 Floor Plan
12×24 Floor Plan
To learn more about our floor plans for our outdoor kennels for sale, contact us today.
How Big Should Your Dog Kennel Shed Be?
Several key factors should guide your decision on outdoor dog kennel sizes: how many dogs you have, the size of those dogs, and the amount of time they'll spend there. Remember, your outdoor dog kennel can't have a run area that is too big, but you can have a kennel that is too small.
Our smallest size the 4×8 is for a small to medium sized dog that spends most of the time indoors or in the yard. The 8×10 medium outdoor dog kennel provides lots of space for a larger dog or even 2 dogs that can stay together. The 8×16 or 10×16 is a great option for 2 dogs and also gives you inside access to the boxes and also allows space to store dog food and other items for your dog. The 12' x 24' is the perfect option for 6 dogs and can also be customized for 4 dogs if you want 4 boxes to allow for a bigger box and run area.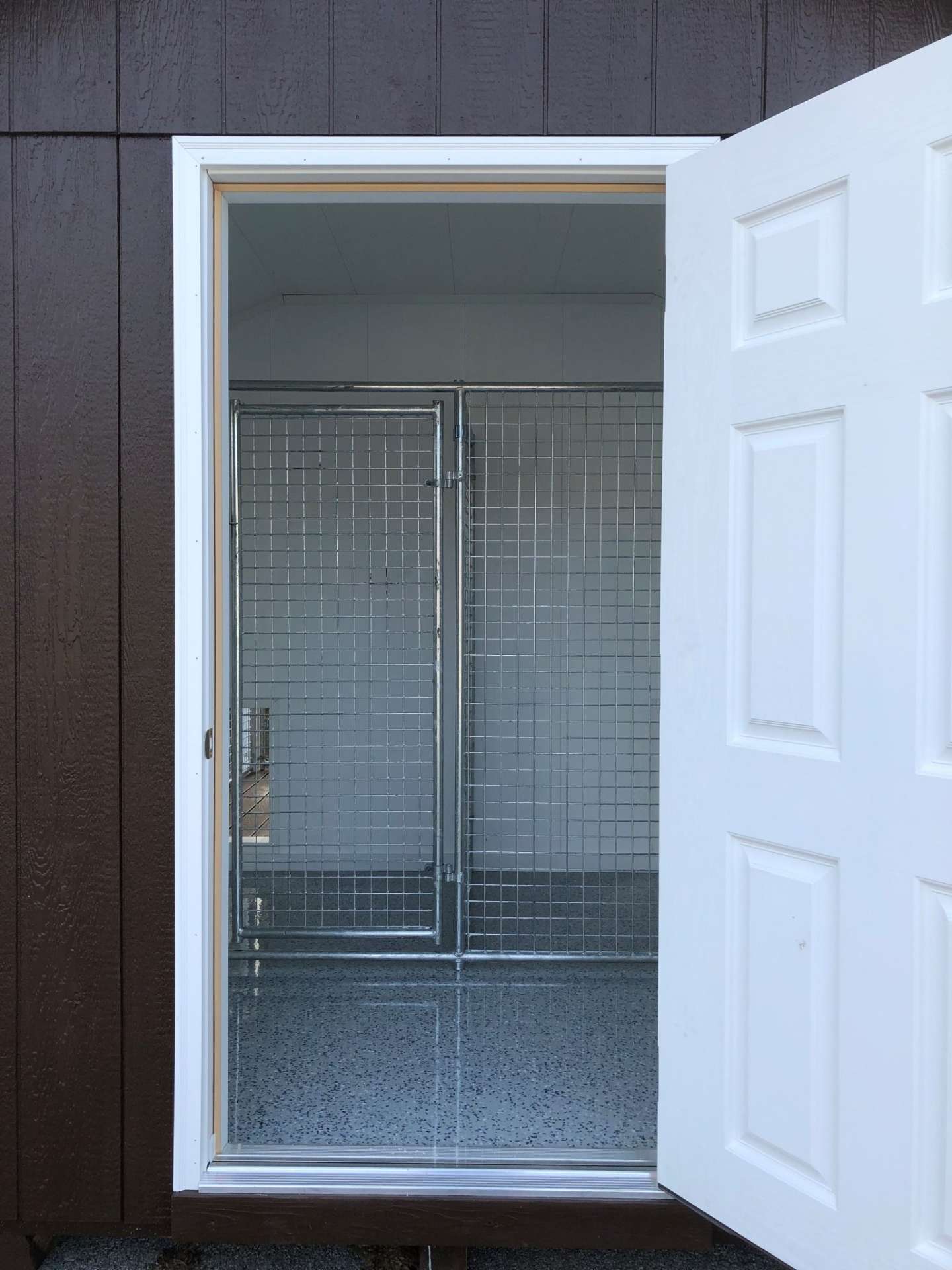 Elements of a Stoltzfus Structures Dog Kennel
All standard sizes of our dog kennels for sale come standard with epoxy floor, insulated interior that is finished with vinyl truss core paneling, insulated man door, and insulated windows. The kennels are designed to keep your pets warm throughout the winter and cool through the summer.
Our outside dog kennels come standard with an A-frame roof over the run area to provide shade so your dogs can enjoy being outside but also be in the shade.
We can upgrade the chainlink to welded wire if you have larger dogs. We can also add a PTAC Unit for heating and cooling.
Optional Add-On Features
Each kennel can be outfitted with an electric package. This feature provides a breaker, power outlet, and a light with a switch for your kennel. The power allows a variety of options not just for your dog's comfort but also for your yard as a whole.
We also offer a number of door sizes, as well as vents for the enclosed areas.
Stoltzfus Structures Dog Kennels: Functional
Chain Link Run Area w/Gate
Composite Deck/ in Run Area
Interior Insulated and Finished w/ Vinyl Truss Core
Epoxy Floor in Interior
36'' Insulated Solid House Door
24'' x 36'' Insulated Window
Chew Proof Alum. Dog Door
Shutters on Windows
30 Year Arch. Shingles
Dog Kennel Options
Colors
Paint Colors
Vinyl Colors
Aluminum Trim Colors
LP Smartside Stain Colors
Shingle Colors
Ribbed Metal Roofing Colors
Standing Seam Metal Roofing Colors
Get a Quote on a Dog Kennel