Customer Testimonials
Ranessa,
Thank you for the paid invoice for my records.
It has been my pleasure as well working with you and your company.  The delivery driver did a great job as did the site prep crew the previous day.  I'm very satisfied with my new shed and hope to enjoy it for many years to come.  The great customer service I received from you and everyone I've dealt with there is definitely appreciated.
I first learned about Stoltzfus Structures through a word of mouth recommendation and I'll surely recommend other friends and neighbors to you.  My expectations were fairly high but you managed to exceeded them and I will write a very favorable Google review.
Although I don't anticipate having any problems with the shed for the foreseeable future, I'm comforted to know that if I have concerns, I can count on great customer service.  Thank you again for providing such a positive buying experience.
Regards,
Rob
---
Hi Jason,
Everything was wonderful we absolutely love the shed, it's perfect. Everyone at your company was superb to us from the beginning right to the end. The crew that came were very professional and hard working especially in the heat. And your help with the quotes and seeing this job through from the beginning to the end was exceptional. I would definitely recommend your company to all my friends and will write a review as well. Thank you again and I will be looking forward to our next project, the garage.
Ellen Holt
---
Brittany,
When the shed was delivered our first thoughts were WOW!  The shed is more beautiful than we could have imagined.  The quality of the workmanship is Superior.  Every detail of the shed met our expectations if not exceeded them.
The time you and Chris spent with Steve and I was valuable in assisting us make good choices.  We could never have imagined it would be possible to build a customized/personalize shed.  We are super happy.
We were very pleased with the company who did the prep work for the delivery of the shed.  The men were great.  They did a great job.  Amazing how fast they were able to complete the prep work for 12X20 shed.
Steve was impressed with how one man was able to deliver the shed.  He did an outstanding job as well.
Please extend our sincere appreciation to the Stoltzfus Structures team for their commitment to "QUALITY" and customer "SATISFACTION."
Ann & Steve Viszlay
---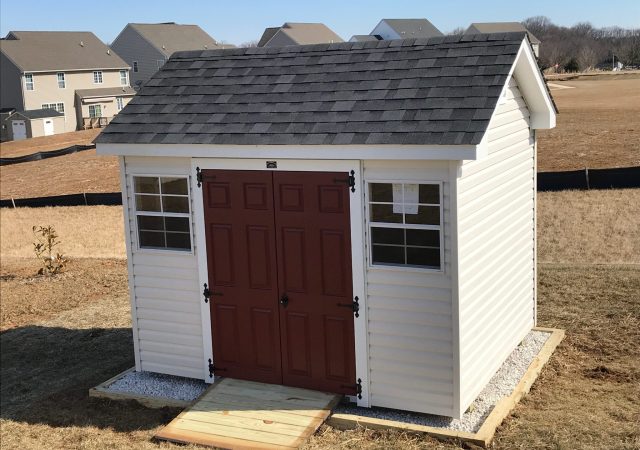 Hello Heidi,
Yes, we like the shed!
Everything went smoothly with the foundation installation and shed delivery. Jake and Brian did a great job installing the foundation and the delivery driver did a great job positioning the shed. I wasn't home for the delivery but my wife captured video of the shed being taken off the truck, very impressive. Both the installation and delivery were performed with very little evidence that some heavy equipment was used.
I had a chance to look over the shed closely and I am impressed with the quality. The shed is well built and the trim work is nicely done.
The entire process, from sale to delivery has been delightful. Everyone at your business is a pleasure to work with.
Thanks for the follow-up. I will be sure to recommend your company to any of my neighbors that inquire.
Regards,
Harvey
8×10 Garden A-Frame, Coatesville PA
---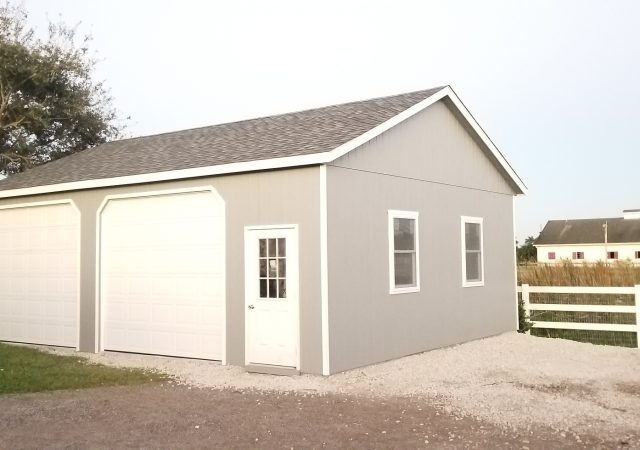 Jonathan
I was unable to reach you by phone on Friday. I wanted to tell you how totally delighted I am with the Workshop/shed that Stoltzfus Structures built for me.
Your crew were all wonderful people and incredible workers. Really the whole project, beginning to end was perfection. Of course it is no surprise given all the other first class dealings I have had over the years with yourself and your adjacent company for the run in sheds built for me farm in Camden, SC and Rhode Island.
Thank you all again. Be assured without a doubt that I will work with you again as needed in the future as well as recommend you highly to anyone wanting something built.
Kindest regards,
Marilla
24×30 Traditional Style Garage, Wellington, FL
---
I'm loving my new shed! It was exactly as discussed, the delivery went smoothly, I've been enjoying the built in loft and shelves and design very much. The process was very professional and seamless and I was very pleased with the pricing. I would definitely recommend your company to others.
-Waterbury,CT
---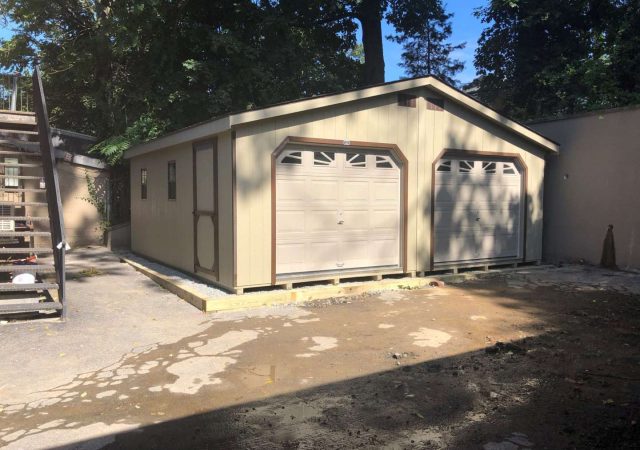 Thank you for making my entire garage purchase experience a very smooth and easy one. I am very happy.
I also want to let you know that Paul was amazing.  I was shocked when he arrived to deliver, then unloaded and assembled the garage ALONE.
You have a great business model and employees I would and will recommend you and your company to anyone that I know looking for garages or sheds.
Thanks Again
Ralph
---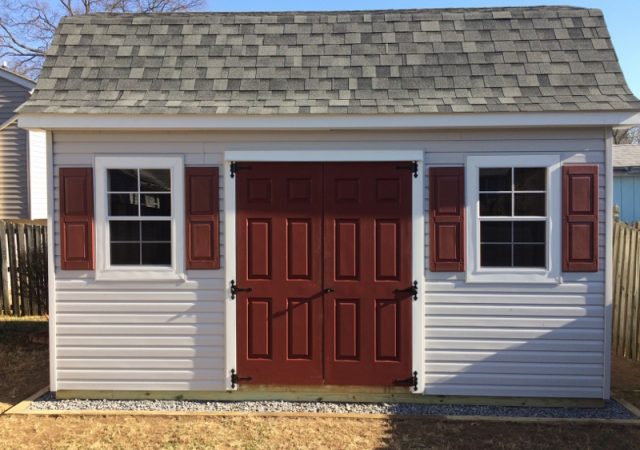 Abner,
Good morning to you as well. I am very happy with the fine work your crew has done. They are all highly skilled craftsman with great work ethics. I wish all of you the best with your future business endeavors' in the new and coming years. I will surely guide any potential customers, in need of the services you provide, to your business.
Thanks and may God bless all of you.
Sincerely,
David, Pasadena MD
---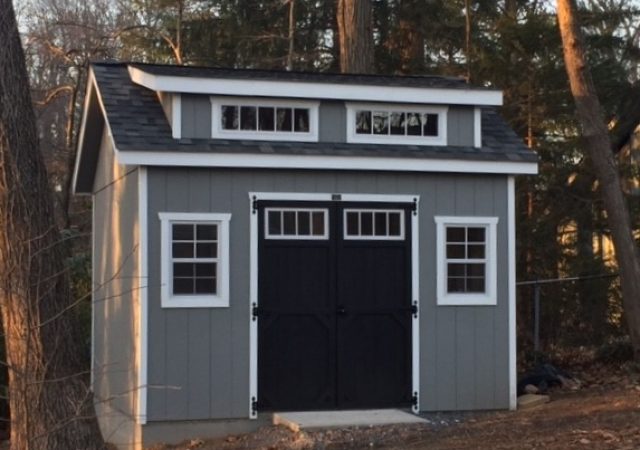 Abner,
Here is the finished product. Handsome isn't it. The trim and drip edge is finished and so I'd say the entire installation is finished. Very pleased. Thank you and all your associates for a good job and a very positive addition to our backyard.
Happy New Year.
Jack, Bethesda, MD
---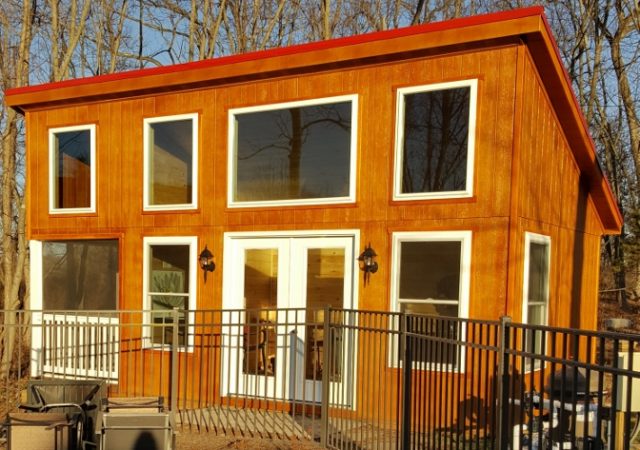 Hi Jonathan, here's a photo of our fantastic shed with the sun shining on it today! Can't thank you enough! We love it!
Connie and Jeff, East Amwell NJ
12×24 Modern Style Building
---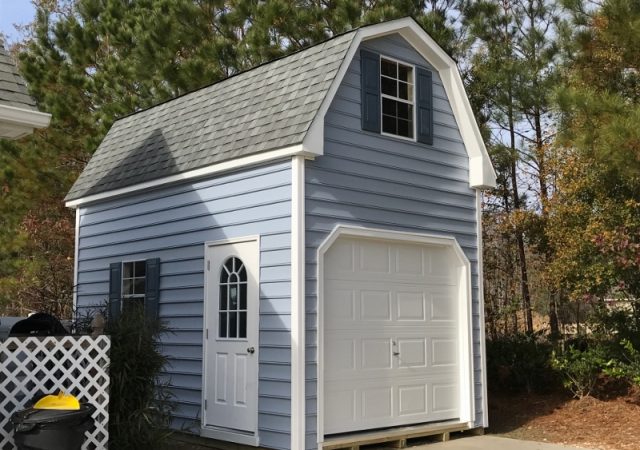 Abner,
I would like to thank you, Mark and your company for the professionalism and politeness the both of you showed me while going through the building process and delivery of the shed. The three men you sent to build the shed, David, Steven, and Andrew. They all did an excellent job and were very polite and curious. They acted very professionally and they are an asset to your company.
Your company is the best and people in the area couldn't believe the fast construction of the building, also the curious the men were when they were here building the shed.
I've been telling the people of your company, so you may get more business in the spring from the word of mouth.
Abner, thank you for everything, and please relate this to Mark and the guys that were here working here diligently to put up a great looking building.
As well as the people that were behind the scenes who put together the building in the warehouse where it was assembled before shipping.
Happy Holidays to All!
Regards,
Mike Grabarz, Myrtle Beach SC
10×16 2-Story Gambrel
---
Craig and I are absolutely in LOVE with the garage. It is almost too beautiful to use as a workspace, but because of that will be immensely enjoyed.
The crew was also amazing, though Craig said he felt horrible they were out in that cold working in it for so long. He tried to accommodate as much as possible by providing a heater and some lunch and coffee throughout the day, and though he tipped them both said he wished he could have given them more for all their hard work.
Craig Buttcher, Old Bridge, NJ
12×24 GS Elite
---