Customer Testimonials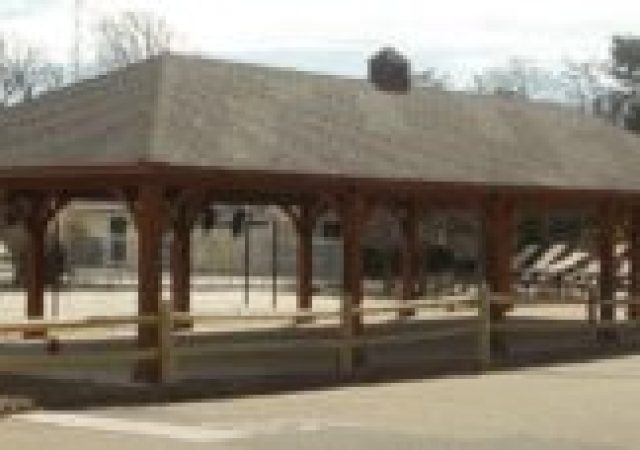 Dear Heidi,
Our pavilion was completed on Tuesday, March 11, in less time than we estimated. Your guys did a great job. Everything they did was professional and they worked very hard. They were great guys.
Thank You very much also in working with me throughout the entire time. I greatly appreciate your help. You were alway available when I need advice. Currently, we are working on the power and lighting for the pavilion. We expect to have all completed by the time we open on April 1st.
Thank You, John, Marmora, NJ
---
Jonathan,
I would like to write to you to thank you and your team for all your hard work on my garage. From making the plans and changes for my local building inspector to the finished building by your team, everything was very easy and a pleasure. When there was a small problem you took care of it quickly. I wish all companies were like yours. I am also very happy with the quality of the construction. It exceeded my expectations. I also have to say I contacted two other companies, like yours, for a quote on my garage. You were the only one that called me back quickly. You also called when the team was completed with the garage to make sure I was happy. That is good customer service! When I'm in my yard working many people stop to ask me who build my garage. I'm happy to give them your name. Again thank you!
Best Regards, Bob Cooke, Canaan, CT
---
Buying and taking delivery was a pleasant experience. Everything that you expect and more. Delivery to my location was difficult, narrow streets, small lot and snowing but the shed was spotted where it had to be. Very pleased with all in the process.
Thank You,
Tom Carney's Point, NJ
---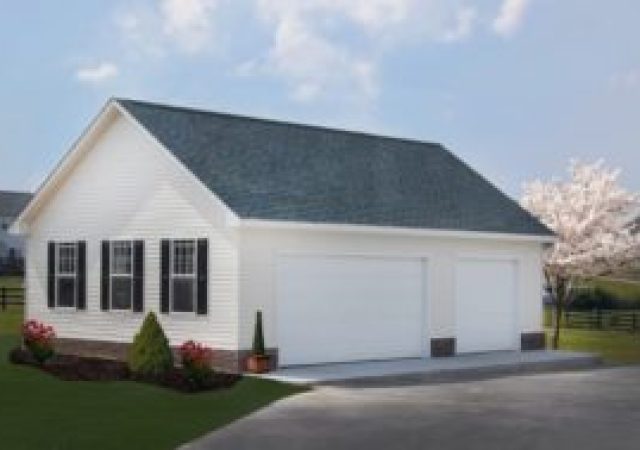 Hi Jonathan!
You and your company and everyone that has worked on the garage have been wonderful to work with and we, of course, will use your services again as well as recommend you to anyone that asks. Please feel free to use us as a reference and let me know what we can do for you as we are both very pleased to do so. I hope that you all are staying safe in this mess of a winter!
Best Regards, Mary, Winchester, VA
---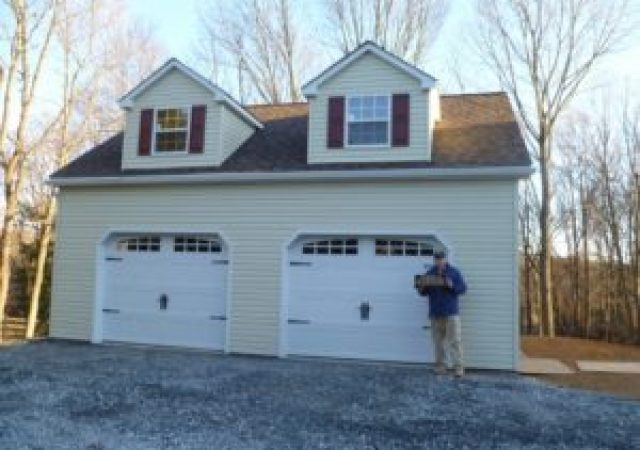 Jonathan,
I just wanted to send a quick message to say thanks to everyone involved in making my dream garage a reality.
I believe I have the distinction of having the last Stoltzfus garage to be erected in 2013 as your crew wrapped everything up at 4 pm on 12/31/13. What a great way to end the year and to start 2014!
Although the process of selecting a garage and options started back in mid-September with a visit to your facility, I quickly ran into a multitude of permit issues with my local jurisdiction that extended the actual permit and site preparation process by several months. With each hurdle, you and your staff were immediately available to revise or upgrade plans and specifications on my garage to comply with my local codes.
With a delivery date that was rescheduled several times due to weather and site access issues, I was beginning to wonder if I would see my garage before Spring. I spoke with both you and your brother Dave as well as Gideon, Heidi and Brittany on numerous occasions and each of you were extremely accommodating in answering my questions and concerns and ultimately rearranging the delivery date to find one with the best possible window for decent weather.
My biggest Christmas present ever arrived on December 26th. Your delivery driver Dan maneuvered the two sections of the 24×28 foot garage onto the foundation like they were pieces of an 8×10 shed. An incredible process to watch from how they sections are unloaded, transported down the driveway, to finally being placed on the foundation.
The following morning and on Monday and Tuesday of the following week, your crews arrived at first light to begin the task of finishing the garage. Henry, Samuel, Eli, Dave, John and Paul are extremely gifted craftsmen and what I found to be amazing is that even though some of the crew members changed from day to day, there was no loss in the skill level of the workers who were on-site each day. There was no task that each crew member could not perform and they seamlessly transitioned from one task to another.
Again, thanks to all of the members of the Stoltzfus Structures family and I look forward to using my garage for years to come.
Gerry and Pam Frischkorn, West Friendship, MD
---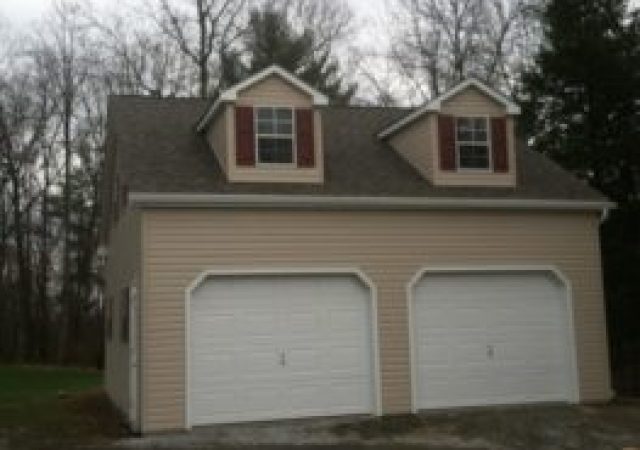 Jonathan,
Attached please find a picture of the final product!  Outstanding job!  Let me say that working with you to design and finalize the garage with all of our options and changes was very easy and I would do it again and recommend you to anyone.  Also, I would like to comment on the crew that assembled the garage.  The four young gentlemen were totally professional, courteous and did nothing but work.  I ended up staying home all three days to watch and help where I could even though I didn't get to do anything.  They were great and allowed me to watch and comment etc. and they put up with me the entire time.  Absolutely outstanding boys with a great work ethic.  It was dark and they were still working.  Overall I am very pleased with the garage, thanks again and have a great Thanksgiving Holiday.
Thanks, Mark Zhelesnik
---
Hi Brittany
My dream shed arrived in great shape!! I was more then impressed by the fact that your driver unloaded and placed my shed on the foundation by himself with the mule!! which by the way… being a guy, I enjoyed watching the equipment he used to do this!! I look forward to filling the space with all of my lawn and patio equipment!! It will be nice to actually park 2 cars in my garage!! I know what I just said sounds strange, but I worked long and hard to afford this, Your company provided me with the highest quality shed for the price!!!
WORTH EVERY PENNY !!! THANKS !!!!
Karl Shoemaker
---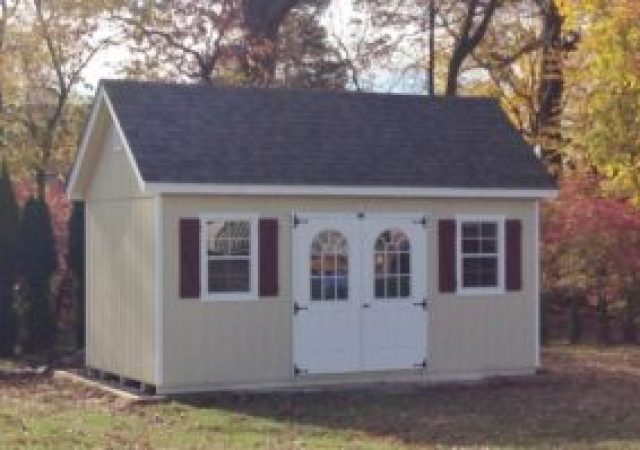 Hey Jonathan,
We are very happy with the sheds and with the crew that was here. They did an excellent job.
Thanks again! Mike
---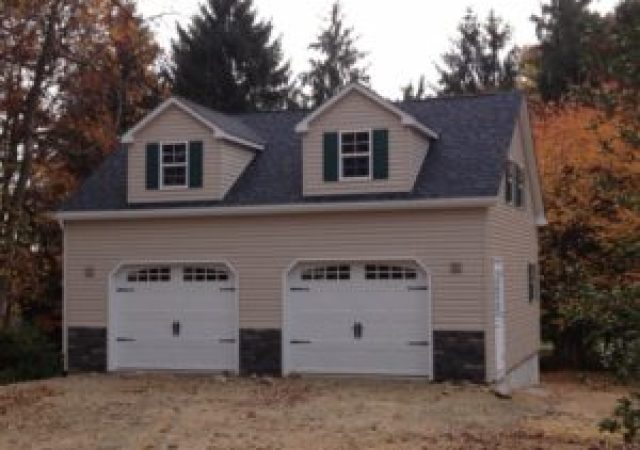 Dear Matthew & Crew,
Bob and I want to thank you for your wonderful workmanship on building our new garage and "man-cave." Many people that live around here have commented on the beauty of the structure. Thank you so much for getting up so early to be here and the quality and care you put into your work.
Sincerely, Bob and Cathy Mosner, 24 x 28 2-Story A-Frame Garage
---
Good Morning Jonathan,
The garage is beautiful!.  It is sooooo big.  We have lots of space to do what we want.  The crew was fabulous!.  We are telling everyone about your services.  Thanks for sending the guys back out to work on the overhead door (our fault).  It is working just fine now.  We are so glad we took the time to investigate your company further and take the ride up to your place to see exactly what we would be getting. If anyone (a potential customer) wants to see our garage, just give us a call. It has been a pleasure doing business with you.
God Bless Your Day, Gloria & Edward Johnson
---
Mark, I know this is long overdue but Kevin and I want to thank you for all your help in making our experience with our new garage a stress-free and easy one. Everyone was so nice and helpful from start to finish. It was amazing that you had it delivered and put together within a week. The crew you sent were hard working nice guys. Please extend our thanks to everyone involved in this project. We get so many compliments on how nice it looks.
John Kevin and Lisa Stevens, 30 x 30 Gambrel 2-Story
---
Hi Jonathan,
I know we talked earlier on the phone, but we're quite happy with the building and can't wait to finish the interior and get using it! The crew did fantastic work and they were all great to deal with!  We've already gotten a lot of compliments from our neighbors on how great the building looks and how efficient the crew was throughout the build. I saw one neighbor this morning as I was leaving for work and he was impressed with the outside and can't wait to see the inside of our building – he is interested in potentially using your company to build a structure on his daughter's property, and we'd be happy to recommend you!
Mike Hoinowski
Pottstown PA
---