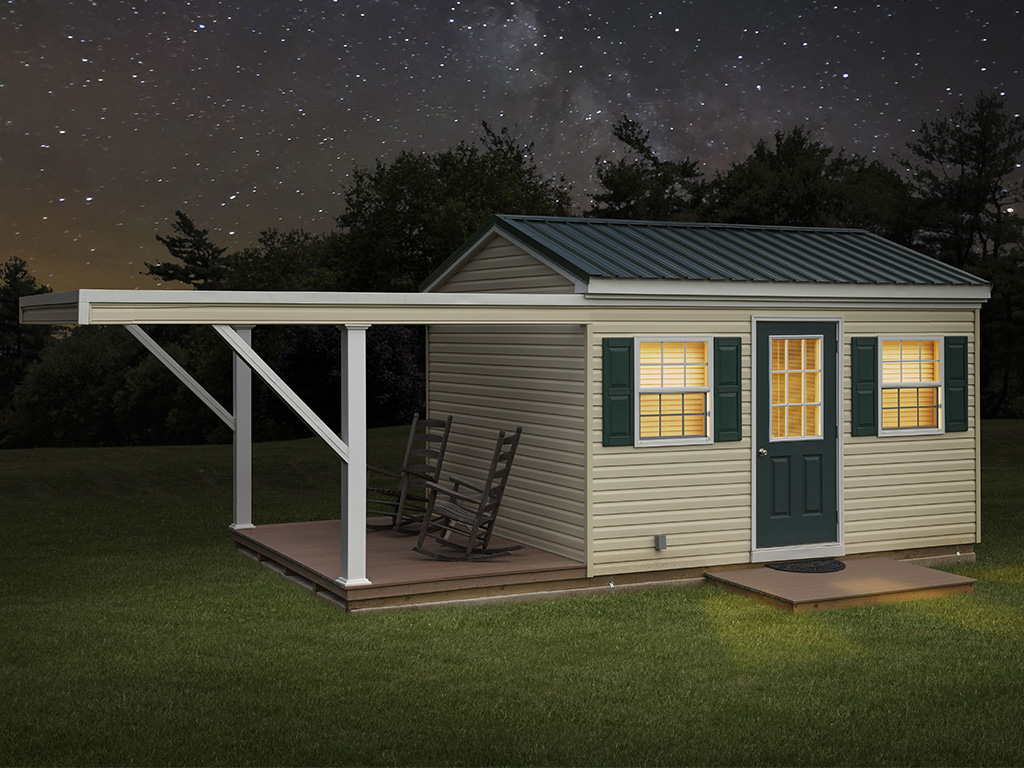 Star Gazer Sheds
Do you love observing the stars and moon? Ever considered turning that passion into a hobby? Our Sky Sheds are becoming popular with both astronomers and photographers, alike.
We have always said sky sheds are great for storing recreational belongings or for a workstation on your latest hobby project, so why not enjoy a custom home observatory shed specifically for those amateur astronomers to take stargazing to the next level.
Having a backyard observatory allows for comfortable and convenient year-round use. Before there were many options on the market, many hobbyists used shed-kits to create their own backyard observatories. Of course this was time consuming and inconvenient, but it did allow them to keep their telescopes and other equipment setup permanently. Our home observatory eliminates wasting time to take equipment out of storage for set up!
Some photographers who shoot high-resolution pictures of the sky, especially at night, use our backyard observatory sky sheds. However, photographers who only want more storage space are more likely to use one of our other storage sheds.
We now offer a much better solution to a DIY setup for your backyard observatory. We started by using a plan for one of our most popular sheds and added a convenient roll off roof. We also included helpful features such as electrical outlets. Our roll-off observatory shed is a great choice for all stargazing enthusiasts. Instead of having to lift off the roof of an observatory, these roofs can be rolled to one side and easily moved back afterword to protect the equipment. In addition, because they look similar to traditional sheds, our sky sheds still look nice sitting in your yard.
These observatory sheds start at a base of $4,995 for an 8 X 8 shed. Size options go to a 12 X 14 shed. Check out the sky shed choices below for further options and pricing details. We'll work with you to create a custom observatory shed for your individual requests.
Because of all the moving parts that require some ongoing maintenance, the sky sheds come with a standard 1-Year Manufacturer's Warranty.
If you are looking for a great site to buy Astronomy equipment please visit: www.skiesunlimited.com
Star Gazer Shed Standard Features
4 X 4 Pressure Treated Foundation Runners
2 X 4 Floor joist with 5/8″ SmartFinish Wood Flooring
7′ Walls
½" Wood Sheating and Cedar Creek Vinyl Siding
2 – 18″ X 27″ Sliding Windows w/ Screens
Insulated House Door Solid
2 X 4 Rafters 16″ OC
5-Pitch Roof
2 X 4 Laths on Roof 24″ OC
Double Bubble R-9 Insulation in Roof under Metal
40 Yr Galvalume Metal Roofing
6′ X 10′ Deck with Vinyl Decking
Pressure Treated 6×6 Posts on Deck
12′ Rail with LVL Headers
Galvanized Rollers on Track for Roof to Slide
1/2 Horse Garage Door Motor with Chain drive to Open Roof (Includes 1- Remote)
Basic Electric Package Including:

70 AMP Breaker Box
1 – Light
1 – Switch
2 – Receptacles
STAR GAZER SHED PRICES
| | |
| --- | --- |
| Sizes | Vinyl |
| 8 x 8 | $6,075 |
| 8 x 10 | $7,085 |
| 8 x 12 | $8,080 |
| 8 x 14 | $9,085 |
| 10 x 10 | $8,630 |
| 10 x 12 | $9,845 |
| 10 x 14 | $11,055 |
| 12 x 12 | $11,555 |
| 12 x 14 | $12,940 |
Star Gazer Shed Options
Paint / Shingle Colors for Star Gazer Sheds
Paint Colors
Vinyl Colors
Shingle Colors
Get a Quote on a Star Gazer Shed