Outdoor Poly Furniture
Benefits of Poly Furniture.
There's no need to bring poly outdoor furniture inside, no matter which season it is. Poly will hold its color for decades with very little fading.
Unlike wood, Amish Poly won't rot, split or crack and is impervious to insect damage. Plus because the color runs throughout the lumber, small nicks and scratches never need to be touched up.
Our durable patio furniture is very easy to keep clean, an occasional washing with mild dish detergent and rinsing is all that is needed to keep it looking like new.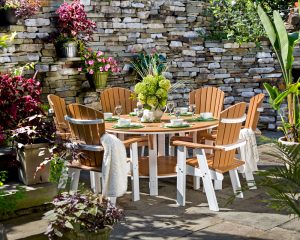 Click Here for Catalog
Outdoor Furniture Examples