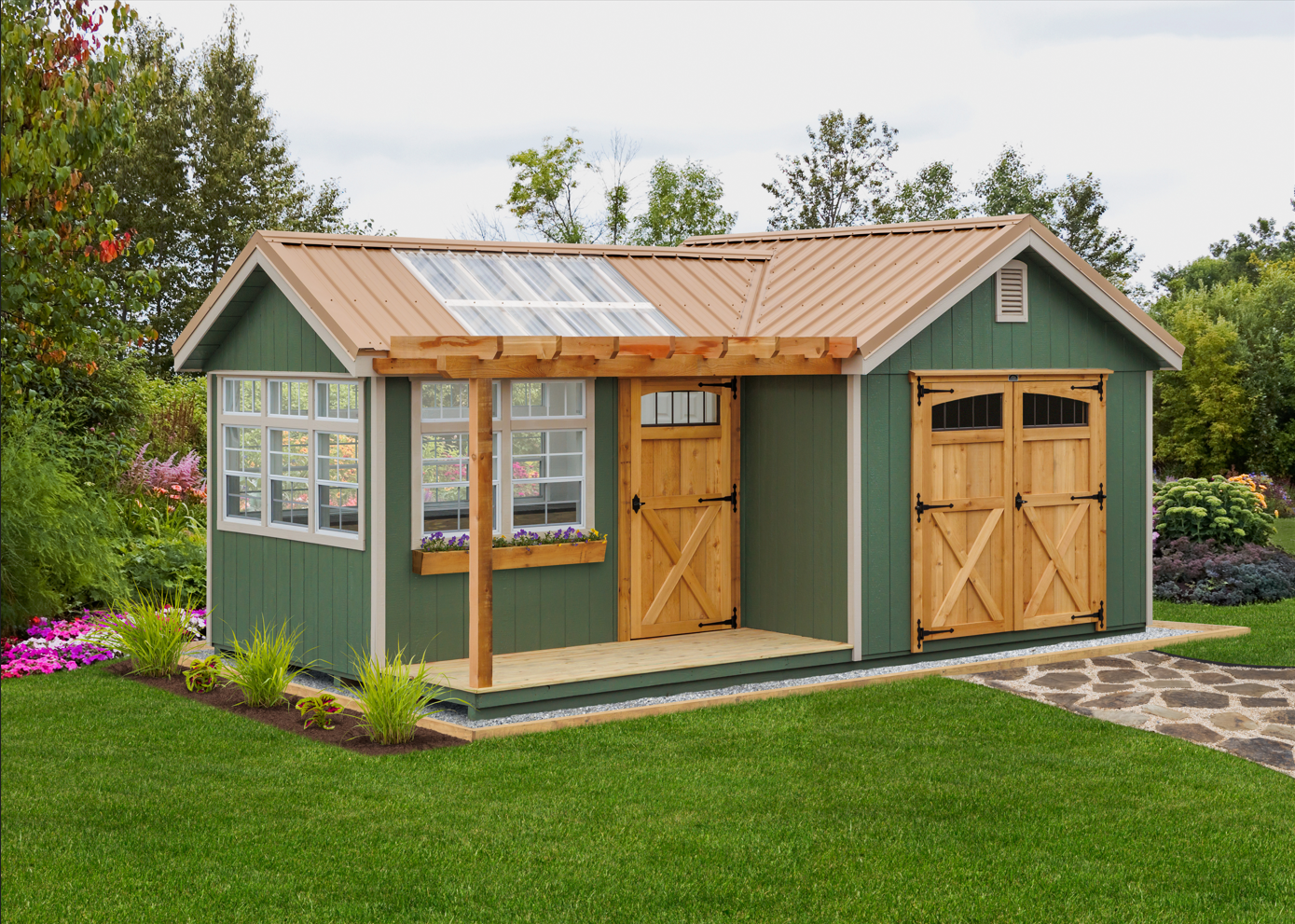 Cottage Greenhouse
The beauty of the greenhouse and garden shed is realigned in this multi-purpose Cottage Greenhouse. Oodles of natural light flood the interior greenhouse space with multiple screened windows, clear roof, and a "Carriage House" style cedar door with aluminum floor guard that includes an arched transom window. All gardeners will view this pretty structure with delight.
The combination design of the Cottage Greenhouse offers a space to work and store tools, a place to plant and potter, and a super spot to kick back and relax when the work is done.
Everything you need, all in one place saves time and money. No more walking back and forth to the basement or shed for tools.  The Cottage Greenhouse offers a safe and secure place to store all your supplies, and all the 'must have' Standard Features you can count on in our thoughtful designs. Services such as water and electric can easily be added to this all-in-one building rather than multiple structures saving even more time and money.
This shed/greenhouse combo unit is built with meticulous care by our talented Amish crew, we stand behind everything we build and ensure you will have a seamless and pleasurable experience from initial consultation and quote through the actual purchase and extending through to the delivery and set-up.
Choose your colors and make your greenhouse potting shed your own. Don't forget we can customize if you wish for changes and upgrades.  As always, you can rely on our 'to the penny' quote and expert advice.
STANDARD FEATURES INCLUDE:
4×4 Pressure Treated Foundation Runners
2×4 Floorjoist with 5/8" Smart Finish Wood Flooring in shed area
Pressure Treated decking in Greenhouse and deck area
2×4 Wall Studs 16" OC
1/2" Painted Smartside Wood Siding
2 – 24" x 27" Windows with Screens in shed area
Trim Around Each Window
Double Hinged Door w/Aluminum Floorguard  (Cedar Door w/ Transom Window)
2×4 Rafters 16" OC
7" Gable Overhang
7 Pitch Roof
2 Arch Gable Vents
Wooden Corner Trim
2×4 Roof Perlins 24'' OC
40 Yr Metal Roof
The greenhouse comes with potting shelf  (10′ wide gets 1 shelf, 12′ and 14′ wide gets 2 shelves)
6′ x 10′ Greenhouse on 10′ wide buildings except 10×12 gets a 6×6 greenhouse and 10×16 gets a 6×8 greenhouse
8′ x 10′ Greenhouse on 12′ and 14′ wide buildings except 12×12 gets an 8×6 greenhouse and 12×16 gets an 8×8 greenhouse
24" x 27" Windows on 3 sides. Transom windows above regular windows
Clear roofing on part of the greenhouse
Cedar Pergola on Deck Area
Cedar Flower box on the Deck side
Includes Fir Pine Stain (Unless requested Differently)  on the Doors, Flowerboxes, and Pergola
Electric Package: 70 Amp Breaker Box, 3 Outlets, 2 Bulb Lights, 2 Switches (electrical in conduit in greenhouse area).
Cottage Greenhouse Examples
Cottage Greenhouse Pricing
| | |
| --- | --- |
| Size | Wood |
| 10×12 |  $  12,350 |
| 10×16 |  $  13,765 |
| 10×20 |  $  15,165 |
| 10×24 |  $  16,270 |
| 10×28 |  $  16,885 |
| 12×12 |  $  12,960 |
| 12×16 |  $  14,540 |
| 12×20 |  $  16,075 |
| 12×24 |  $  17,295 |
| 12×28 |  $  18,510 |
| 14×12 |  $  13,905 |
| 14×16 |  $  15,775 |
| 14×20 |  $  18,050 |
| 14×24 |  $  19,635 |
| 14×28 |  $  21,090 |
View Our Watering System Option