Financing Options
Have you always dreamed of owning a shed but perhaps you have not been able to fulfill that dream because of current economic times? Or perhaps there always seems to be that urgent need that must be taken care of first?
Perhaps you have stored your lawn mower or other equipment under a tarp just hoping for the day when you can have a space of your own…
Stoltzfus Structures offers you financing on Rent-To-Own sheds so that you can fulfill your dreams!
Note: No Longer Available in New Jersey and Not Offered on Doublewide and Elite Structures. 
QUICK GENERAL CALCULATIONS:
Rent an 8×10 Storage Shed for $75 a month
Rent a 10×16 Storage Shed for $115 a month
Rent a 12×24 Garage for $180 a month
Rent a 12×36 Garage/Workshop for $250 a month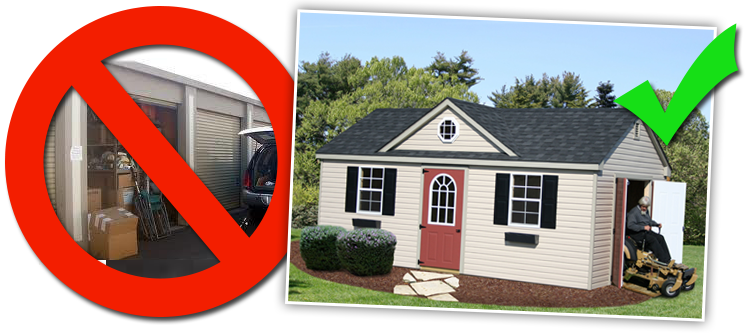 THE BENEFITS AND ADVANTAGES OF A RENT TO OWN SHED PROGRAM:
For a monthly fee that is very competitive with a storage unit you can rent your shed for 36 months and OWN IT after that! No more driving 5-20 miles with your vehicle to the Storage Unit to get your stuff. Your rent to own storage shed will be right nearby & easily accessible!
For some people the idea of buying a shed outright can be impractical. The lowly monthly cost of our sheds for rent will surprise you as you consider the options that are available.
Bank Financing Your Projects
Residential customers now have the ability to finance projects for their home. Financing is through a bank we work with and is based on a 620 or better credit score. Most customers are approved on projects from $5,000 up and some may be eligible up to $55,000. Interest paid may be tax deductible (consult your tax advisor). Apply online securely athttps://www.greenskycredit.com/consumer/ or contact Stoltzfus Structures for more information.
This loan is for projects over $5,000 and it can be used for Garages, Pergolas, Pavilions, and much more!
ELIGIBILITY AND INFORMATION
(BELOW ARE SOME BASIC REQUIREMENTS):
Contact us before applying if you have experienced a foreclosure, bankruptcy, or loan modification within 2 years. We might still be able to help you.
Applicants with 2 or more mortgages might only be eligible up to $7,500. Call Stoltzfus Structures for details. Every situation is different.
(Application takes about 10-15 minutes. If you don't know the answer to a question, then use your best judgment. The value of your home will be asked, but it won't affect your chances of approval).