Financing Options
BLI Rent – to – Own (Sheds under $10,000) RTO Not Applicable for Customers in New Jersey. We offer Rent to Own within a 100-mile radius of our facility in Atglen, PA
Greensky Financing
Home Loan
GREEN SKY FINANCING
We are proud to offer Greensky Financing as an easy way to finance your project. This plan has no payments no interest for 6 months, and then it goes to a 10 Year at 9.99%. Contact our office 610-593-7700 for more details
Greensky is a very simple and quick way to get a non-secured loan based on your credit score. If you are approved you can have instant access to the funds via "paper credit card" to purchase your structure. Click Here to Be Approved our merchant ID is 81034792 and our Plan Number is 1069 or call 866-936-0602 for pre-approval.
HOME LOAN
 Home Loan works well for larger-size projects $15,000 – $80,000 due to different interest rates and term lengths that suit your needs best. This is a secured loan and may take 1-2 weeks to receive the funds. Contact Eric Schwartz for more info Click Here for Contact Info
Rent To Own
Have you always dreamed of owning a shed but perhaps you have not been able to fulfill that dream because of current economic times? Or perhaps there always seems to be that urgent need that must be taken care of first?
Perhaps you have stored your lawn mower or other equipment under a tarp just hoping for the day when you can have a space of your own…
Stoltzfus Structures offers you financing on Rent-To-Own sheds so that you can fulfill your dreams!
Note: No Longer Offered on Doublewide and Elite Structures. RTO Not Applicable for NJ Customers, and within a 100-mile radius of our facility in Atglen, PA
QUICK GENERAL CALCULATIONS: (Doesn't Include Freight)
Rent an 8×10 A-Frame Storage Shed for around $105 a month
Rent a 10×16 A-Frame Storage Shed for around $170 a month
Rent a 12×24 A-Frame Garage for around $285 a month
Rent a 12×36 A-Frame Garage for around  $375 a month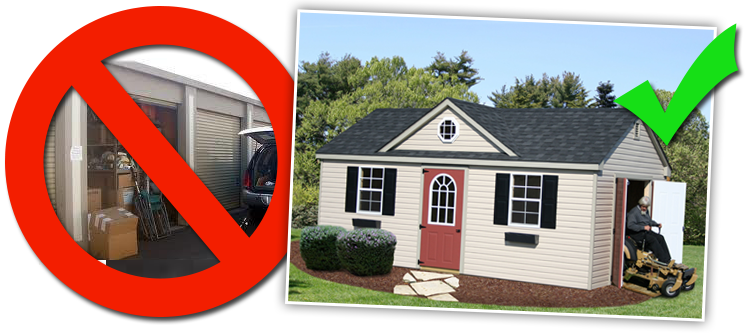 THE BENEFITS AND ADVANTAGES OF A RENT TO OWN SHED PROGRAM:
For a monthly fee that is very competitive with a storage unit you can rent your shed for 36 months and OWN IT after that! No more driving 5-20 miles with your vehicle to the Storage Unit to get your stuff. Your rent to own storage shed will be right nearby & easily accessible!
For some people the idea of buying a shed outright can be impractical. The lowly monthly cost of our sheds for rent will surprise you as you consider the options that are available.