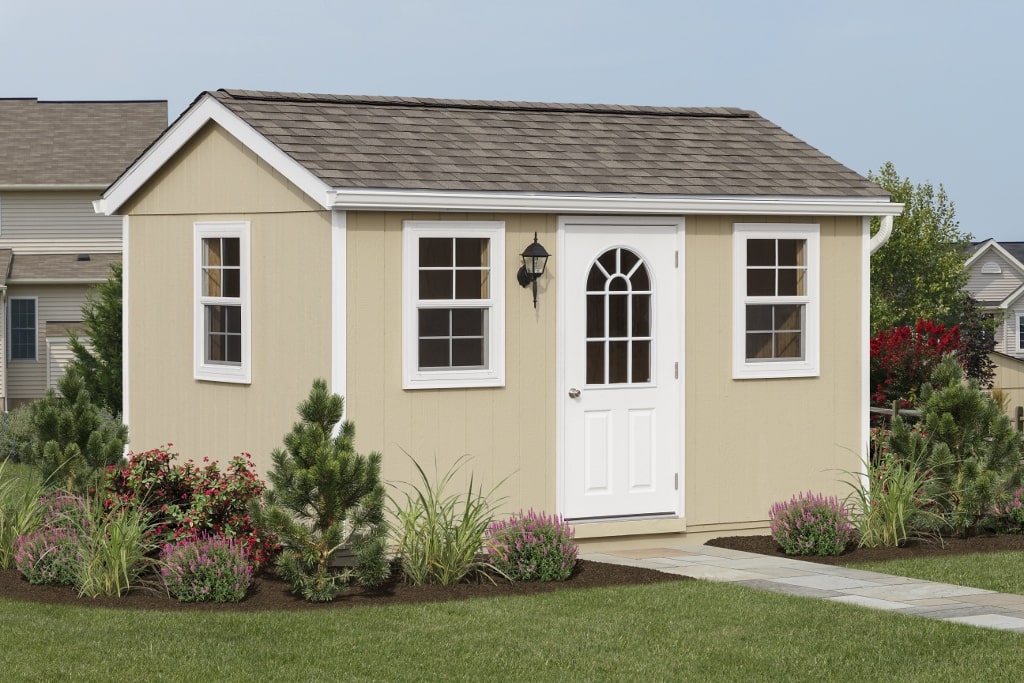 Home Offices
If you're under the impression that you need a spare room or a huge master bedroom to set up a workspace in your home, you're wrong (although both sound quite nice). Brilliant work-friendly spaces can emerge right from your backyard with our Office Sheds. Sounds to good to be true? Compare this Outdoor Office Shed with our man caves to find the structure you need.
Get a Quote
WHAT'S STOPPING YOU FROM BUYING NOW?
Picture yourself not having to drive 30 minutes to work every day. Not having to fill up your car with Gas every week. You could wake up and enjoy a hot cup of coffee with your wife before you start your day. Starting out the day right is the key to success. You could come and go as you please.
Are your days filled with deadlines, after-school commitments, and other pressures. Whether you're a journalist, husband, wife, designer, or mother, You can live a surprisingly balanced life.
Your secret? This Sweet home office shed, is housed right in your backyard. With our office sheds, you can steal away from your domestic responsibilities to write, study, and pursue breaking news stories for the Associated Press. "Being detached from the house is key."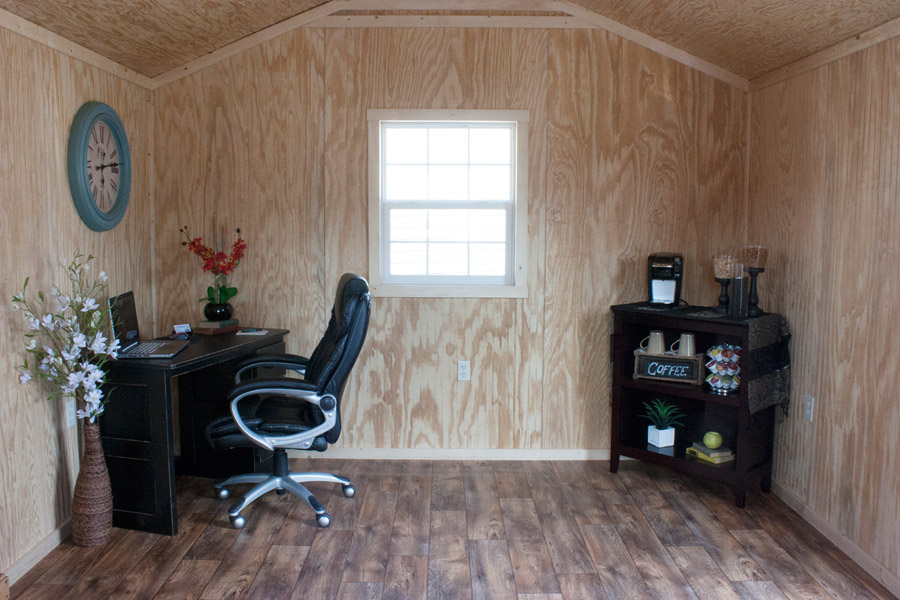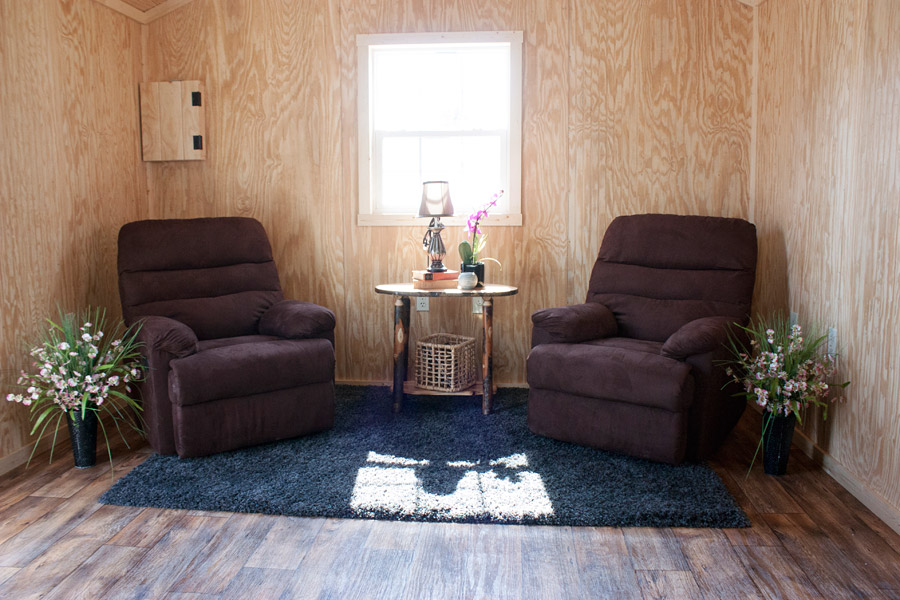 Is it the Space?
If you are like many of us you bought the house and had plenty of room. You had an extra bedroom or two, the basement was open, and it was more of a problem of what am I going to put in the space. After a few kids, and a bunch of stuff, here you are with no space to call your own, continually tripping over toys just to get to your office. There is only so much space in any home, and it seems like yours is the first to go. An instant outdoor office shed is the easy way to get it back.
Is Cost A Issue?
Maybe you have thought about finishing a basement for your Home Office or building on an addition to free up some space to allow for one. Though that would be wonderful it is often, far too hard on the wallet. The cost to refinish a basement can quickly run you over $15,400, and the idea of adding an addition maybe $110 or more per square foot. Yeah, it would make a nice room, but is it worth it for the money you would spend. So how much does a studio shed cost? Save yourself some money and purchase our 10×16 garden studio room starting at $9,925 completely finished, and you can spend some of your extra money on a comfy office chair and COMPUTER DUAL MONITORS to put in it.
Statistics on having Dual Monitors
33% fewer errors
16% faster edits
6% quicker access to tasks
45% easier task tracking
32% faster performance
24% more comfortable
Is Time and Talent an Issue?
Let's face it we are not all gifted carpenters capable of building a Amish Crafted Home Office. Sure it's easy to jump into a project with big ideas and the thought that doing it yourself may save you money, but after a few mistakes, and constant changes pretty soon your DIY project turns into a drain on your pocket, and is not what you had in mind when you started. Save your trouble and your pride, and let Stoltzfus Structures supply you with an instant outdoor office shed that fits your needs. We provide the best quality office sheds for a low cost.
Call us today, at (610) 593-7700 and talk to one of our experts about having your outdoor office shed built to fit your needs.
Our Home Office size range anywhere from 10'x12′ to 14'x40′ But we can Customize anything that fits your DREAMS.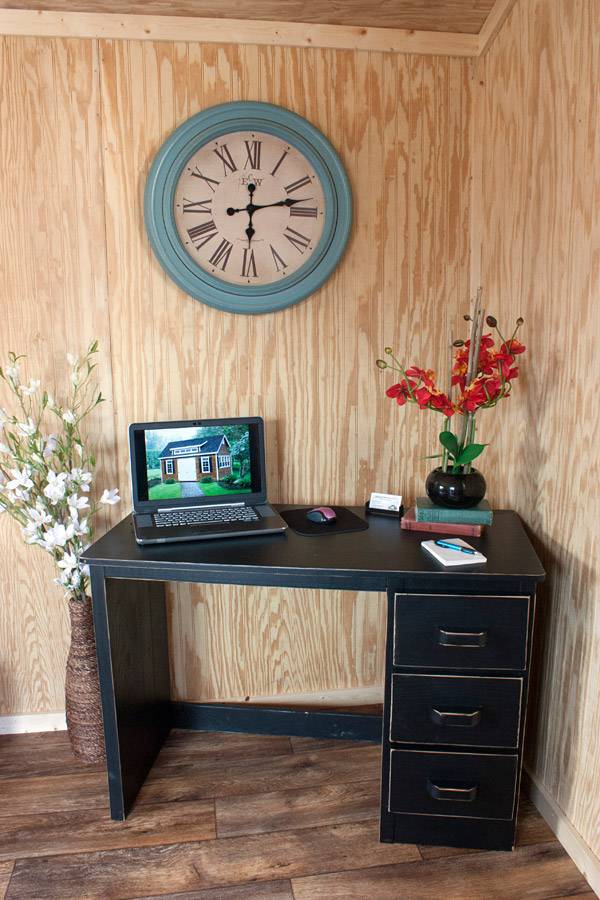 The Deluxe Model is instant, and requires no work on your part. The building is completely finished and ready to use upon delivery to spend time in your Home Office. Interior is completely finished, and your Home Office is fully insulated. The extent of your work will be choosing how to decorate your Home Office and how many Computer Monitors you want.
Deluxe Model Office Sheds for Sale Include:
100 Amp Breaker Box, 6-Outlets(1-Direct Wired for AC/Heating Unit), 1-Phone and Internet Line,2-4′ Fluorescent Lights, 1-Outside Light at Door, 2-Switches
Insulated Floor w/ 2″ Thick Spray Foam Insulation
(R-14)
Wood Grain Vinyl Flooring
Insulation in floor walls and ceiling ready for year round use
Interior Walls and Ceiling Finish with Clear Coated Beaded Plywood
Secure Fiberglass House Door w/ Glass
3 – Insulated 24×36 Windows with Screens and Trim
Miritec Trim Around Exterior and Wood Corners
Ridge Vent and Vented Soffit
If you have some design ideas for your Home Office, give us a call at (610) 593-7700 and talk to one of our experts who will put together a quote, and drawings to help you envision what your Home Office will look like. We would love to be a part of your dream, and help that dream to become a reality.
Deluxe Home Office Prices
Prices shown are meant to be a guide and don't include delivery or custom features. Once you find your size, click "Get A Quote" and fill out the form to submit your ideas to a project manager, who will reach out to you with a full quote!
| | | | |
| --- | --- | --- | --- |
| Sizes | Smartside | Vinyl – LP Board & Batten | LP Lap – Pine B&B |
| 10 x 12 | $9,400 | $10,510 | $11,255 |
| 10 x 14 | $10,345 | $11,580 | $12,405 |
| 10 x 16 | $11,215 | $12,555 | $13,445 |
| 10 x 18 | $12,140 | $13,595 | $14,570 |
| 10 x 20 | $13,140 | $14,710 | $15,755 |
| 10 x 22 | $13,960 | $15,645 | $16,770 |
| 10 x 24 | $14,865 | $16,660 | $17,860 |
| 12 x 14 | $11,375 | $12,715 | $13,610 |
| 12 x 16 | $12,455 | $13,935 | $14,925 |
| 12 x 18 | $13,500 | $15,105 | $16,175 |
| 12 x 20 | $14,640 | $16,370 | $17,525 |
| 12 x 22 | $15,685 | $17,545 | $18,780 |
| 12 x 24 | $16,725 | $18,705 | $20,020 |
| 14 x 18 | $15,920 | $17,995 | $19,375 |
| 14 x 20 | $16,895 | $19,045 | $20,475 |
| 14 x 24 | $19,170 | $21,535 | $23,115 |
| 14 x 28 | $20,970 | $23,445 | $25,095 |
| 14 x 32 | $23,410 | $26,180 | $28,030 |
| 14 x 36 | $25,830 | $28,900 | $30,940 |
Home Office Options
Paint / Shingle Colors for Home Offices
Paint Colors
Vinyl Colors
Aluminum Trim Colors
LP Smartside Stain Colors
Shingle Colors
Ribbed Metal Roofing Colors
Standing Seam Metal Roofing Colors
Get a Quote on a Home Office