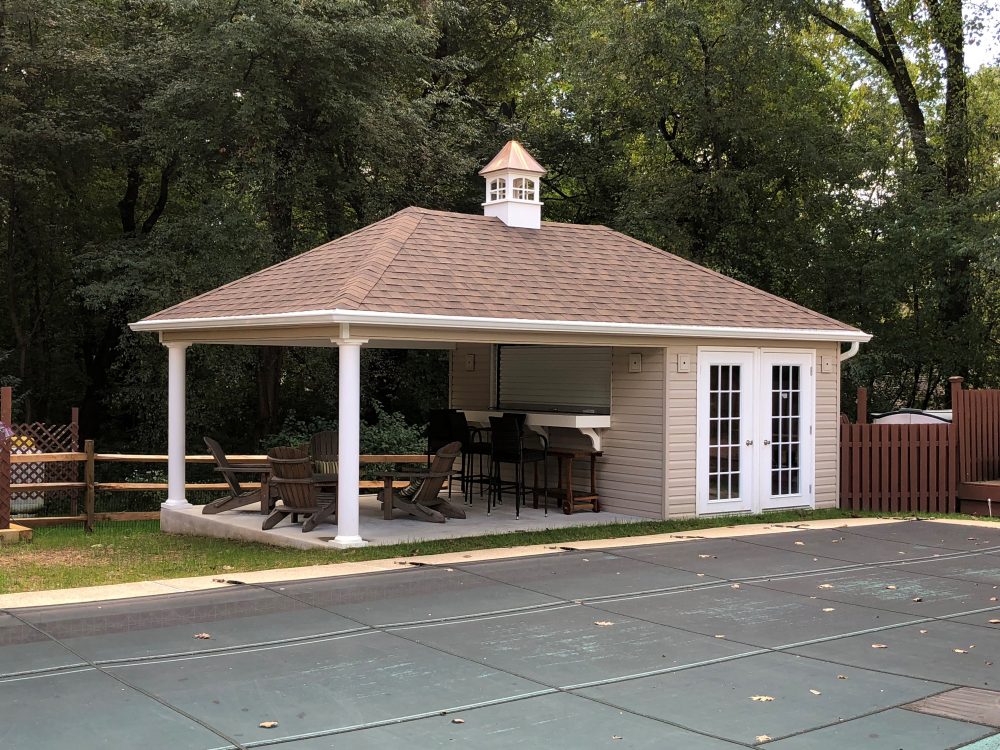 Royal Estate
The Royal Estate brings huge benefits to poolside life offering a space to store pool tools and toys and even hide unsightly equipment needed for water circulation and maintenance.
The beauty of offering your family and guests a place to change will keep dripping wet chlorine or salt stains off your kitchen tile or carpet eliminating the constant barrage of traffic coming and going from the home.
Get a Quote
Add an outdoor kitchen under cover of the pavilion. Add a drink station or wet bar. Or simply relax in giant armchairs out of the sun's hot rays and watch the light bounce off the water or supervise kids in the pool.
The Royal Estate pool house will make you the 'toast of the town' as the best host in the neighborhood. And your kids will enjoy splashing and playing at home where you can keep a watchful eye from the comfort of your own backyard retreat.
Check out the stellar sturdy build and standard features included in this beautiful pool house and get started enjoying your pool on a different level. Outdoor living doesn't get any better than this.
Royal Estate Pool House Features
No Floor Built on Customers Concrete Pad
2 X 4 Wall Studs 16" OC
1/2" Painted Smartside Siding or Cedar Creek Vinyl Siding w/ 1/2" Wood Sheating & House Wrap
8′ High Sidewalls
36'' Insulated House Door w/ 15 Lite Glass
8' Wide x 42'' high Roll Up Door by Bar
(2) 24 X 36" Insulated Windows w/ Shutters
(2) 8'' Round Vinyl Columns supporting Overhang
8' Wide Unfinished Storage Room
8' Wide Azek Shelf
7 Pitch Roof
12'' Overhangs w/ Vinyl Vented Soffit
Vaulted Ceiling in Overhang Area
1/2" OSB Roof sheathing
15 Lbs Tar Paper
30 Yr Asphalt Shingles
Prices includes Labor to Build on Site
Royal Estate Pool House Prices
Prices shown are meant to be a guide and don't include delivery or custom features. Once you find your size, click "Get A Quote" and fill out the form to submit your ideas to a project manager, who will reach out to you with a full quote!
| | | | |
| --- | --- | --- | --- |
| Size | Smartside | Vinyl – LP Board & Batten | LP Lap – Pine B&B |
| 10×16 | $13,500 | $15,185 | $15,915 |
| 10×20 | $15,340 | $17,315 | $18,170 |
| 10×24 | $17,175 | $19,435 | $20,415 |
| 10×28 | $19,010 | $21,555 | $22,660 |
| 10×32 | $20,965 | $23,825 | $25,065 |
| 12×16 | $14,390 | $16,255 | $17,060 |
| 12×20 | $16,380 | $18,560 | $19,500 |
| 12×24 | $18,355 | $20,845 | $21,925 |
| 12×28 | $20,325 | $23,125 | $24,340 |
| 12×32 | $22,330 | $25,450 | $26,800 |
| 14×16 | $17,130 | $19,595 | $20,665 |
| 14×20 | $18,805 | $21,505 | $22,675 |
| 14×24 | $21,245 | $24,360 | $25,710 |
| 14×28 | $23,520 | $27,010 | $28,520 |
| 14×32 | $25,790 | $29,650 | $31,320 |
| 16×16 | $17,220 | $19,680 | $20,745 |
| 16×20 | $20,565 | $23,635 | $24,970 |
| 16×24 | $23,905 | $27,590 | $29,185 |
| 16×28 | $27,260 | $31,560 | $33,425 |
| 16×32 | $30,605 | $35,520 | $37,650 |
Royal Estate Pool House Options
Paint / Shingle Colors for Royal Estate Pool House
Paint Colors
Vinyl Colors
Aluminum Trim Colors
LP Smartside Stain Colors
Shingle Colors
Ribbed Metal Roofing Colors
Standing Seam Metal Roofing Colors
Get a Quote on an Royal Estate Pool House