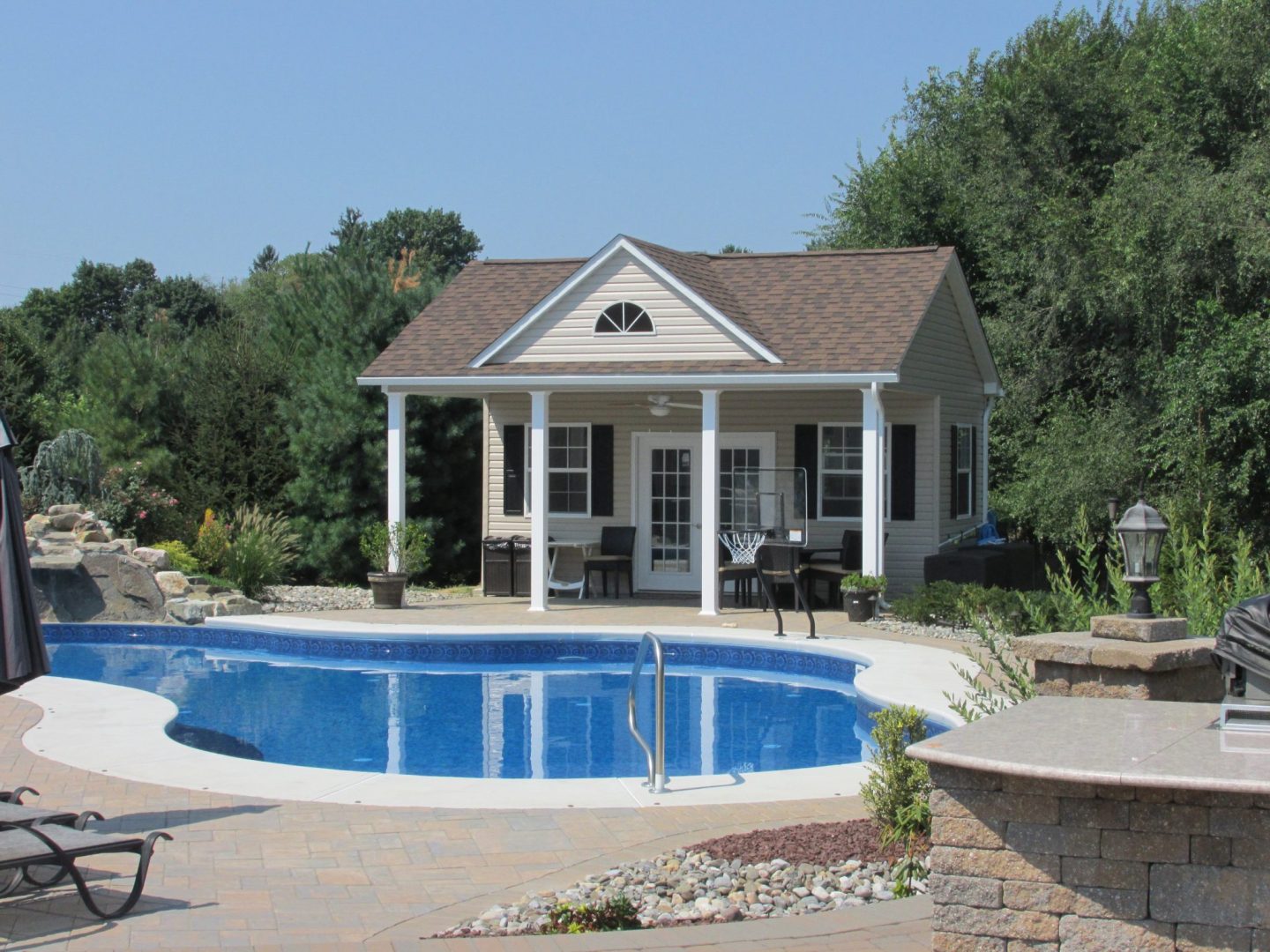 20×20
Royal Retreat
Stoltzfus Structures is introducing our latest prefab pool house model. The Royal Retreat prefab pool house takes pool relaxation to a whole new level. Similar to smaller like the Poolside Oasis, the extended roof overhang gives you a few different options, whether it is relaxing in the shade, hanging out with your friends, or simply having a place to grill for the family barbeque.
Get a Quote
Royal Retreat Pool House Features
The storage space of this custom pool house is terrific as a changing room, storage for the pool equipment when winter sets in, or finishing the interior out and having your own get away that you can slip away to. There are many different options that you can add to your pool house to customize it to fit your backyard, not only adding beauty to your pool area but also increasing the value of your property.
Call us here at Stoltzfus Structures and our experienced pool house builders will help you customize your pool house.
No Floor Built on Customers Concrete pad
2 X 4 Wall Studs 16″ OC
1/2″ Painted Smartside Siding, 1/2″ OSB Sheathing w/ Cedar Creek Vinyl siding or LP Lap Siding over 1/2″ OSB Sheathing
9′ Sidewalls
Overhang half the width of the building
Fake Dormer half the width of the building w/ half-moon window, 16′ wide gets 8′ dormer, 18′ wide gets 9′ dormer, ect
(4) 6 X 6 Posts in a Vinyl sleeve to support overhang
6′ House Doors w/ 15 Lite Glass
(4) 24 X 36 Windows w/ shutters
6 Pitch rafters or trusses on bigger buildings
Hurricane Straps
1/2″ OSB Roof sheathing
Tar Paper
30 Yr Asphalt Shingles
Prices include build on site charge.
Royal Retreat Pool House Examples
Royal Retreat Pool House Prices
Prices shown are meant to be a guide and don't include delivery or custom features. Once you find your size, click "Get A Quote" and fill out the form to submit your ideas to a project manager, who will reach out to you with a full quote!
| | | | |
| --- | --- | --- | --- |
| Size | Smartside | Vinyl – LP Board & Batten | LP Lap – Pine B&B |
| 16×16 | $18,125 | $22,840 | $24,405 |
| 16×18 | $20,200 | $25,495 | $27,260 |
| 16×20 | $22,295 | $28,175 | $30,140 |
| 16×22 | $24,385 | $30,865 | $33,015 |
| 16×24 | $26,465 | $33,530 | $35,880 |
| 18×18 | $21,540 | $27,190 | $29,080 |
| 18×20 | $23,820 | $30,115 | $32,215 |
| 18×22 | $26,045 | $32,970 | $35,270 |
| 18×24 | $28,235 | $35,770 | $38,280 |
| 18×26 | $30,530 | $38,705 | $41,435 |
| 20×20 | $25,205 | $31,810 | $34,015 |
| 20×22 | $27,155 | $34,300 | $36,680 |
| 20×24 | $29,155 | $36,850 | $39,415 |
| 20×26 | $30,905 | $39,080 | $41,810 |
| 20×28 | $32,675 | $41,335 | $44,225 |
| 20×30 | $34,435 | $43,575 | $46,620 |
| 24×24 | $31,980 | $40,360 | $43,160 |
| 24×26 | $34,095 | $43,050 | $46,040 |
| 24×28 | $36,010 | $45,490 | $48,650 |
| 24×30 | $38,520 | $48,690 | $52,085 |
| 24×32 | $41,005 | $51,860 | $55,480 |
Royal Retreat Pool House Options
Paint / Shingle Colors for Royal Retreat Pool House
Paint Colors
Vinyl Colors
Aluminum Trim Colors
LP Smartside Stain Colors
Shingle Colors
Ribbed Metal Roofing Colors
Standing Seam Metal Roofing Colors
Get a Quote on an Royal Retreat Pool House