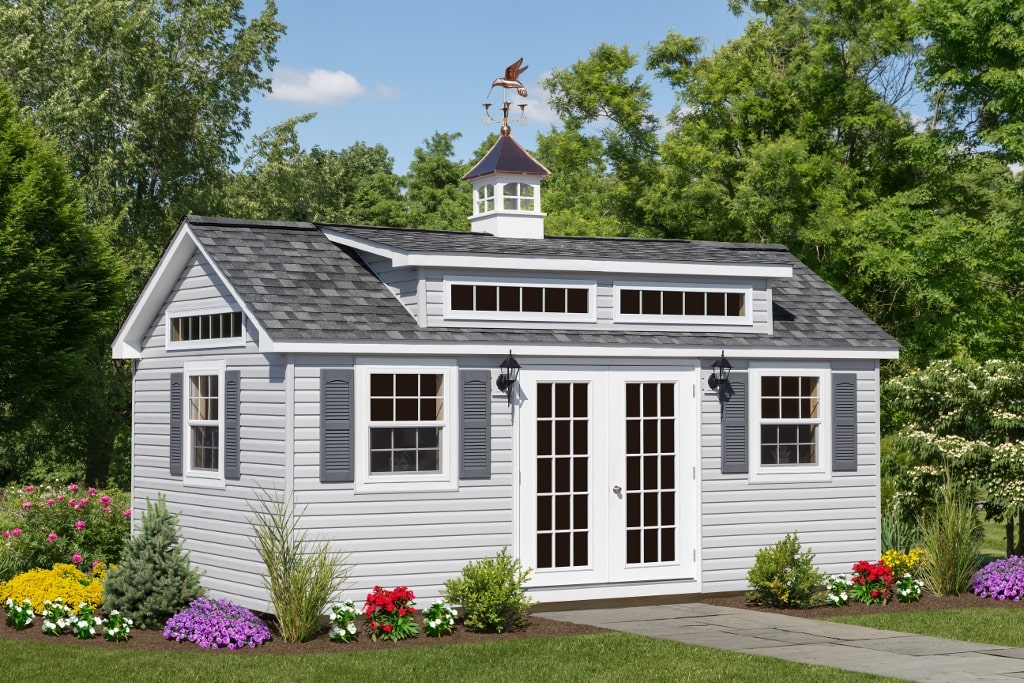 She Sheds
Stoltzfus Structures is realizing the importance for ladies to be able to escape from the busyness of life and relax. To be able to get away from the everyday stress of work, family, and even social drama is very important. With an insulated she shed or office shed, it's like being away, without being away.
What Would I Do in a She Shed?
Our she sheds for sale primarily serve as an escape from the noise and all the work around your house. When you're at home you look around and see dirty windows, dust on the furniture, toys on the ground, you hear your husband playing loudly with the children, all that means it is the time to relax in your she shed and just get away. It not only does you good to refresh but it will impact your whole family, because when mom is happy, everyone is happy!!
If men have "man caves" where they can escape, why shouldn't women have their own escapes?
Does a Woman need to build her she shed without any male help?
The answer to that question is absolutely not, here at Stoltzfus Structures we would love to help design your she shed. We want to listen to your dreams, and then we can help design and plan where you want your windows, your doors, what colors, etc. The possibilities are endless, let your imagination run wild!!
Decorate the shed your way. Whatever your dream is, run wild with it!! After it's yours.
View Our Virtual Tour
She Shed Standard Features
4×4 Pressure Treated Skids
Floor joists are standard 2×4's 16″ on center
Insulated Floor
5/8″ Smart Finish Wood Flooring
Vinyl Flooring
2x4s 16″ OC Wall Studs
Insulated Walls and Ceiling for Year around use
Tongue and Grove Pine Interior with Clearcoat Finish
7′ High Walls
1/2″ Painted Smartside Siding or Cedar Creek Vinyl Siding w/ 1/2″ Wood Sheathing
(1) Set of 6′ Insulated 15 Lite House Doors
3- 30″x36″ Windows w/Trim and Shutters
7 Pitch Rafters are constructed of 2x4s 16″ OC
7″ Overhangs on Gables
Transom Dormer w/ Insulated Transom Windows
(1) Insulated Transom Window in Each Gable
1/2″ OSB Roof Sheathing
30 year Architectural Shingles w/ tar paper
Ridge Vent and Vented Soffit
Electric Wiring run including: 100 Amp Breaker Box, 4 Outlets, Ceiling Fan/Light Combo, 2 exterior lights, and 2 Switches
She Shed Prices
| | | | |
| --- | --- | --- | --- |
| Size | Wood | Vinyl | |
| 10 x 12 |  $    8,780 |  $    9,440 |  $     9,720 |
| 10 x 14 |  $    9,420 |  $  10,150 |  $   10,460 |
| 10 x 16 |  $    9,950 |  $  10,730 |  $   11,060 |
| 10 x 18 |  $  10,630 |  $  11,480 |  $   11,850 |
| 10 x 20 |  $  11,240 |  $  12,150 |  $   12,550 |
| 10 x 22 |  $  11,910 |  $  12,900 |  $   13,330 |
| 10 x 24 |  $  12,490 |  $  13,540 |  $   13,990 |
| 10 x 26 |  $  13,190 |  $  14,320 |  $   14,810 |
| 10 x 28 |  $  13,790 |  $  14,990 |  $   15,510 |
| 10 x 30 |  $  14,480 |  $  15,750 |  $   16,310 |
| 12 x 12 |  $    9,460 |  $  10,190 |  $   10,510 |
| 12 x 14 |  $  10,200 |  $  11,010 |  $   11,360 |
| 12 x 16 |  $  10,860 |  $  11,730 |  $   12,110 |
| 12 x 18 |  $  11,670 |  $  12,630 |  $   13,050 |
| 12 x 20 |  $  12,340 |  $  13,360 |  $   13,810 |
| 12 x 22 |  $  13,100 |  $  14,210 |  $   14,690 |
| 12 x 24 |  $  13,800 |  $  14,980 |  $   15,490 |
| 12 x 26 |  $  14,470 |  $  15,710 |  $   16,250 |
| 12 x 28 |  $  15,170 |  $  16,480 |  $   17,040 |
| 12 x 30 |  $  15,910 |  $  17,290 |  $   17,900 |
| 12 x 32 |  $  16,610 |  $  18,070 |  $   18,700 |
| 12 x 34 |  $  17,400 |  $  18,940 |  $   19,610 |
| 12 x 36 |  $  18,080 |  $  19,690 |  $   20,390 |
| 12 x 40 |  $  19,430 |  $  21,170 |  $   21,920 |
| 14 x 20 |  $  14,020 |  $  15,290 |  $   15,840 |
| 14 x 24 |  $  15,770 |  $  17,240 |  $   17,870 |
| 14 x 28 |  $  17,460 |  $  19,090 |  $   19,800 |
| 14 x 32 |  $  19,140 |  $  20,950 |  $   21,740 |
| 14 x 36 |  $  20,820 |  $  22,800 |  $   23,670 |
| 14 x 40 |  $  22,490 |  $  24,650 |  $   25,590 |
She Shed Options
Paint / Shingle Colors for She Sheds
Paint Colors
Vinyl Colors
Aluminum Trim Colors
Metal Roofing Colors
Shingle Colors
Get a Quote on a She Shed