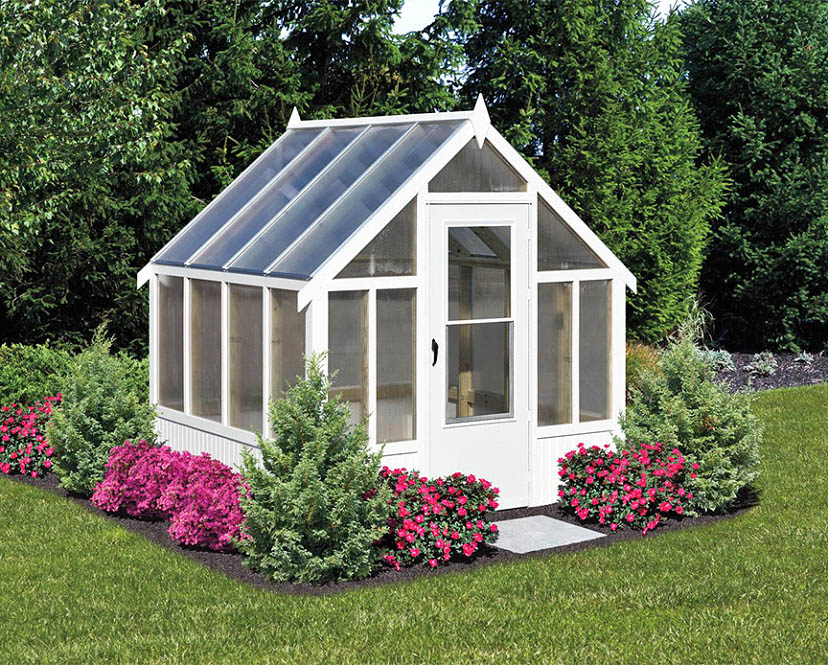 A-Frame Greenhouses
When it's time to elevate your gardening experience then it's time for a greenhouse.
The A-frame greenhouse brings you everything your plant loving heart desires with its pretty character that blends into any landscape space.
The beauty of owning a greenhouse offers more than just the timeless appeal of its presence. Functionality for productivity in such a tried and tested design means the seedlings, transplants and all plant life enjoy a safe respite from pesky bugs, diseases, and weather changes.
The A-frame has always been a popular design. Perhaps because of its concise footprint and affordability. Our design incorporates all the best of the best needs and wants with a full-size screen door, polycarbonate twin panels for durability and performance along with pretty as a picture wainscoting and practical electrical fan and 24" potting benches.
Choose from our list of upgrades to perfect your perfect retreat. Choose white or black composite trim, misting systems and more potting shelves or a window.
Whatever you need we can do it! Give us a call today.
2 x 4 Pressure-Treated Wood Frame
Twin Wall Polycarbonate Panels
Vinyl Composite Trim
18" Beaded Wainscoting
32″ x 80″ Storm Screen Door
24" Potting Bench on 1 side
16" Electric Exhaust Fan
Wall Heights

8 wide –  64 1/2″    10 Pitch Roof
10 wide- 77 1/2″     8 Pitch Roof
A-Frame Greenhouse Examples
A-Frame Greenhouse Pricing
| | |
| --- | --- |
| Size | Cost |
| 6 x 8 | $4,915 |
| 8 x 10 | $5,995 |
| 8 x 12 | $6,395 |
| 8 x 16 | $7,580 |
| 8 x 20 | $8,765 |
| 10 x 10 | $6,930 |
| 10 x 12 | $7,540 |
| 10 x 16 | $8,840 |
| 10 x 20 | $10,020 |
| 10 x 24 | $11,330 |
| 12 x 12 | $8,490 |
| 12 x 16 | $10,180 |
| 12 x 20 | $11,870 |
| 12 x 24 | $13,480 |
| 12 x 28 | $15,250 |

Options
| | |
| --- | --- |
| Size | Cost |
| Add Additional 8′ Potting Bench | $365 |
| Add Additional 10′ Potting Bench | $395 |
| Add Additional 12′ Potting Bench | $435 |
| Pressure Treated 2×6 Floor | $3.50 Per sq/ft |
| Additional 24" x 27" window on side | $150 |
| 12′ Flower Pot Shelf  (approx. 6" deep) | $125 |
| Electrical Package: 2 outlets, 1 light and 1 switch (in PVC Conduit) | $940 |
| Electrical Package: Grow Lights on every rafter outlets, 1 outlet and 1 switch (in PVC Conduit) | $1,290 |
| Water Misting System  (Greenhouse Warranty doesn't cover misting system) | $350 |
| Upgrade to Black Greenhouse: Painted Wood Trim, Includes Black Door w/ Full Glass | 8% |