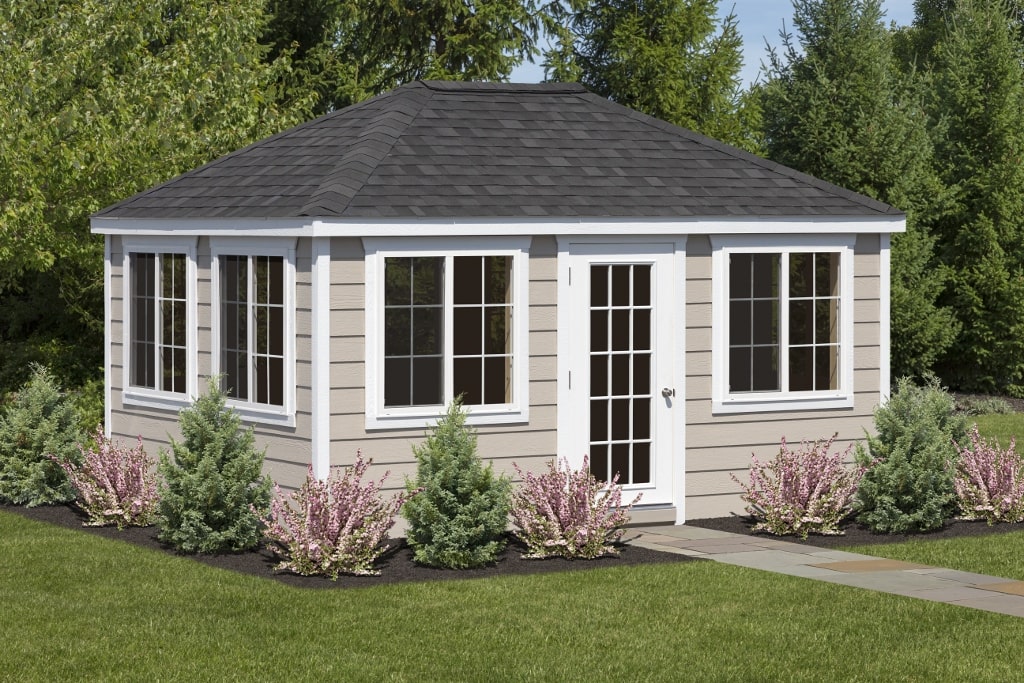 Sunrooms
Whether you call it a sunroom, patio room, garden room, greenhouse, conservatory, solarium, or sun porch, a sunroom installed by Stoltzfus Structures makes it easy to bring the outdoors into your home.
Get a Quote
Why Get a Sunroom?
From a place to enjoy your morning coffee to a special spot to watch a romantic sunset. Garden sunrooms give you and your family the ability to enjoy natural sunlight as well as the beautiful scenery surrounding your home.
Many homeowners enjoy the outdoors but prefer the cleanliness associated with being indoors. This is where outdoor sunrooms come into play. Sunporch structures are the perfect solution to satisfy the conflicting desires of nature and comfort. Amish-built sunrooms combine the appeal and special touch of the outdoors within the comfort of your homes refreshing air conditioning all while offering you and your family protection from the unpredictable weather as well as any unwanted animals, pests, pollen, and debris.
Stoltzfus Structures handles the entire project from design, manufacturing, Delivery and service after the sale.
Here are just some of the many ways homeowners enjoy using outdoor sunroom plans & garden rooms designed by Stoltzfus Structures.
Breakfast, lunch and dinner room
Playroom for kids
Place to work
Exercise room
Reading room
Place to enjoy a spa
Entertaining for holidays, birthdays, special occasions
Game room
Protected room for pets to enjoy sun and fresh air
Sunny place to grow plants
Watch TV, listen to music
Enjoy the comforts of the outdoors
Building a Dream Sunroom?
Our garden room plans size range anywhere from 10'x14′ to 14'x40′, but we can customize anything that fits your DREAMS! Our sunroom plans are professionally installed and guaranteed by Stoltzfus Structures.
Families, Friends, and neighbors have always enjoyed the feeling of being outdoors. Whether it's lounging on a deck, relaxing on a patio, or just sitting on some backyard grass, most of us will admit a love for the outdoors to some extent. Garden sun rooms are an excellent way to combine conflicting desires in nature and comfort. Stoltzfus Structures Sunrooms make living among nature almost a reality.
Our completed sunroom plans provide the gathering spot for family events and Family Time that you always longed for! They're also great for a quiet getaway with the wife, or to sneak away and listen to nature.
Our Sunrooms size range anywhere from 10'x14′ to 14'x40′, but we can customize anything that fits your DREAMS!
The Deluxe Sunroom
The Deluxe Sunroom Model is instant, and requires no work on your part. The building is completely finished and ready to use upon delivery to spend time in your Sunroom. Interior is completely finished with Tongue and Boards, and your Sunroom is fully insulated.
Deluxe Model Includes:
Insulated Floor
Wood Grain Vinyl Flooring
Secure Fiberglass House Door w/ 15-Lite Glass
Insulated 46″x46″ Windows with Screens
Insulation in floor w/ 2″ Thick Spray Foam Insulation
(R-14)
Insulated walls and ceiling ready for year round use
Tongue & Groove Pine finished interior with Clearcoat Finish
Hip Roof Style
100 Amp Breaker Box, 3-Outlets, 1 Ceiling Fan with Light, 1-Switch, 1 Exterior Light
Deluxe Sunroom Pricing
Prices shown are meant to be a guide and don't include delivery or custom features. Once you find your size, click "Get A Quote" and fill out the form to submit your ideas to a project manager, who will reach out to you with a full quote!
| | | | |
| --- | --- | --- | --- |
| Size | Smartside | Vinyl – LP Board & Batten | LP Lap – Pine B&B |
| 10 x 14 | $13,000 | $14,235 | $15,060 |
| 10 x 16 | $14,095 | $15,435 | $16,325 |
| 10 x 18 | $15,290 | $16,745 | $17,715 |
| 10 x 20 | $16,290 | $17,860 | $18,905 |
| 10 x 22 | $17,210 | $18,895 | $20,020 |
| 10 x 24 | $18,305 | $20,100 | $21,300 |
| 12 x 16 | $15,405 | $16,885 | $17,870 |
| 12 x 18 | $16,715 | $18,320 | $19,390 |
| 12 x 20 | $17,870 | $19,600 | $20,755 |
| 12 x 22 | $18,930 | $20,785 | $22,020 |
| 12 x 24 | $20,155 | $22,135 | $23,455 |
| 14 x 18 | $19,275 | $21,350 | $22,730 |
| 14 x 20 | $20,715 | $22,865 | $24,295 |
| 14 x 22 | $22,185 | $24,550 | $26,130 |
| 14 x 24 | $23,555 | $26,030 | $27,680 |
| 14 x 28 | $26,025 | $28,800 | $30,645 |
| 14 x 32 | $28,485 | $31,550 | $33,595 |
| 14 x 36 | $30,945 | $34,305 | $36,545 |
| 14 x 40 | $33,405 | $37,060 | $39,495 |
Sunroom Options
Paint / Shingle Colors for Sunrooms
Paint Colors
Vinyl Colors
Aluminum Trim Colors
LP Smartside Stain Colors
Shingle Colors
Ribbed Metal Roofing Colors
Standing Seam Metal Roofing Colors