Site Preparation
Stoltzfus Structures helps you eliminate stress by providing a one stop shop for shed foundation options. We can have our site crews install the pad for you and do the entire scheduling for you, that way you will not need to deal with multiple contractors!
Amish built cabins and sheds need a level site. On many lots, this will require some digging to eliminate grades and humps. Spending some money on site preparation for the shed will pay off since there will be less maintenance and a better appearance. A stone foundation is the best shed base but concrete is also an option.
Here are a few reasons on why Stoltzfus Structures strongly recommends professional storage shed site preparation:
WATER DAMAGE
To prevent water damage to your shed we typically build the pad 12″ wider all around so that the rain water will drain into the stone pad, this also prevents mud from splashing on the side of your shed.
UNEVEN FOUNDATION
An uneven foundation will cause your doors and windows to NOT function properly.
STRUCTURAL DAMAGE
A professional foundation helps to prevent your floor from sagging or warping over time.
RODENT CONTROL
A stone foundation will discourage rodents from digging away the ground under the shed and from chewing through your buildings floor.
If pad is installed by the customer or another contractor, Stoltzfus Structures is not responsible for settling of shed or any other variables that are caused by pad not being installed correctly.
Not Recommended:
Cinder blocks. Inevitably, there will be some "settling" after your shed is delivered and placed on the site. Placing a shed up on cinder blocks greatly increases the risk that your shed will settle unevenly. Additionally, delivery and placement of the shed will be more difficult with a cinder block base.
Concrete Pads For Our Modular Buildings:
When going with a concrete base, concrete needs to be EXACT size of building due to water drainage. When putting one of our delivered modular structures with no floor on a concrete pad, we can provide you with concrete drawings showing where the tie down straps are to be located to anchor the structure down. On build on site structures we provide a plan to show where the J-Bolts go. Cement pillars, with or without tie-downs, are required by some municipalities. Check local regulations for quantity and recommended placement.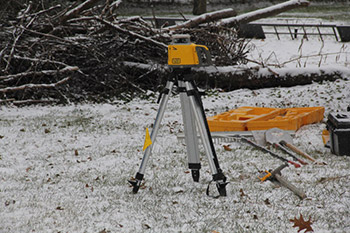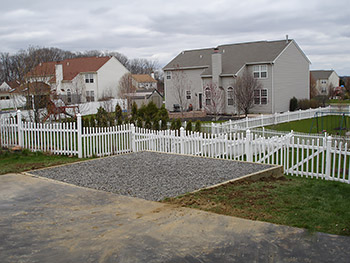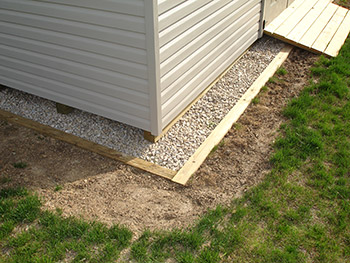 How the Pricing Works
Our sales team will price the foundation as it being within 8″ level, if site is more than 8″ off level, the crew will apply additional charges on day of work being done.
Pads greater than 26″ off level will require a custom quote.
Upgrade to 6×6 Perimeter, Add 18%
If there is no access to your site with a dump truck, the crew will apply additional charges on day of work being done, charges range anywhere from $50 to $90.
Pad Features Include:
NOTE: Pad size needs to be 12″ bigger than shed all around (Example: 10 x 16 shed = 12 x 18 pad).
Ground Leveled With Skid Loader.
Pressure Treated 4×4 Perimeter w/ ½" Rebar Stakes Through 4x4s to Maintain Stability.
Geotextile Woven Fabric (Weed Barrier) between dirt and stone.
4″-6″ of 3/4″ Clean Stone Leveled.
(Pads are built to ground level as close as possible)