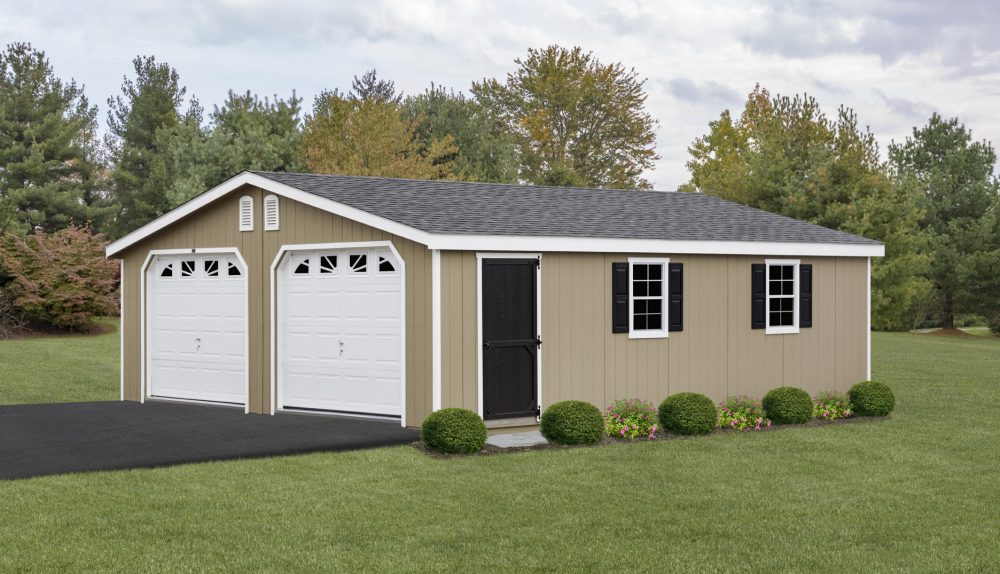 24×24 Doublewide – Shown with Optional carriage style garage doors, shutters and arched gable vents
Standard Double Wide
Perfect to store precious vehicles or a small workshop, our double wide garages come standard with 2 Overhead Doors, 4 windows and reinforced floor.
Get a Quote
Standard Double Wide Garage Features
4 X 4 Pressure Treated Skids form the foundation
Floor joists are standard 2 X 4's 8″ on center
3/4″ T&G SmartFinish Wood Flooring
Walls are Standard with 2 X 4s 16″ OC
7′ High Walls
½" LP Smartside Siding Finishes the Exterior OR
Optional (Cedar Creek Vinyl Siding w/ ½" Wood Sheating and House Wrap) OR
Optional (Hardi-Plank Lap Siding)
2-9 X 7 Solid Steel Garage Door w/ Aluminum Diamond Plate Guard
(Note: 8 X 6'6″ Garage Door in 10′ Wide Buildings)
36″ Single House Door  w/Glass (9-Lite or 11 Lite Arch Glass)
Includes 4- 24 X 36″ Windows w/ Shutters
7" Gable Overhangs
Miratec Faceboard and Corner Trim
Rafters are constructed of 2 X 6s 16″ OC
Roof consists of ½" sheeting
Tar Paper
30 year Architectural Shingles
Standard Double Wide Garage Examples
Standard Double Wide Garage Prices
Prices shown are meant to be a guide and don't include delivery or custom features. Once you find your size, click "Get A Quote" and fill out the form to submit your ideas to a project manager, who will reach out to you with a full quote!
| | | | |
| --- | --- | --- | --- |
| Size | Smartside | Vinyl – LP Board & Batten | LP Lap – Pine B&B |
| 20 X 20 | $15,550 | $19,440 | $21,770 |
| 20 X 24 | $17,310 | $21,640 | $24,235 |
| 20 X 28 | $18,955 | $23,695 | $26,535 |
| 24 X 24 | $18,985 | $23,730 | $26,580 |
| 24 X 28 | $20,775 | $25,970 | $29,085 |
| 24 X 32 | $22,415 | $28,020 | $31,380 |
| 24 X 36 | $24,395 | $30,495 | $34,155 |
| 24 X 40 | $26,390 | $32,990 | $36,945 |
| 24 X 42 | $27,485 | $34,355 | $38,480 |
| 24 X 44 | $28,330 | $35,415 | $39,660 |
| 24 X 46 | $29,620 | $37,025 | $41,470 |
| 24 X 48 | $30,350 | $37,940 | $42,490 |
| 24 X 50 | $31,715 | $39,645 | $44,400 |
| 24 X 52 | $32,480 | $40,600 | $45,470 |
| 24 X 54 | $33,775 | $42,220 | $47,285 |
| 24 X 56 | $34,500 | $43,125 | $48,300 |
| 28 X 28 | $23,135 | $28,920 | $32,390 |
| 28 X 32 | $24,585 | $30,730 | $34,420 |
| 28 X 36 | $26,760 | $33,450 | $37,465 |
| 28 X 40 | $29,190 | $36,490 | $40,865 |
| 28 X 42 | $30,795 | $38,495 | $43,115 |
| 28 X 44 | $32,095 | $40,120 | $44,935 |
| 28 X 46 | $33,370 | $41,715 | $46,720 |
| 28 X 48 | $34,490 | $43,115 | $48,285 |
| 28 X 50 | $35,935 | $44,920 | $50,310 |
| 28 X 52 | $37,200 | $46,500 | $52,080 |
| 28 X 54 | $38,710 | $48,390 | $54,195 |
| 28 X 56 | $39,925 | $49,905 | $55,895 |
Standard Double Wide Garage Options
Paint / Shingle Colors for Standard Double Wide Garage
Paint Colors
Vinyl Colors
Aluminum Trim Colors
LP Smartside Stain Colors
Shingle Colors
Ribbed Metal Roofing Colors
Standing Seam Metal Roofing Colors
Get a Quote on a Standard Double Wide Garage