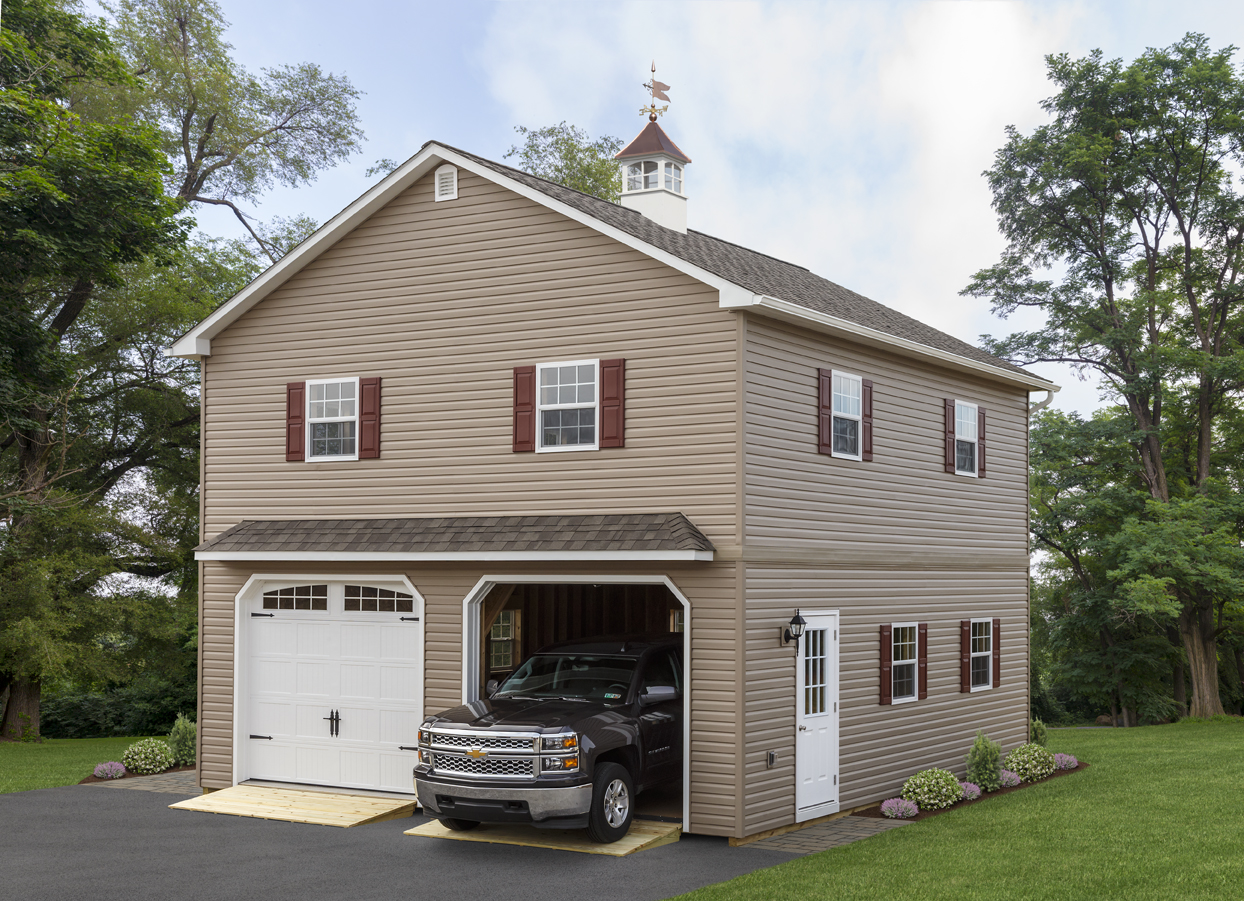 2-Story Mega
Here at Stoltzfus Structures, it is our mission to provide you with structures that will not only offer you the most storage for your $$ but also offer you a building that will be an asset to your neighborhood and increase the value of your property.
2-Story Mega Garage Features
We are happy to announce the arrival of our new Mega garage, where you not only have 1 floor but 2 full floors. You can park your vehicles in the bottom and have a full 2nd floor that can be used for storage or a workshop to spend your extra hours when your wife is out with friends or shopping, as we all know what that is like too well!
This double wide garage has 2 full floors with an 8′ ceiling height! The Mega garage has an endless amount of usages such as a Studio, Man Cave, or a Hunting Camp. The list never ends.
So if you're looking for the perfect solution for a garage or whatever your needs may be, feel free to call us and we can help you design the 2 story garage of your dreams!
First Floor
10 – 4 X 4 Pressure Treated Foundations Skids
2 X 4 Floorjoists 8″ OC with 3/4″ T&G SmartFinish Wood Flooring OR
PT 6 X 6 Perimeter with Steel Corner Reinforcements
When ordered with NO FLOOR
2 X 6 Wall Studs 16″ OC
Cedar Creek Vinyl with ½ Wood Sheating
10′ Side Walls
8'6″ – 9′ Ceiling Height on First Floor
2 – 3 1/2″ X 16″ LVLs in Center Spanning 24′ Opening
36″ Insulated House Door with Arched Glass
2 – Insulated 9 X 8 Steel Garage Doors
Pent Roof over Garage Doors
Trim Board going around perimeter, 10′ high.
4 – Insulated 30 X 36 Windows w/Shutters
Stairway to 2nd Floor w/ Rail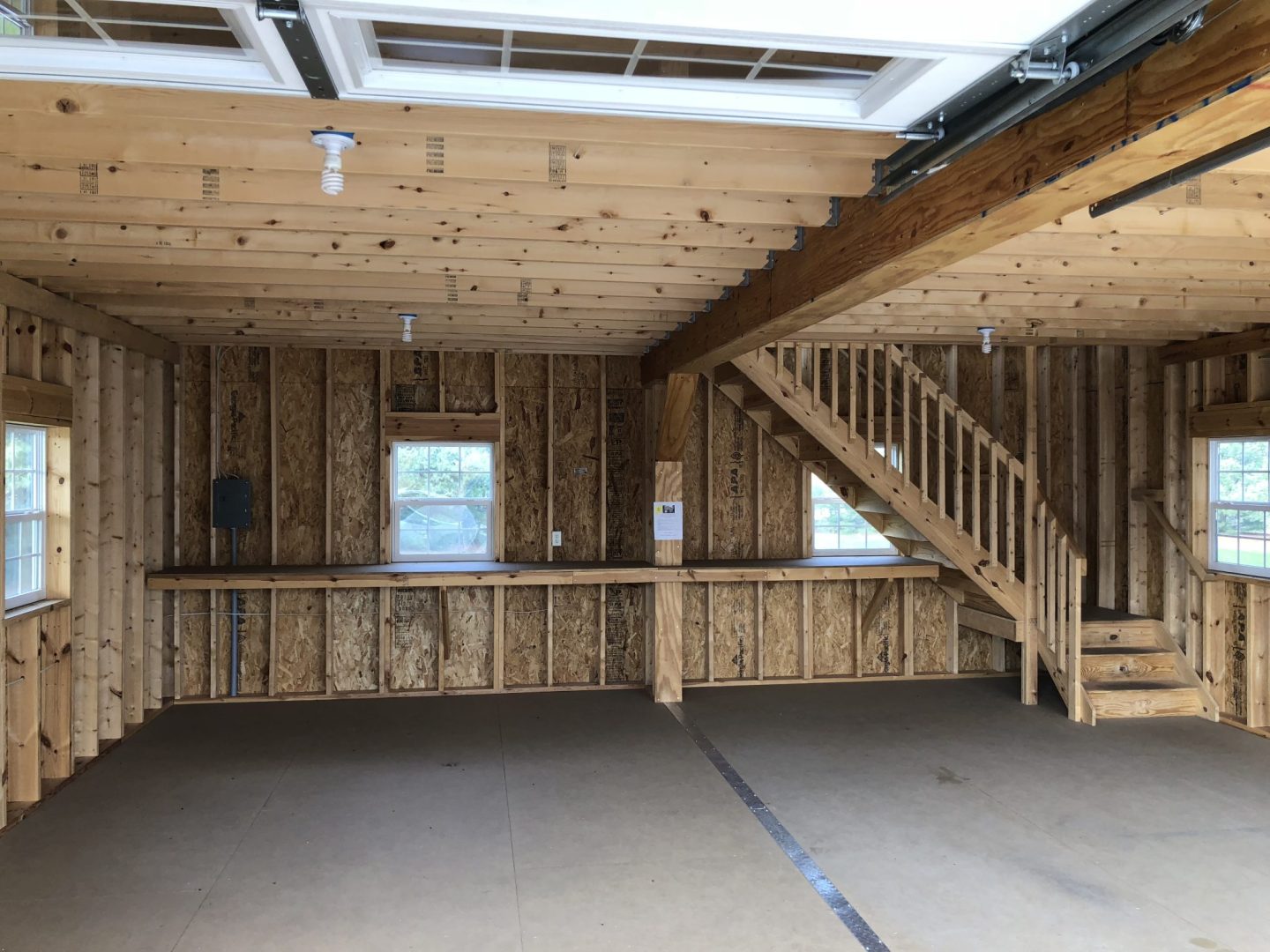 Second Floor
2 X 8 Floor Joists 16″ OC
5/8″ SmartFinish Wood Flooring
2 X 6 Walls on Second Floor
8′ Ceiling Height on Second Floor
6 – Pitch Preengineered Trusses 24″ OC
Hurricane Ties Securing Trusses to Wall
10″ Overhangs all around
8 – Insulated 30″ X 36″ Windows w/Shutters
15 Lb Tar Paper
30-year Architectural Shingles
Full Lenght Ridge Vent and Vented Soffit for Insulating Purposes
2 – Arched Gable Vents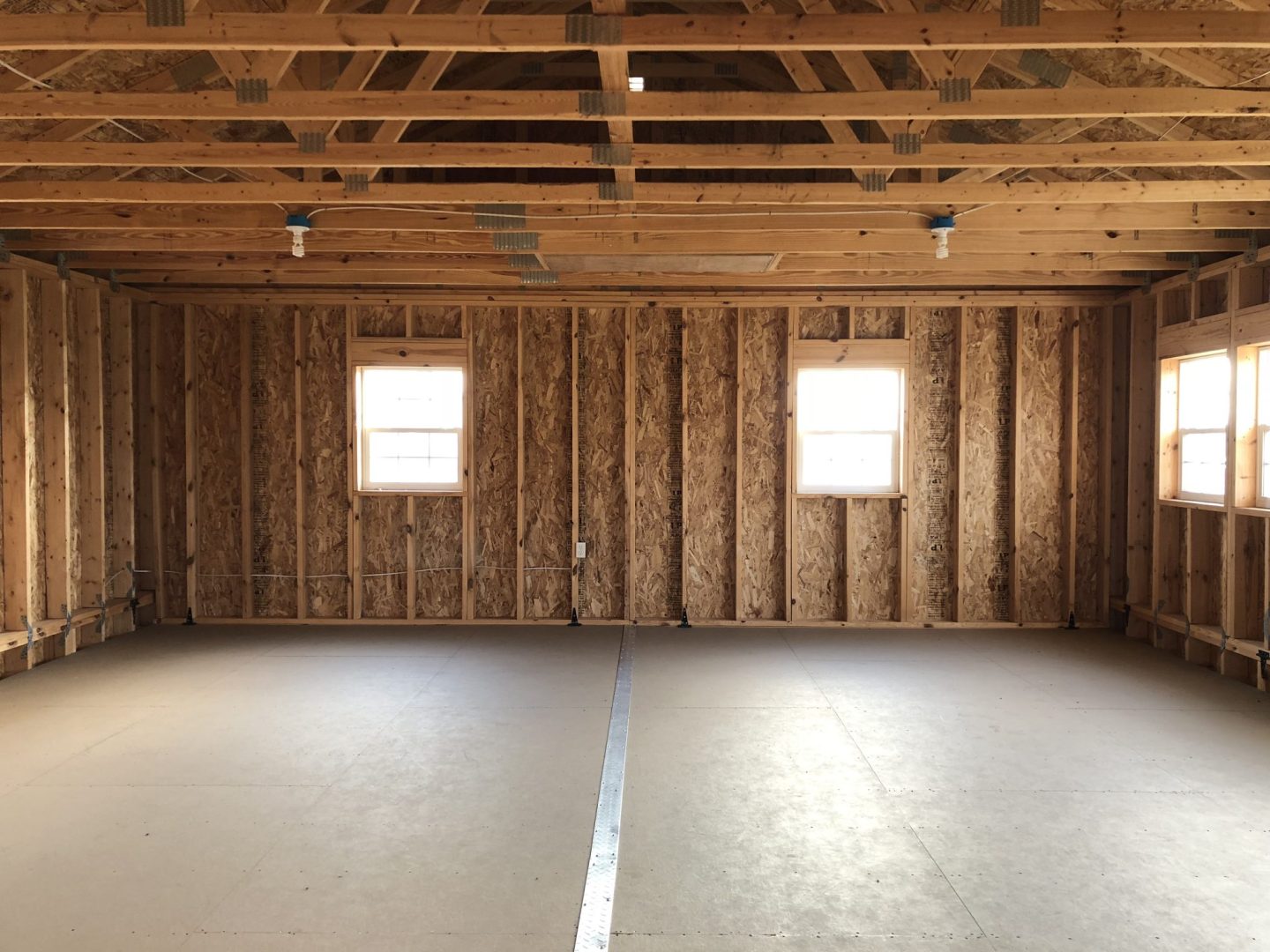 2-Story Mega Garage Examples
| | | |
| --- | --- | --- |
| Size | Vinyl & LP Board & Batten | Lp Lap, Hardie Plank & Pine Board & Batton |
| 20 x 20 | $21,990 | $26,390 |
| 20 x 24 | $25,425 | $30,510 |
| 20 x 28 | $28,850 | $34,620 |
| 20 x 32 | $32,295 | $38,750 |
| 24 x 20 | $25,565 | $30,680 |
| 24 x 24 | $27,925 | $33,510 |
| 24 x 28 | $31,670 | $38,000 |
| 24 x 32 | $35,420 | $42,500 |
| 24 x 36 | $39,160 | $46,990 |
| 24 x 40 | $42,915 | $51,500 |
| 24 x 44 | $46,660 | $55,990 |
| 24 x 48 | $50,400 | $60,480 |
| 28 x 28 | $35,820 | $42,980 |
| 28 x 32 | $40,480 | $48,580 |
| 28 x 36 | $45,130 | $54,160 |
| 28 x 40 | $49,795 | $59,750 |
| 28 x 44 | $54,460 | $65,350 |
| 28 x 48 | $59,120 | $70,940 |
2-Story Mega Garage Options
Paint / Shingle Colors for 2-Story Mega Garage
Paint Colors
Vinyl Colors
Shingle Colors
Get a Quote on a 2-Story Mega Garage