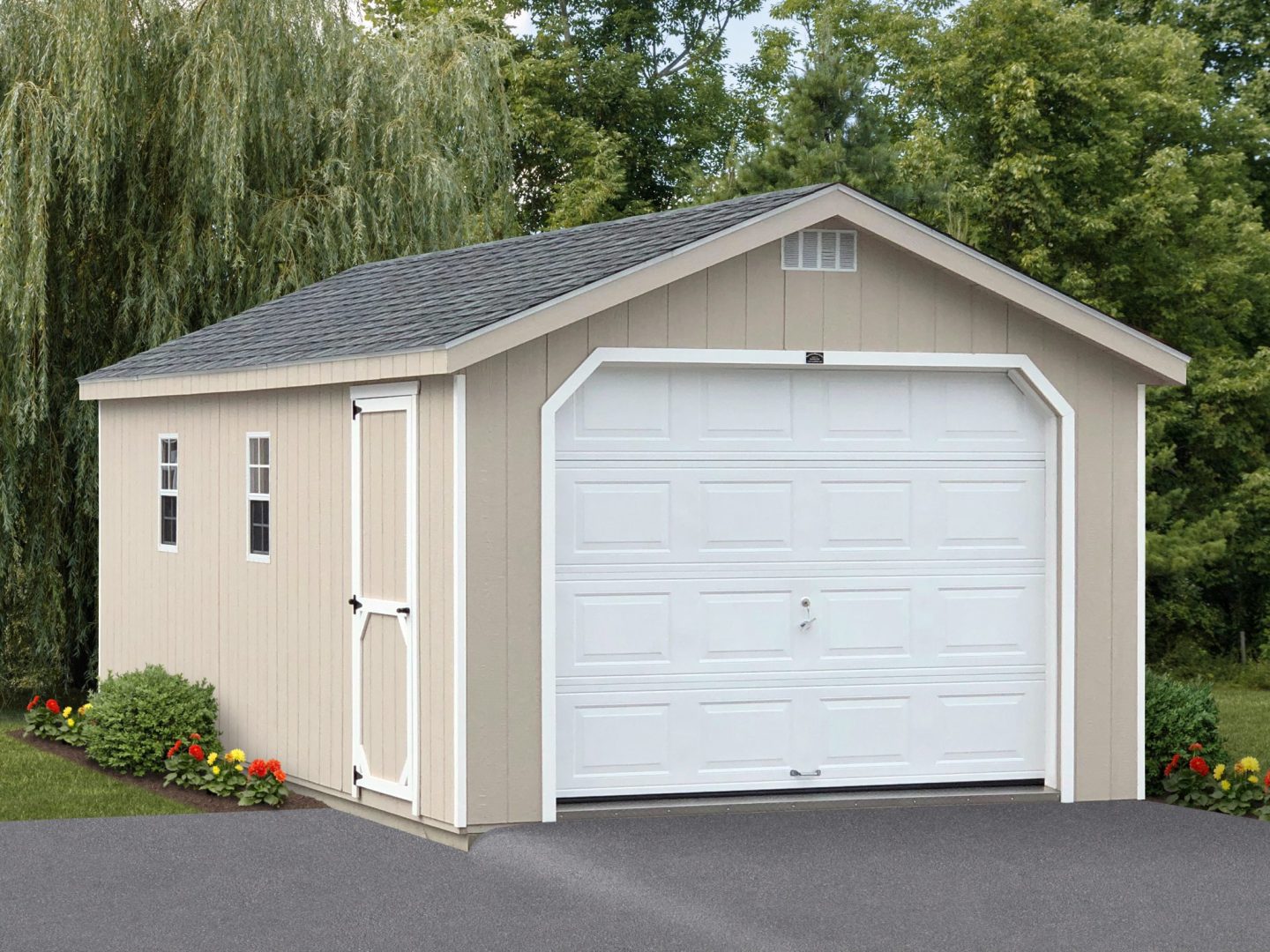 12×24 A-Frame Garage with optional gable vents
A-Frame Garage
Stoltzfus Structures single car garages are great for lawn and garden storage, car, truck or boat storage, or even for a hobby car you hope to restore! Our standard siding choices are LP Smartside Siding which is a wood siding which is painted or upgrade to Vinyl Siding. Our single car garages are delivered fully assembled ready for same day use unless you don't have access with our truck and trailer building on site would be an option. Our single garages come with one overhead garage door, reinforced floor, 2- windows and a single man door on the side. We also offer other options such as vents, shutters, flower boxes or a ramp! Another great option for a prefab single car garage is our Garden A-Frame!
Get a Quote
A-Frame Garage Features
4 X 4 Pressure Treated Skids form the foundation
Floor joists are standard 2 X 4's 8″ on center
3/4″ T&G SmartFinish Wood Flooring
Walls are Standard with 2 X 4s 16″ OC
7′ High Walls
½" LP Smartside Siding Finishes the Exterior OR
Optional (Cedar Creek Vinyl Siding w/ ½" Wood Sheating) OR
Optional (Hardie Plank Lap Siding)
1-9 X 7 Solid Steel Garage Door w/ Aluminum Diamond Plate Guard
(Note: 8 X 6'6″ Garage Door in 10′ Wide Buildings)
36″ Single Door with Aluminum Floorguard
Includes 2- 18 X 27″ Windows w/Screens
Rafters are constructed of 2 X 4s 16″ OC
Roof consists of ½" sheeting
Tar Paper
30 year Architectural Shingles
A-FRAME GARAGE PRICES
Prices shown are meant to be a guide and don't include delivery or custom features. Once you find your size, click "Get A Quote" and fill out the form to submit your ideas to a project manager, who will reach out to you with a full quote!
| | | | |
| --- | --- | --- | --- |
| Sizes | Smartside | Vinyl – LP Board & Batten | LP Lap – Pine B&B |
| 10 x 20 | $5,915 | $7,465 | $8,505 |
| 10 x 22 | $6,305 | $7,975 | $9,085 |
| 10 x 24 | $6,690 | $8,475 | $9,655 |
| 10 x 26 | $7,065 | $8,955 | $10,215 |
| 10 x 28 | $7,460 | $9,465 | $10,805 |
| 10 x 30 | $7,870 | $9,995 | $11,415 |
| 12 x 12 | $4,780 | $6,005 | $6,815 |
| 12 x 14 | $5,195 | $6,540 | $7,430 |
| 12 x 16 | $5,620 | $7,090 | $8,070 |
| 12 x 18 | $6,050 | $7,645 | $8,705 |
| 12 x 20 | $6,470 | $8,185 | $9,325 |
| 12 x 22 | $6,895 | $8,735 | $9,965 |
| 12 x 24 | $7,315 | $9,280 | $10,580 |
| 12 x 26 | $7,735 | $9,820 | $11,210 |
| 12 x 28 | $8,155 | $10,365 | $11,835 |
| 12 x 30 | $8,580 | $10,905 | $12,465 |
| 12 x 32 | $9,010 | $11,465 | $13,105 |
| 12 x 34 | $9,430 | $12,010 | $13,730 |
| 12 x 36 | $9,875 | $12,580 | $14,390 |
| 12 x 40 | $10,700 | $13,645 | $15,615 |
| 14 x 20 | $7,865 | $9,995 | $11,415 |
| 14 x 24 | $8,980 | $11,435 | $13,065 |
| 14 x 28 | $9,985 | $12,730 | $14,560 |
| 14 x 32 | $10,990 | $14,030 | $16,060 |
| 14 x 36 | $11,980 | $15,305 | $17,525 |
| 14 x 40 | $12,990 | $16,615 | $19,025 |
A-Frame Garage Options
Paint / Shingle Colors for A-Frame Garage
Paint Colors
Vinyl Colors
Shingle Colors
Metal Roofing Colors
Get a Quote on an A-Frame Garage