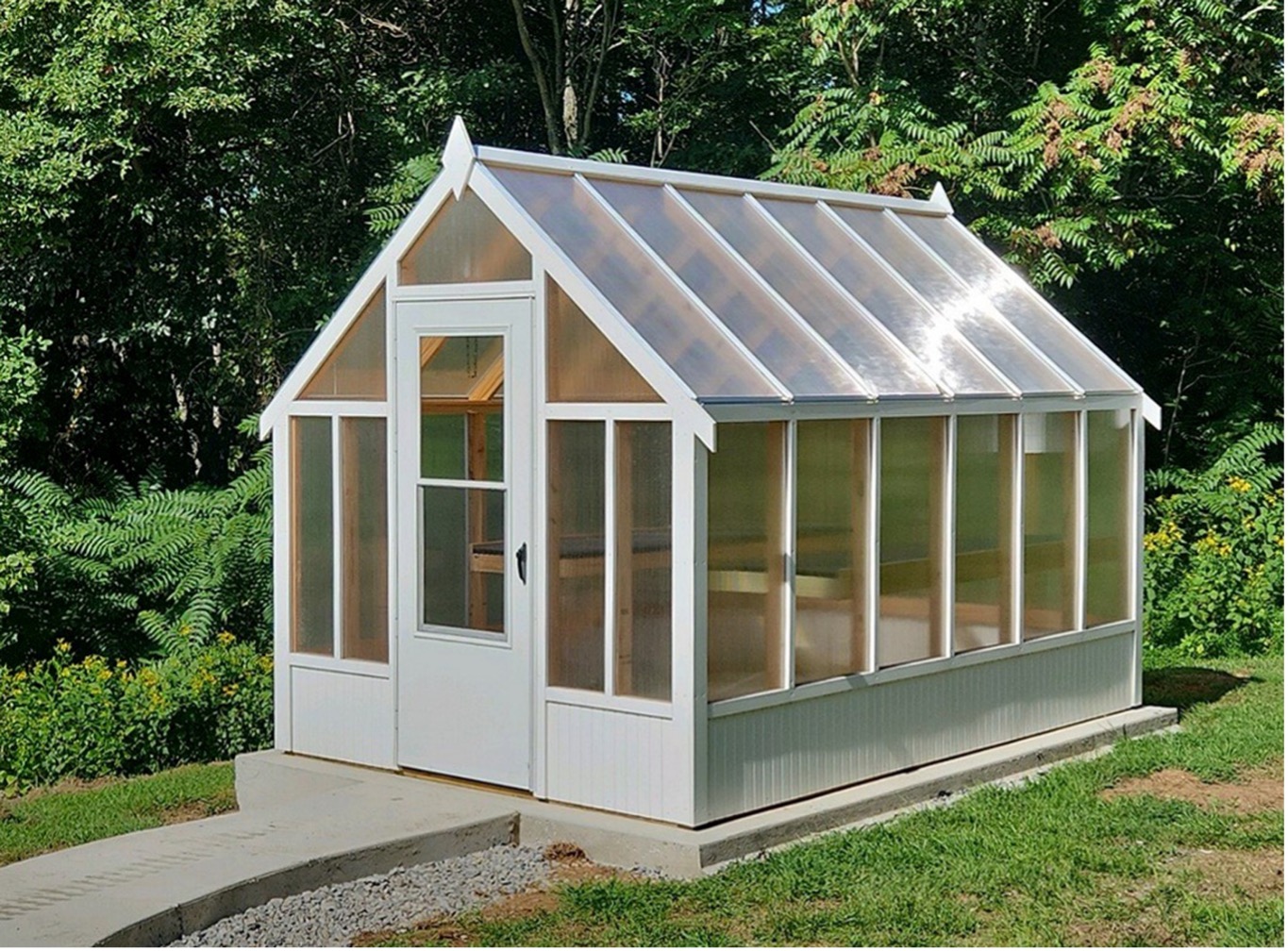 How to Design the Interior of Your Greenhouse
You've finally decided to take the plunge and purchase a greenhouse. You probably have an idea of what you want to grow in it, but what's the best way to design your greenhouse interior to meet your needs? What you want to do with your greenhouse will determine how you design the interior.
We'll build a greenhouse to meet your needs and deliver it fully assembled and ready to grow. You have lots of options in what you do with the greenhouse both in how we build it and what you do after it's delivered. Here are some of the things you may want to do with your greenhouse to design the interior to meet your needs. Let us help you brainstorm some greenhouse interior design ideas.
Growing Fruit, Vegetables, and Large Plants
If you'd like to grow a large plant that isn't cold hardy, like fruit trees, tomatoes, eggplants, squashes, or flowering bushes, a greenhouse is an ideal option. Large plants or long vines can't be covered in rows like some other crops.
There are a few options for greenhouse design for these kinds of plants. If winters are mild, the greenhouse can be erected each fall and taken down in the spring. Seasonal crops can be rotated in a permanent greenhouse. Large plants like fruit trees can be grown in a permanent greenhouse year-round. More ventilation may be required in warm weather.
Plant in the Ground or in Pots in the Greenhouse? Pros and Cons
One of the hardest choices when it comes to planting larger plants and crop plants in a greenhouse is whether to use pots or plant in the ground. You'll need to look into the needs of the plants you're trying to grow to determine whether planting directly in the ground is the right move for you, but here are a few points to consider when making your decision.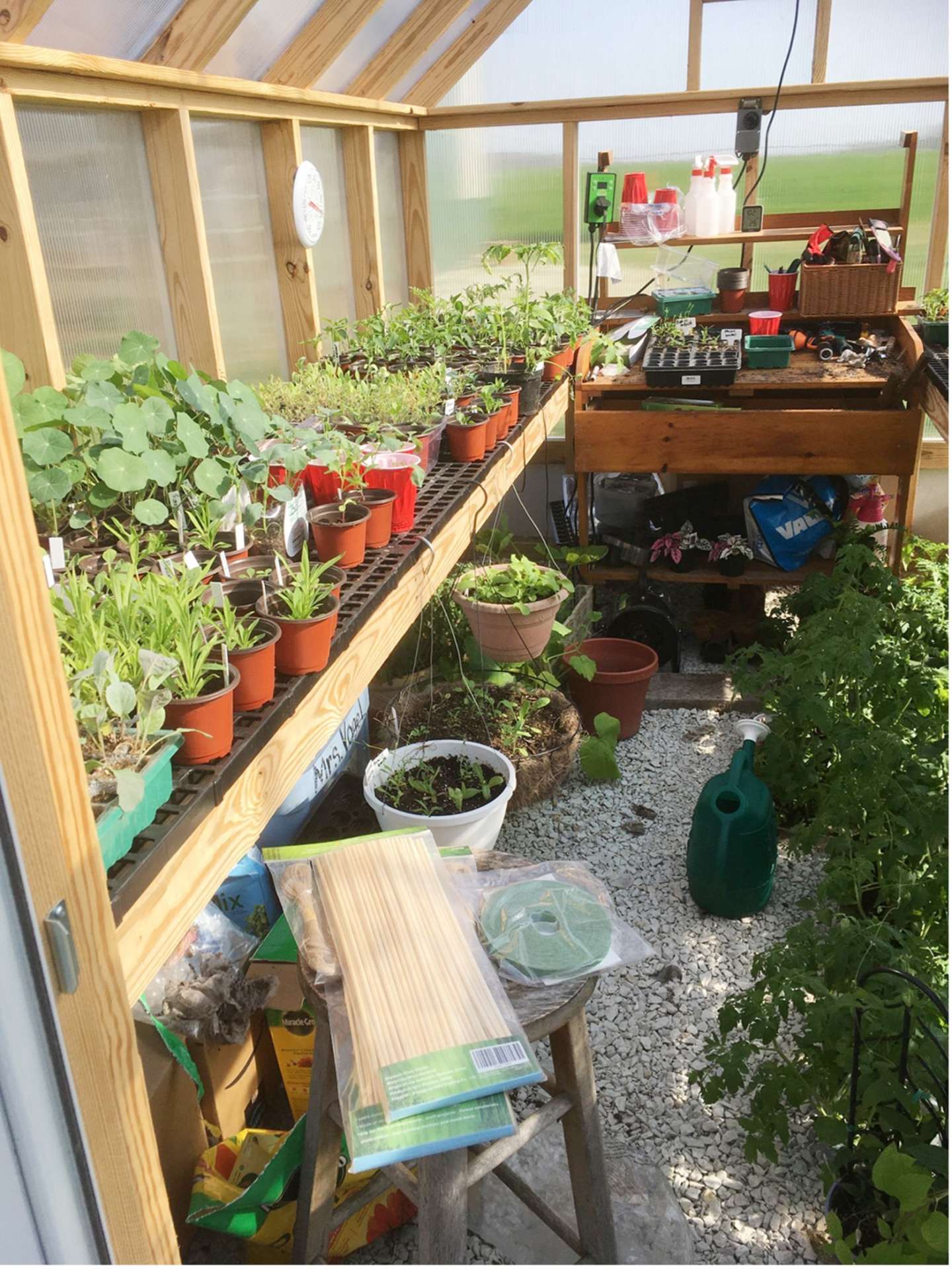 | | |
| --- | --- |
| Plant in the Ground | Plant in Pots |
| Plants have as much space as possible in the greenhouse and the ground in which to grow and fill out | If the plant is very susceptible to the cold, the ground beneath the greenhouse may be too cold for its root system |
| You won't have to worry about repotting | You have total control over each plant's soil over time |
| Watering is easier and required less frequently | No bending over to tend to plants |
| Soil can be turned over, fertilized, etc. much more easily | If crops aren't rotated in the ground, pathogens tend to build up and crops get weaker. Not so with pots. |
Over-Wintering and Growing Tropical Plants
Whether you only use the greenhouse in the winter when your porch and patio plants need protection, or you grow a collection of tropical plants in the greenhouse year-round, keeping tropical plants in a greenhouse requires careful design.
Designate a Workspace
Greenhouses used for tropical plants should have a designated workspace, so you don't end up getting dirt, debris, and bits of plant onto your established plants. A designated workspace also makes it easier to clean up so that disease isn't transferred between plants.
Design Around Watering
Watering tropical potted plants in a greenhouse can be a challenge. An overhead shower or misting system provides the required moisture and humidity. However, this kind of watering system doesn't give you much control over how much water plants get. It also gets leaves wet, which can cause disease or leaf die off for some plants. A drip system is a good solution for watering potted plants, but it can be tricky to set up. Good greenhouse design makes the drip system much easier.
To design your greenhouse so that the drip system can be put into place as easily as possible, put pots of the same height on shelves so that the nozzles of the drip system can easily spray into each pot. Drip systems installed along the ceiling can water hanging plants, making better use of the space. Plants that require less light and don't mind having their leaves wet can be placed on the floor below the shelves to utilize water dripping down from the plants above.
Seed Starting
Starting seeds in a greenhouse is a classic use of space. Seeds started in a greenhouse can be put into the ground earlier and produce a better harvest. Furthermore, greenhouses protect the young plants when they are most vulnerable. Whatever kind of seeds you want to start, a greenhouse is a good place to do it.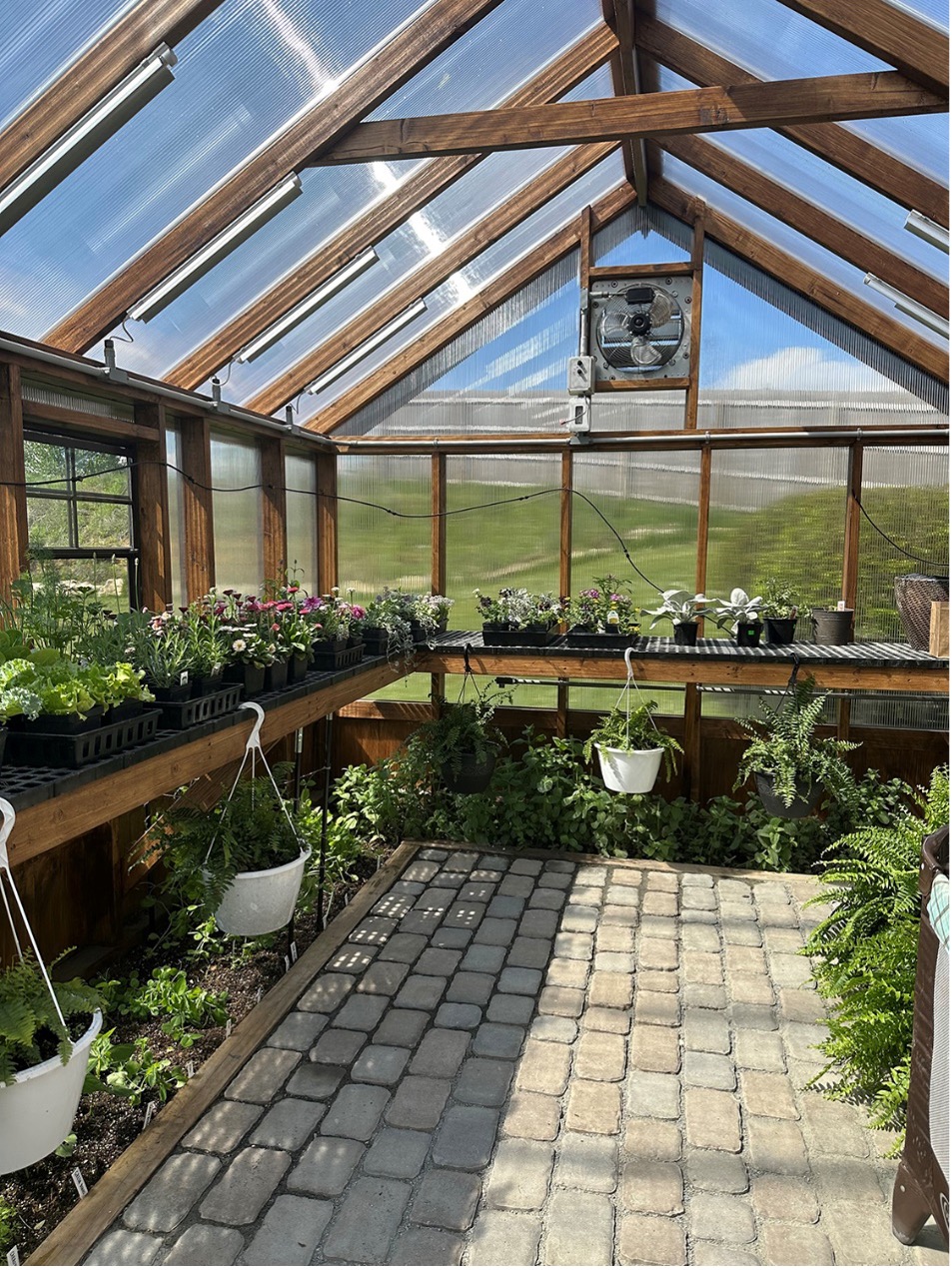 Because the greenhouse protects plants from the weather, you can even use artificial light to start plants earlier or make them grow faster. If you're using artificial light, the seed starting trays can be stacked quite closely, one over the other. Just ensure that water doesn't drip down onto the lights. Lights designed for this purpose can handle occasional dampness from the misting that seedlings respond best to.
If you're using natural light, you'll need to make sure that each tray is spaced far enough from the next to allow sufficient light. Even so, you'll probably notice that some seedlings on the tray receive more light than others.
Large, wide shelves are typically best for planting seedlings. Wide surfaces enable the seedlings to hold more humidity and make them easier to water and treat for disease.
Creating A Plant Paradise
Perhaps you want a greenhouse with no more specific purpose than to create a cool place full of beautiful plants where you can hang out and relax. While it may seem easy to design a greenhouse for such a general purpose, you may find that you struggle to set up a design you're happy with. It can be challenging to find a balance between your comfort and the health of the plants. Here are some ideas for creating a plant paradise you'll love.
Find Seating That Stays Dry
Hammocks and woven hanging chairs dry out quickly, making them a good pick for the humid greenhouse environment. They also save space since you can easily put up and take down a hammock or woven chair as you like. Collapsible chairs or seating that slides neatly under planting shelves are also great options. Another possibility is to keep poofs or cushions in a container away from the moisture and take them out when you want to sit back and relax.
Give Yourself More Space Than You Think You Need
Hanging out in a greenhouse is wonderful if there's enough room. You don't want to feel too crowded and pushed in on by the plants. Add plants slowly to make sure they don't overwhelm the space.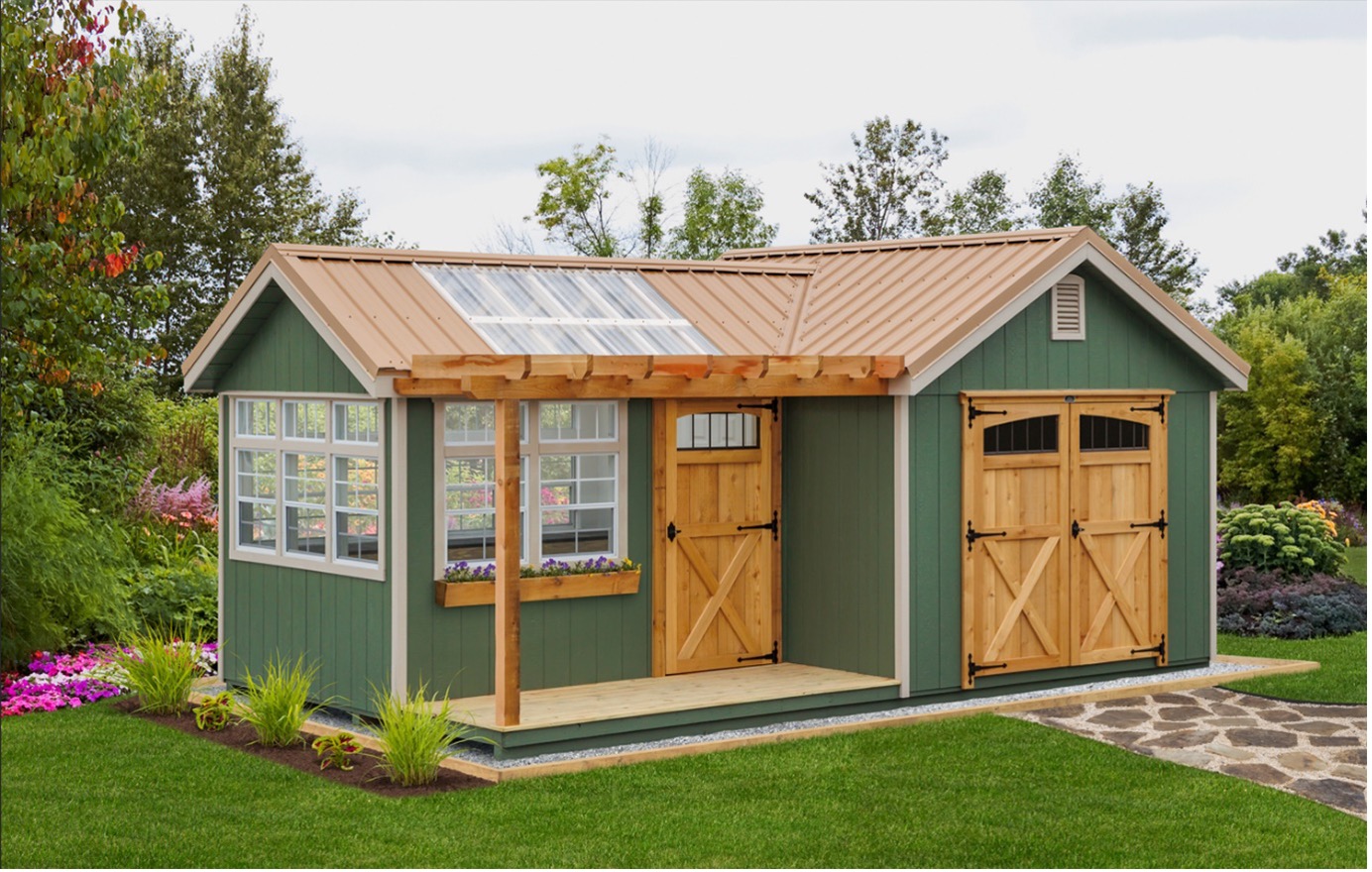 If you want plenty of room for you and the plants, a great solution is to choose a greenhouse that also has a shed portion. You'll have some room to stretch out and relax in a cozy, dry space while you admire the beauty of the greenhouse.
Add Some Creature Comforts
Having a floor built into your greenhouse may be a good idea if you want to use it as much for hanging out as you do for plant care and propagation. If you decide to go with a floorless greenhouse, try putting in a path of pavers or gravel to deter bugs from going onto the walking areas.
Especially in warm weather, you may prefer to enjoy the greenhouse in the cooler hours after the sun goes down. Add curtains made of a mold-resistant material, playful lights, decor, even a mini fridge. You'll probably find that one of your favorite times to enjoy hanging out in the greenhouse is in the evening.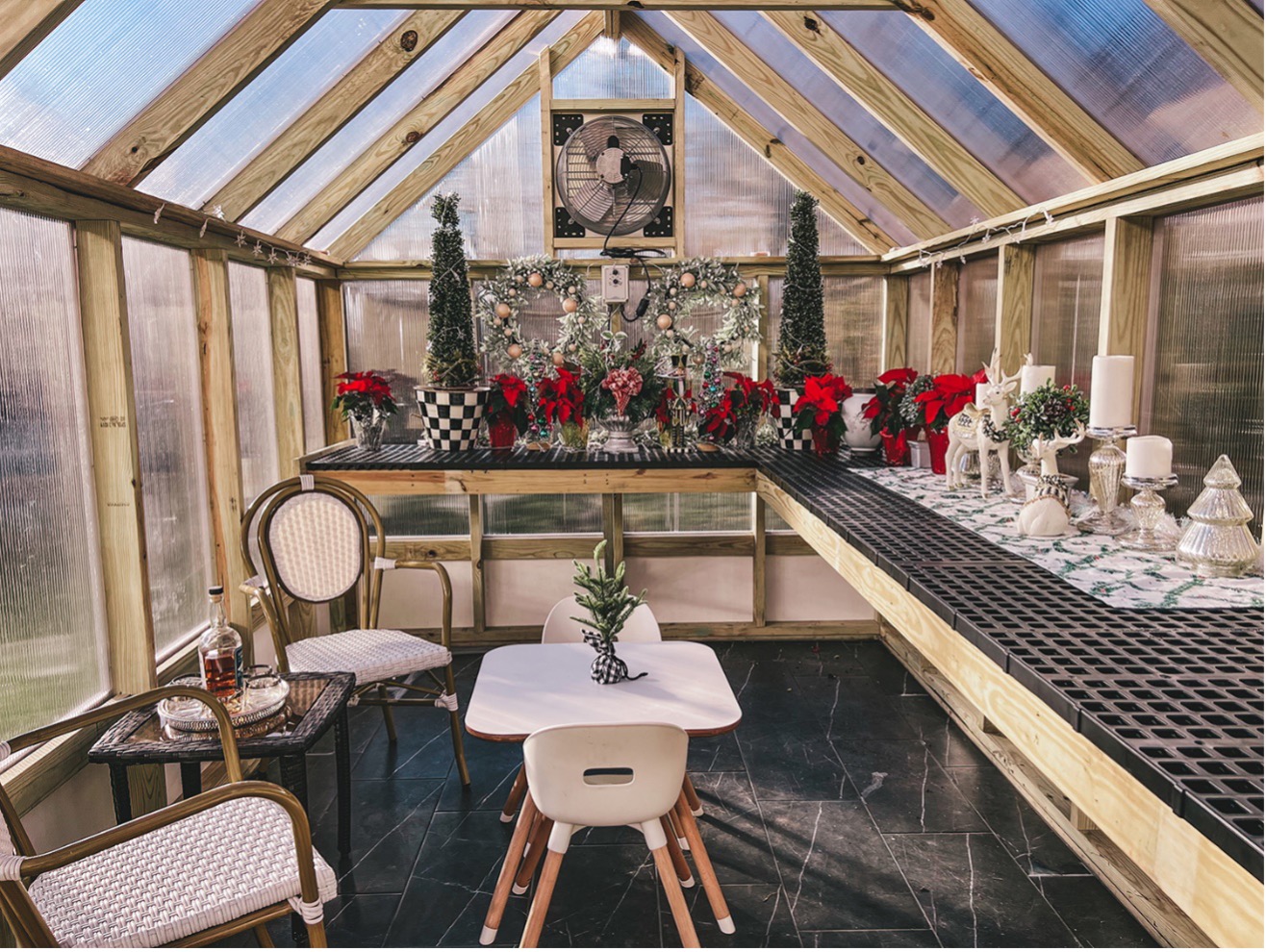 Sufficient privacy, pleasant lighting, and a floor that makes you feel separated from the ground make a huge difference in your plant paradise.
Growing as Many Plants as Possible
Is a greenhouse is all about having as many plants as possible for you? Whether you're a fanatical collector or you're trying to grow plants for food or profit, designing a greenhouse around growing lots of plants has its challenges. Growing as many plants as possible depends on understanding how to utilize light, water, and air movement most efficiently in your greenhouse.
Light. Depending on your greenhouse's layout and location, you may find that it's worth having clear or wire shelves to allow as much light as possible to reach the plants below. Hanging plants are an excellent way to utilize the space at the ceiling. Low-light plants can be placed on the floor of the greenhouse under shelves.
Air movement. Since crowded plants hold more humidity, plenty of air movement is necessary, so they don't become too damp and rot or become diseased. Fans placed strategically throughout the greenhouse enable enough air movement so that plants can be crowded more closely.
Water. How to water most efficiently when you have lots of plants depends on what kind of plants you're growing. Tropical plants that respond well to high humidity do well with misting systems that fill the entire greenhouse with mist. If you're trying to fight the humidity in a crowded greenhouse, a drip system, while meticulous to install, may enable your plants to do better.
Design the Perfect Greenhouse Interior for Your Needs
Greenhouses are a blank site for you to design an interior that perfectly meets your needs. Regardless of what you want to do with your greenhouse, whether you have specific goals for winter storage, propagation, or collection, or you just want a space full of plants in which to hang out and do some gardening, there's a perfect greenhouse interior design for you.
As you think about what you want to do with your greenhouse, decide on details like whether you want the floor to be finished ahead of time, what kind of potting benches you want, or any other customization that we can do before we deliver your fully built greenhouse to you. Of course, it's easy to make your own shelves or hang your own hooks on the sturdy stud walls and rafters as you get used to your greenhouse design.
We've Got the PERFECT Prefab Greenhouse
Choose Yours HERE
Share This Post: