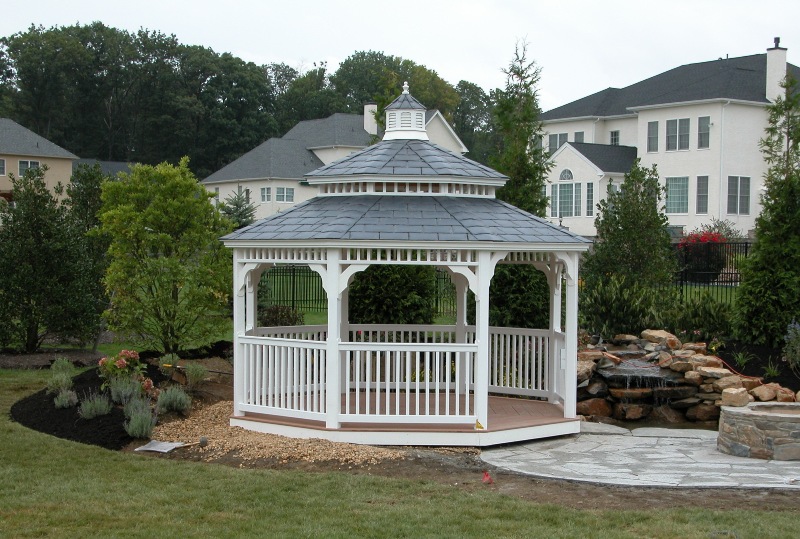 Gaze Across the Garden From Your Gazebo
I recently asked someone what it was they liked most about visiting their home in the Catskill Mountains and this is what they said: "There is nothing as peaceful as sitting in my garden sipping coffee early in the morning and watching the fog lift over the mountaintops."
That sounds about right! From my perspective I'll add, "With my horses grazing contentedly in the foreground."
Outdoor living is one of the fastest growing added value experiences that homeowners are discovering. It adds to their quality of life and sense of peace and relaxation. There are so many choices in how to best add not just value to your life in terms of pleasure and enjoyment of the Great Outdoors, but also how to best add value to your property with the purchase of an outdoor living structure.
Benefits like shelter from the unexpected summer shower, protection from harmful sun-rays, and a place to gather and furnish your own creature comfort come in many forms.
An octagonal style gazebo will give you a 360-degree view. The pergola will blend into the landscape and will also provide a focal point for barbecues and family gatherings. The pavilion will offer shelter from the elements and a generous space for larger parties.
The gazebo has long been a fixture in the garden. Traditionally a gazebo would be set at a height above its surroundings, to give an extensive view. The word itself originates as an 18th–Century joke word that combined "gaze" with the Latin suffix "ebo", which means "I Shall." It is the "viewing pavilion" of the Chinese or the summerhouse on the summit of a garden mount that was referred to by the 17th-century philosopher Francis Bacon.
Today there are many versions of the gazebo aside from the traditional turret, cupola or belvedere design that was admired for the delightful 360-degree views it provided. The traditional style gazebo is still the most popular. The usefulness of the full view, plus the benefit of setting the structure above the height of the surrounding area to maximize the view is particularly appreciated, and a gazebo offers the perfect respite from sun, wind and rain.
The gazebo can also provide a safe haven for smaller members of the family, children and pets, to play and stay out of poor weather.
When choosing the right structure for your needs, it is smart to choose something that complements your home or property in its appearance.  While it may be tempting to just stop and purchase something you see on the side of the road, it probably is not the best choice. It always pays to explore all your options.
The use of outdoor structures such as pavilions, pergolas and gazebos add a bygone elegance to your property. They are very useful retreats for private conversation, times of contemplation and reflection, and a place to simply enjoy some fresh air and admire nature.
In today's marketplace there truly is something for everyone. Siding and roofing can be matched to complement your house, and all structures can be customized to fit on a terrace or existing open patio space. Traditional materials such as wood may be your taste or maintenance free vinyl may appeal. The roof design can be customized too. Choose from hip roof, alpine roof, shed roof etc. You can add cupolas, electrical packages, E-Z shade sun protection and so many other features it is hard to imagine them all.
That is why a visit to an experienced manufacturer's website can be fun shopping and keep you on budget as well as design and showcase you all kinds of ideas to individualize your outdoor living structure just the way you want it. Look for not just a wide array of choices in outdoor structures, but also the ability of the company to deliver a high-quality product. Many companies also offer financing options, should you have the need.
When you consider landscape architecture, the inclusion on an outdoor structure can provide a valuable focus for your garden design. As the structures are relatively inexpensive and can be quickly delivered and placed with minimal effort in site preparation, the positive results can be stunning:
Improved eye appeal of your garden
Maximized use of your outdoor space
Added property value
Increased property sales value with added purposeful use of the garden.
Spring is just around the corner and the best time to order is now to ensure you beat the seasonal rush as everyone comes out of hibernation.
Enjoy the benefits of a worry-free "to the penny quote" that includes delivery and set up of a gazebo, pergola or pavilion on your property.
Share This Post: