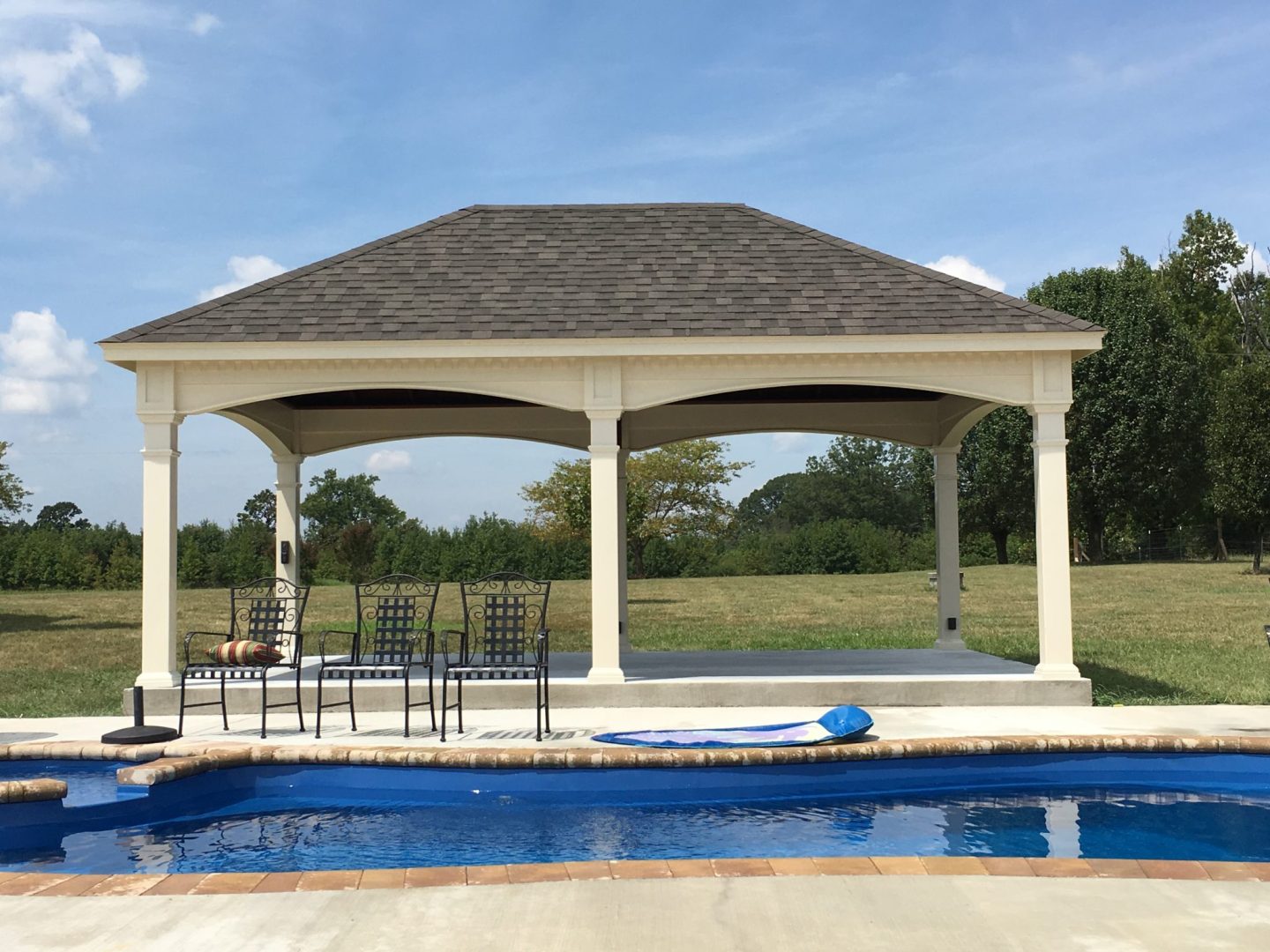 Why You Should Ditch the Tent at Your Next Event
Renting tents for events can be expensive and requires advance planning. The availability factor often determines the date for the event in areas where rental services are few and far between.
Set up of large tents can also be a problem, especially if you don't want it set up on a lawn and would rather not damage the beautiful grass by flattening it with a temporary floor and raising a tent. This type of abuse will often require complete reseeding of the lawn after the event has finished and the tent is removed to reveal the damage.
If you want to place a tent over a concrete area to avoid the mud and mayhem that large groups of people will inevitably cause in wet weather if the tent is placed over grass, then pegging into concrete will be an issue as owners of the parking lots won't agree to the installation through the concrete, tarmac or stone surfaces.
The simple answer is to build a permanent pavilion. A wealth of prefabricated pavilion styles and sizes are available at the 'drop of a top hat' and you can drop circus of renting the 'Big Top' for your main event. Imagine the pleasure of no more delivery trucks driving all over your property, no more poles and ropes to trip over, and put an end to the disappointment of tents that aren't what was ordered or that look as clean and white as you'd like them.
Another advantage of an outdoor prefabricated pavilion is that planting shrubs and flowers and adding bench seating, firepits, dancing floors and paved pathways can all be completed to showcase the venue and are for use with a simple seasonal spruce up.
Properly constructed and well-crafted pavilions can negate issues with adverse weather that a tent may not withstand. Electrical outlets and lighting can be installed to provide options for year around use, and the addition of TV screens and cooking facilities offer a bounty of events that can be offered under one roof.
A prefab pavilion placed in a backyard can ensure fun family gatherings can go ahead as planned regardless of the odd rain shower and increase property value and curb appeal. Shelter from the harsh rays of the sun and a focal area for the event are all added advantages of ditching the tent rental.
For federal, state and local government the permanent pavilion placed on the village green, by the firehouse, or in the park, can provide a community benefit to host a myriad of events throughout the year. Other outdoor structures such as gazebos can add extra space and act as a bandstand or podium from which to give speeches, and pergolas added to a pavilion can increase the space available dramatically. Look for outdoor living structure manufacturers that offer GSA services to make the purchasing task easy and cost efficient.
Financing and affordability are factors to consider when making the smart choice of purchasing an outdoor pavilion. When you work directly with a manufacturer you enjoy a much wider range of design options and can customize your pavilion to be maintenance free, choose the size and style of the pavilion to match your needs and design it with colors to blend into the environment either as a rustic structure or as an elegant statement for weddings, graduation parties and bar mitzvahs.
There are endless possibilities for pavilion use and for their design. Combination structures of multiple pavilions with adjacent pergolas can provide an enticing environment that will excite even the most jaded event planner, with their opportunity to add swaths of fabric, ribbons and light decorations to fit their discerning taste for designing the perfect event.
If you are a business owner, don't forget that adding a capital expense to your budget can often be amortized and depreciated and will increase the value and curbside appeal of your property. Talk to your tax professional about deductions for interest in loans/financing and how the initial expenditure on a permanent structure can be offset.
Isn't it time you ditched renting the tent?
Share This Post: