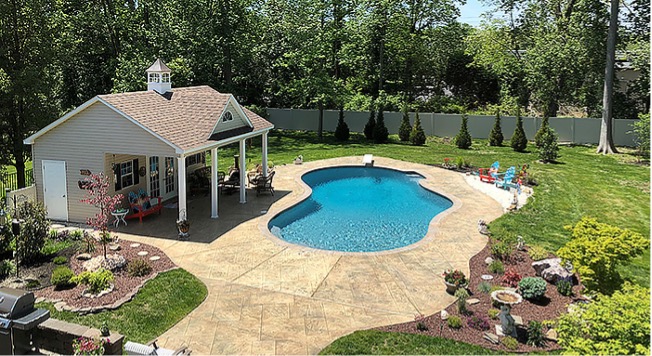 Things to Consider When Designing a Pool House
Warm and pleasant days are ahead – who's not looking forward to summer? Swimming at your pool and having fun with your friends and family is one of the most enjoyable summer activities. You can use your beautiful pool to relax, unwind, throw parties and entertain guests. But, maybe you wonder what to do with all the pool supplies, outdoor furniture, etc.? Wouldn't it be nice to have a place near the pool to change clothes and store towels and other useful items? You're at the right place if you've already asked yourself this question! Designing a pool house will solve all these problems. Not only will it provide you with the place to store all the stuff you need, but it will also add value and beauty to your home. Here are the things to consider before you embark on this project!
What is a pool house, and why is designing one a good idea?
Contrary to its name, a pool house is not a house. Although you can furnish it with many extra features, it's not meant to be a living area. A pool house is a permanent outdoor area near the pool that you can use for many purposes. Here are some of the benefits of having a pool house:
storage – you can use it to store all the pool supplies and equipment
private area – both you and your guests can use it to change into swimwear without going back to the house
it keeps your home clean – if everything you need at the pool is close at hand, you don't have to make frequent trips to the house, so you'll avoid tracking water and making puddles inside your home
it adds value to your home – experts agree that a pool house can boost your home's value by 5% -8%
a pool house increases the appeal of the property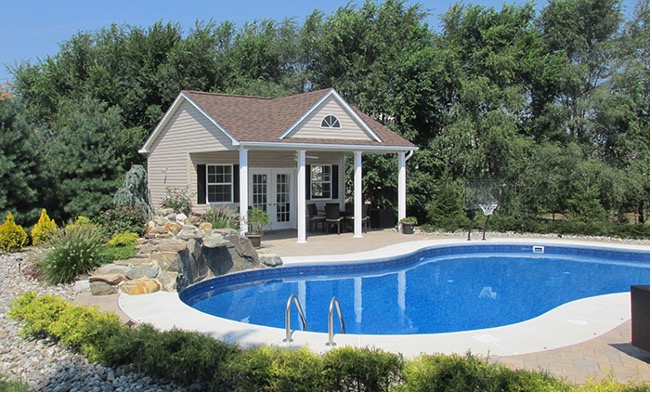 Designing a pool house has many benefits – it will increase both the appeal and the value of your property
Ensure you follow all the legal requirements
Of course, when designing a pool house, it's essential to check the building codes first. Just like with building any other structure, you need to follow your city or county's building guidelines. These usually dictate how far the pool house should be from the house, the pool, and neighbors' property lines. Knowing these codes will also ensure that you build your pool house within legal bounds and safety regulations.
Consider the position and size
Then, if you're not limited to a specific spot by legal requirements, it's time to choose the best location for your pool house. Of course, you need to consider the position of your main home and pool. You don't want your pool house to be in the way or look out of place on your property. Additionally, it's a good idea to consider other factors. Do you want your pool house to be in the sun or in the shade? Is there a spectacular view you want to have?
Also, the position of your pool house will depend on the size you want. Generally, the bigger the main home is, the larger is the pool house, too! However, your choice will depend on your needs and preferences.
Choose the style that suits your home
Another crucial component of designing a pool house is choosing the right style! After all, you don't want it to clash in style with the rest of your property. Luckily, there are plenty of designs you can choose from! Cozy colonial or lavish royal retreat – it's all up to you. The design of your pool house should complement your main home in materials and colors as well as in ambiance and style.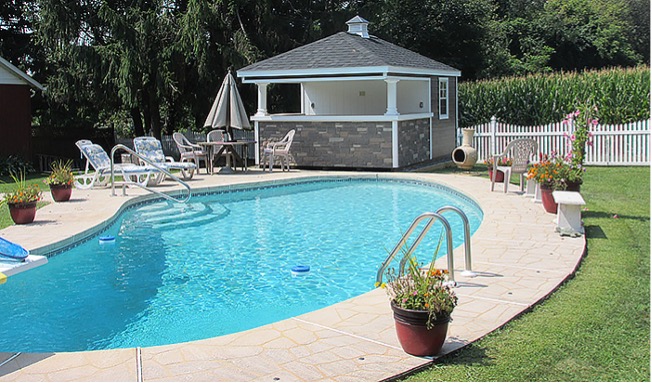 Many interesting styles will give a unique flair to your pool house
Consider the materials you want to use
This leads us to our next step – choosing the right materials. Apart from the design and color scheme, there are other things you should factor in. For example, keep in mind that the sun and water can cause a lot of damage to any outdoor structure over time. Therefore, you must opt for durable and strong materials. You need building materials that can withstand humidity and temperature changes from floors to walls.
Decide on what you're going to use your pool house for
Last but not least, everything, from position to materials, will depend on the functions you have in mind for your pool house. Do you plan on throwing lavish parties by the pool? Or do you prefer a small and cozy sanctuary for yourself and your family? Do you need only changing rooms or a kitchenette and a bar? It all depends on your wishes and desires. However, here are a few things you should consider first!
Plan for a lot of storage room
Storage space is always a valuable feature in whichever way you plan to use your pool house. You can use it to store pool toys and cleaning equipment, as well as towels, swimwear, and pool furniture. So, plan for a lot of shelving and cabinets!
On the other hand, if you still don't have enough room for all the pool-related belongings, don't worry. You can always rent a storage unit and put the most difficult items there. However, ensure you pick the right size storage unit for this purpose. Consider your needs and choose the option that suits you best. Also, think about the unit type and features you'll need to store various pool equipment.
Ensure privacy
Whether you plan to entertain the guests or not, privacy is important. Ensure you have enough changing cabins for all the family members or visiting friends. Additionally, consider installing blinds, privacy screens, or frosted windows (curtains can be a very stylish choice).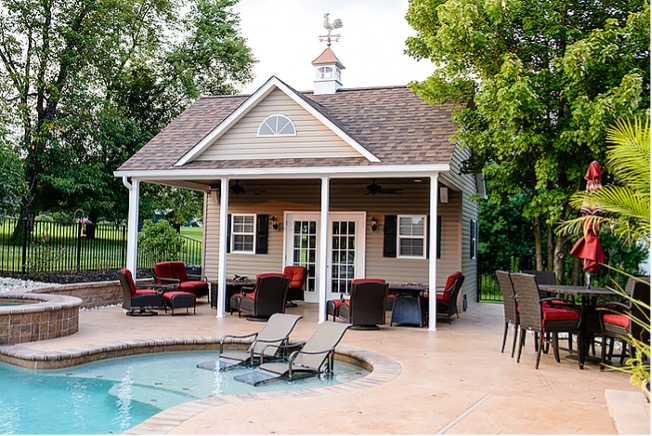 Having a comfortable seating area will enhance your pool experience
Provide plenty of space for entertaining – extra features
Depending on your plans, you might want to think about some luxurious additions to your pool house. Even if you're not a party person, leaving lots of space for entertainment is always an excellent idea. Even a simple family dinner by the pool will become a special occasion! With that in mind, here are a few features you might want to add to your pool house:
a kitchenette for preparing meals and drinks
a bar will provide that unique beach feel to your pool
a cozy seating area ideal for conversation and hanging out with your guests
while not glamorous, having a bathroom in your pool house will save both you and your guests countless trips to the main home
Enjoy your summer by the pool!
When all is planned and done, enjoy your pool house! Although designing a pool house can be challenging, it's well worth it. You'll have a beautiful, magical oasis you can use and enjoy in years to come.

Share This Post: