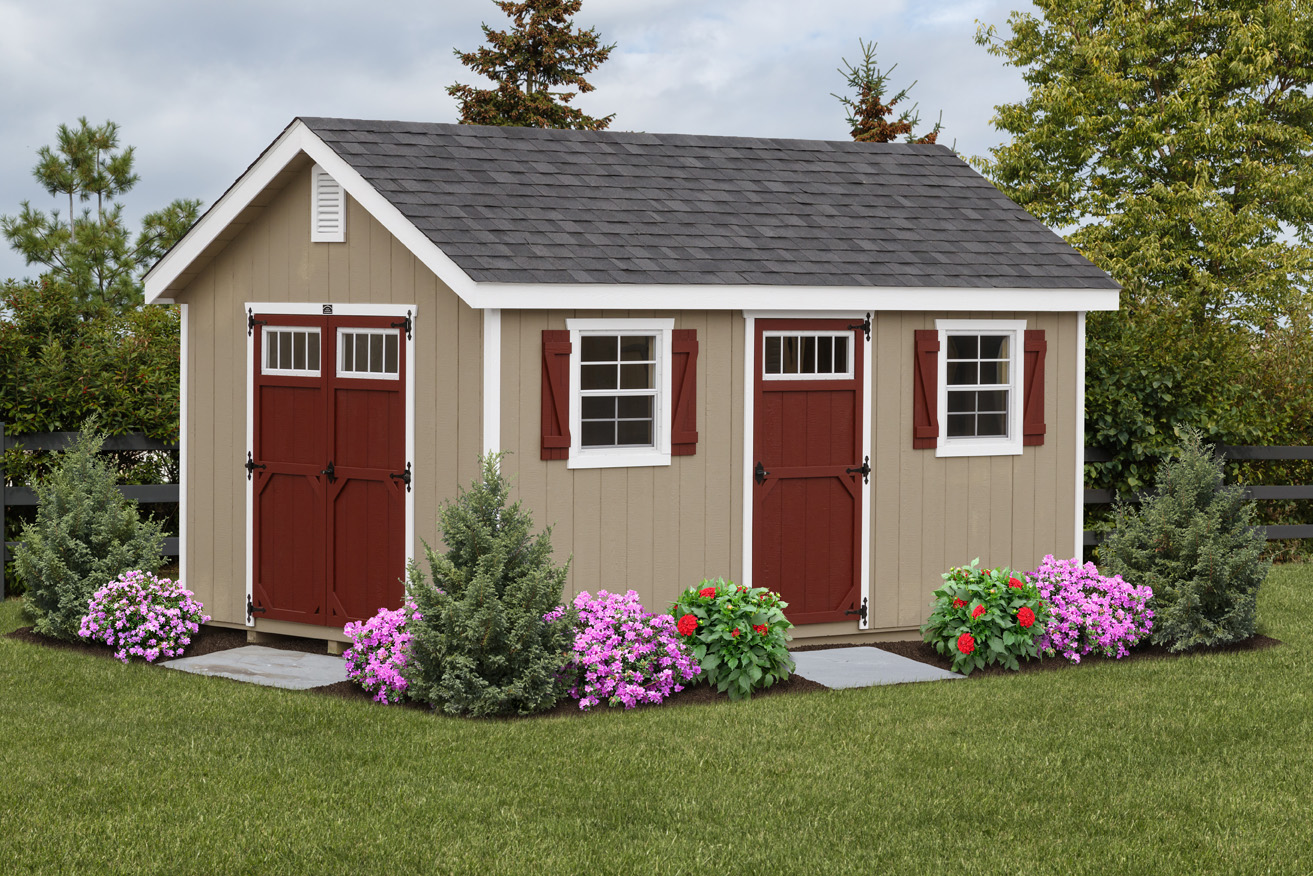 10×16 (Shown with Optional Single Door, and Transom Windows in Doors)
Garden Shed Highlights
Steeper Pitch Roof
Larger Overhangs
Decorative Miratec Trim for Corners, Windows and Faceboard
10 Year Warranty
The quintessential garden shed is the A-frame design, and it is popular for good reason. Not only is it user friendly, with its double doors and gable overhangs, but it is also a budget friendly option to complete the task of storing your valuable tools and garden equipment.
The flourish of accents with the huge array of color choices available plus design elements such as the cottage style shutters and windowed doors that lighten both the appearance of the small wooden sheds as well as serve as a natural light source, all serve to accomplish the complete package of form, fit and function in the shed.
The neighbors will certainly admire the beauty of your garden shed while you will enjoy its benefits securing your 'stuff' from inquisitive children, nosey critters, and the wrath of Mother Nature.
Garden A-Frame Shed Features
4 X 4 Pressure Treated Skid form the foundation
Floor joists are standard 2 X 4's 16″ on center
5/8″ SmartFinish Wood Flooring
Walls are Standard with 2 X 4s 16″ OC
6'7″ High Walls
½" LP Smartside Siding Finishes the Exterior OR
Optional (Cedar Creek Vinyl Siding w/ ½" Wood Sheating) OR
Optional (Painted Smart Side LP Lap Siding)
Set of Double Doors with Aluminum Diamond Plate Guard
Includes 2- 24" X 27" Windows w/Trim
2- Pair Shutters
Rafters are constructed of 2 X 4s 16″ OC
7- Pitch Roof  (6 Pitch on 14′ Wide)
7" Gable Overhangs
Arch Gable Vents
Roof consists of ½" sheeting
Tar Paper
30 year Architectural Shingles
Standard Double Door widths:

8 wide building = 4′ Wide x 6′ High Doors
10 wide building = 5′ Wide x 6′ High Doors
12 and 14 wide buildings = 6′ Wide x 6′ High Doors
Make your garden shed a potting shed!
Our potting sheds come with all the standard features of our wood garden sheds, along with additional features to make nurturing tender seedlings or potting flowers easy and convenient!
Potting Sheds Include:
Garden Shed Options
4-24" x 27" Windows – Along back wall
1-25" x 49" Vertical Sky Light
2'x8′ Workbench
Garden A-Frame Shed Examples
GARDEN A-FRAME PRICES
Prices shown are meant to be a guide and don't include delivery or custom features. Once you find your size, click "Get A Quote" and fill out the form to submit your ideas to a project manager, who will reach out to you with a full quote!
| | | | |
| --- | --- | --- | --- |
| Size | Smartside | Vinyl – LP Board & Batten | LP Lap – Pine B&B |
| 6 X 8 | $2,820 | $3,485 | $3,775 |
| 6 X 10 | $3,145 | $3,885 | $4,210 |
| 8 X 8 | $3,175 | $3,925 | $4,250 |
| 8 X 10 | $3,465 | $4,285 | $4,640 |
| 8 X 12 | $3,790 | $4,685 | $5,075 |
| 8 X 14 | $4,095 | $5,065 | $5,485 |
| 8 X 16 | $4,400 | $5,440 | $5,890 |
| 10 X 10 | $4,225 | $5,220 | $5,655 |
| 10 X 12 | $4,705 | $5,815 | $6,300 |
| 10 X 14 | $5,180 | $6,405 | $6,935 |
| 10 X 16 | $5,620 | $6,945 | $7,525 |
| 10 X 18 | $6,110 | $7,550 | $8,175 |
| 10 X 20 | $6,580 | $8,135 | $8,805 |
| 10 X 22 | $7,060 | $8,730 | $9,450 |
| 10 X 24 | $7,535 | $9,320 | $10,090 |
| 10 x 26 | $8,000 | $9,890 | $10,710 |
| 10 x 28 | $8,490 | $10,495 | $11,365 |
| 10 x 30 | $9,000 | $11,125 | $12,045 |
| 12 X 12 | $5,175 | $6,400 | $6,930 |
| 12 X 14 | $5,685 | $7,025 | $7,610 |
| 12 X 16 | $6,210 | $7,675 | $8,315 |
| 12 X 18 | $6,735 | $8,330 | $9,020 |
| 12 X 20 | $7,260 | $8,975 | $9,715 |
| 12 X 22 | $7,785 | $9,625 | $10,420 |
| 12 X 24 | $8,300 | $10,260 | $11,110 |
| 12 X 26 | $8,820 | $10,905 | $11,805 |
| 12 X 28 | $9,335 | $11,540 | $12,495 |
| 12 x 30 | $9,860 | $12,190 | $13,200 |
| 12 X 32 | $10,395 | $12,850 | $13,915 |
| 12 X 34 | $10,910 | $13,485 | $14,605 |
| 12 X 36 | $11,460 | $14,170 | $15,345 |
| 12 X 40 | $12,480 | $15,425 | $16,705 |
| 14 X 20 | $9,005 | $11,130 | $12,055 |
| 14 X 24 | $10,380 | $12,835 | $13,900 |
| 14 X 28 | $11,625 | $14,375 | $15,565 |
| 14 X 32 | $12,865 | $15,905 | $17,220 |
| 14 X 36 | $14,090 | $17,420 | $18,860 |
| 14 X 40 | $15,335 | $18,960 | $20,530 |
Garden A-Frame Shed Options
Paint / Shingle Colors for Garden A-Frame Shed
Paint Colors
Vinyl Colors
Aluminum Trim Colors
LP Smartside Stain Colors
Shingle Colors
Ribbed Metal Roofing Colors
Standing Seam Metal Roofing Colors
Get a Quote on a Garden A-Frame Shed