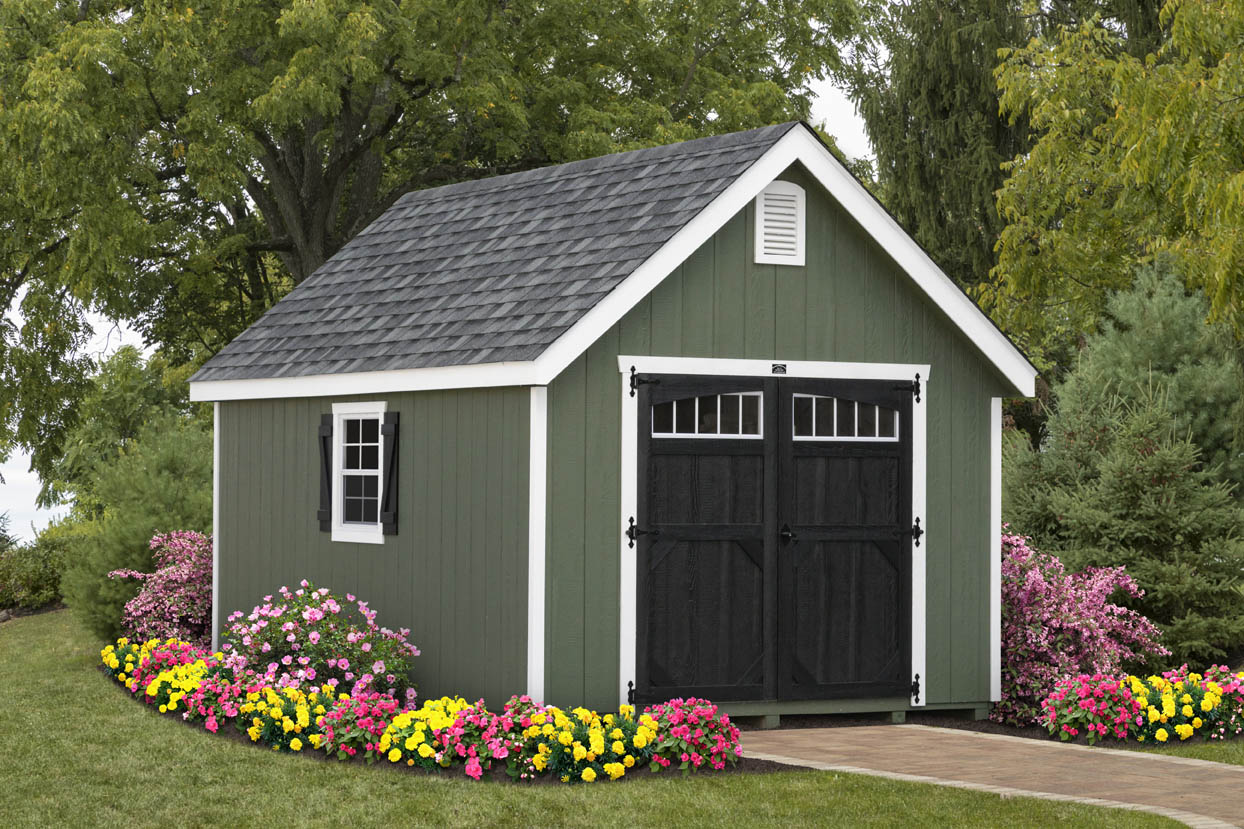 Shown with Optional Colonial Doors with Transom Windows
Garden Charm Highlights
Larger Overhangs
Decorative Miratec Trim for Corners, Windows and Faceboards
Steeper Roof Pitch
10 Year Warranty
The Garden Charm prefab garden shed design elevates any space with its extra height due to an increased pitch. The 10-pitch roof (slightly reduced to 8.5 on a 14' wide shed), gives this shed more presence in any backyard and with the option of a standard dormer you can place the double sash doors just where you want them for optimal functionality in your back yard.
The boon of the Garden Charm shed doesn't end there, the extended gable overhangs ground the roofline and accents it at the same time and decorative Miratec trim frames the shed.  The extra interior height created by the elevated pitch of the roof will be appreciated for the spacious interior feel it provides plus its practical use for storage needs.
Add a dormer window for the extra light benefit and add a dash of extra charm to this pretty garden shed. See pictures of our Amish garden sheds for sale below!
Garden Charm Shed Features
4×4 Pressure Treated Foundation Runners
2×4 Floorjoist with 5/8" Smart Finish Wood Flooring
2×4 Wall Studs 16" OC
5'-8" Wall Height on 8' and 10' wide, 5' on 12′ and 14′ wide
1/2" Painted Smartside Wood Siding
2 – 24" x 27" Windows with Screens
2 – Decorative Style Shutters
Trim Around Each Window
Double Hinged Door w/Aluminum Floorguard
2×4 Rafters 16" OC
7" Gable Overhang
10 Pitch Roof (8.5 Pitch on 14' Wide)
2 Arch Gable Vents
Wooden Corner Trim
1/2" Wood Sheating on Roof
Tar Paper
30 Yr Architectural Shingles
Garden Charm Shed Prices
Prices shown are meant to be a guide and don't include delivery or custom features. Once you find your size, click "Get A Quote" and fill out the form to submit your ideas to a project manager, who will reach out to you with a full quote!
| | | | |
| --- | --- | --- | --- |
| Size | Smartside | Vinyl – LP Board & Batten | LP Lap – Pine B&B |
| 6 x 8 | $3,100 | $3,835 | $4,155 |
| 6 X 10 | $3,460 | $4,275 | $4,630 |
| 8 X 8 | $3,495 | $4,320 | $4,675 |
| 8 X 10 | $3,810 | $4,715 | $5,105 |
| 8 X 12 | $4,170 | $5,155 | $5,585 |
| 8 X 14 | $4,505 | $5,570 | $6,035 |
| 8 X 16 | $4,840 | $5,985 | $6,480 |
| 10 X 10 | $4,650 | $5,740 | $6,220 |
| 10 X 12 | $5,175 | $6,395 | $6,930 |
| 10 X 14 | $5,700 | $7,045 | $7,630 |
| 10 X 16 | $6,180 | $7,640 | $8,280 |
| 10 X 18 | $6,720 | $8,305 | $8,995 |
| 10 X 20 | $7,240 | $8,950 | $9,685 |
| 10 X 22 | $7,765 | $9,605 | $10,395 |
| 10 X 24 | $8,290 | $10,250 | $11,100 |
| 10 x 26 | $8,800 | $10,880 | $11,780 |
| 10 x 28 | $9,340 | $11,545 | $12,500 |
| 10 x 30 | $9,900 | $12,240 | $13,250 |
| 12 X 12 | $5,695 | $7,040 | $7,625 |
| 12 X 14 | $6,255 | $7,730 | $8,370 |
| 12 X 16 | $6,830 | $8,445 | $9,145 |
| 12 X 18 | $7,410 | $9,165 | $9,920 |
| 12 X 20 | $7,985 | $9,875 | $10,685 |
| 12 X 22 | $8,565 | $10,590 | $11,460 |
| 12 X 24 | $9,130 | $11,285 | $12,220 |
| 12 X 26 | $9,700 | $11,995 | $12,985 |
| 12 X 28 | $10,270 | $12,695 | $13,745 |
| 12 x 30 | $10,845 | $13,410 | $14,520 |
| 12 X 32 | $11,435 | $14,135 | $15,305 |
| 12 X 34 | $12,000 | $14,835 | $16,065 |
| 12 X 36 | $12,605 | $15,585 | $16,880 |
| 12 X 40 | $13,730 | $16,970 | $18,375 |
| 14 X 20 | $9,905 | $12,245 | $13,260 |
| 14 X 24 | $11,420 | $14,120 | $15,290 |
| 14 X 28 | $12,790 | $15,815 | $17,120 |
| 14 X 32 | $14,150 | $17,495 | $18,940 |
| 14 X 36 | $15,500 | $19,160 | $20,745 |
| 14 X 40 | $16,870 | $20,855 | $22,585 |
Garden Charm Shed Options
Paint / Shingle Colors for Garden Charm Shed
Paint Colors
Vinyl Colors
Shingle Colors
Metal Roofing Colors
Get a Quote on a Garden Charm Shed