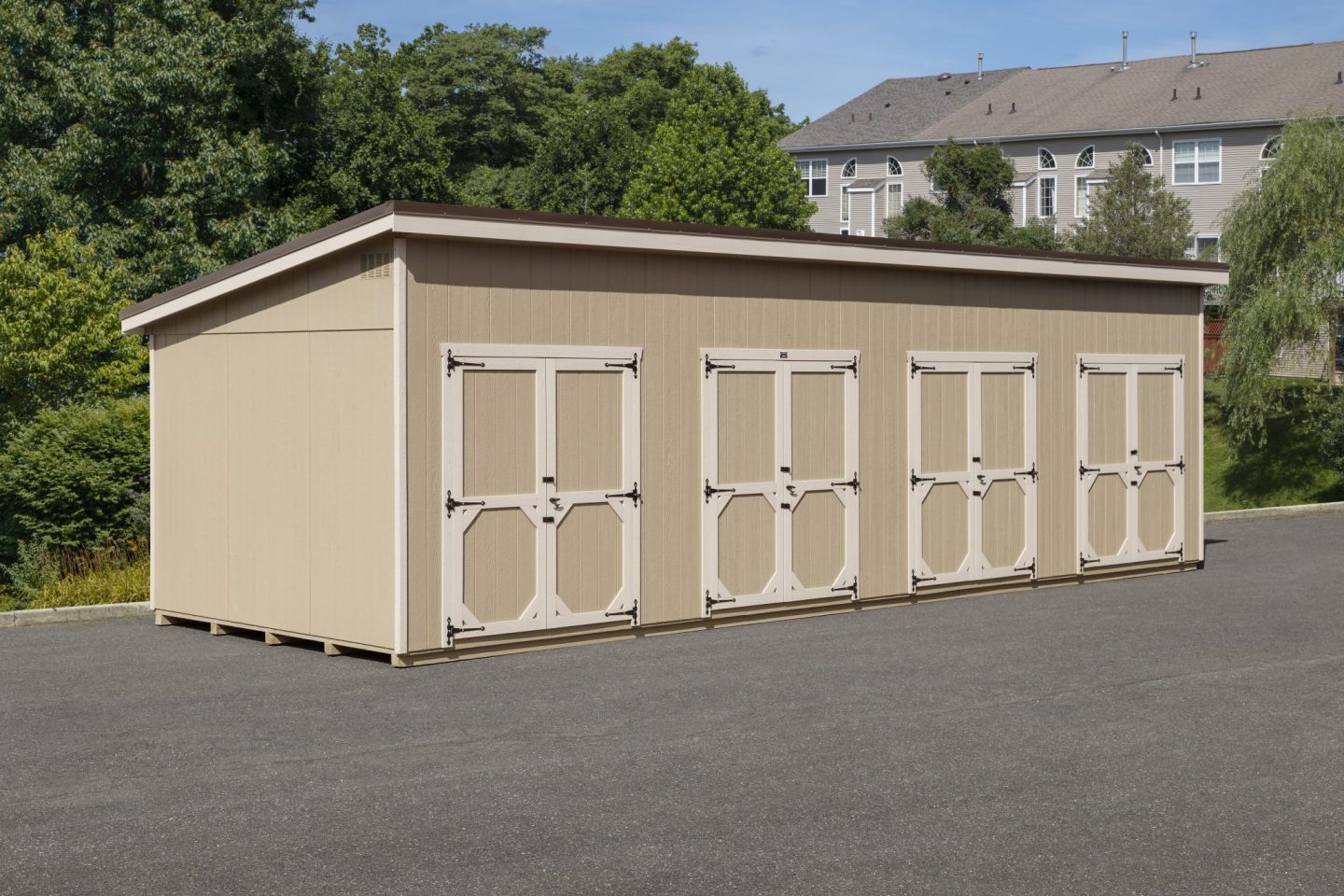 12×36 4- Unit Self Storage Unit
SELF STORAGE UNIT FEATURES
4×4 Pressure Treated Foundation Runners
2×4 Floorjoist 12''OC
5/8" Smart Finish Wood Flooring
2×4 Wall Studs 16"
7'10'' Wall on Rear Wall
9'10'' Wall on Front Wall
1/2" Painted Smartside Wood Siding or Cedar Creek Vinyl Siding with ½''Wood Sheating
Sets of 6' Wide Double Hinged Doors w/Aluminum Floorguards
Heavy Duty 1×4 Trim & Strap Hinges
2- Sets of Carriage Bolts in Hinges for Security Reasons (Per Double Door)
2- Hasp Lock Receivers per Set of Double Doors
Sets of Solid Partition Walls w/ 2×4 12'' OC Frame , ½'' Wood Sheating & Metal Vent
7" Overall Overhangs on Front & Gables
Vented Soffit
2×6 Rafters 24" OC
2×4 Lath 24'' OC
TempSheild Insulation under Metal
40 Yr Metal Roof
As an apartment landlord your number one priority is the creation of a strong revenue stream from your tenants. The best way to accomplish this is by offering 'added value' services to your tenants that make their lives easier and provide a feature that they desire. The self-storage unit provision is a great means to enhance your bottom line and to keep tenants happy and vacancy time low. Here's how:
Tenants come with lots of 'stuff.' Invariably this ends up in the basement, perhaps unsecured or subject to damage. Sometimes it clutters the deck/porch space and provides an unsightly appearance to your building.
These super tidy, pre-built storage sheds provide a sturdy, safe option for the tenant for which you can charge an additional rent fee. In the event of default on payment the tamper proof hinges and double hasp locks mean you can take control of the unit at any time. Yes. We've thought of everything!
Let's do the math:
For example:
Cost of 12 x 32 4 – Unit Building Costs $7600
Monthly Rent for 8 x 12 Unit $90 x 4 = $360 month
Pay off period for Building is less than 2 yrs and then cash flow that into infinity!
Also, financing for a self-storage shed is available so the payment would be just $155 month.
Additionally as the owner of the property, you may be able to amortize the initial costs of the useful self-storage unit, deduct any interest payments and if you need it placed elsewhere simply move it.
Sidebar benefits are that these units provide your tenant with enough space to store their 'stuff', which is often larger objects that won't easily fit into living space and keeping these items in an independent self-storage unit can minimize damage to common area walls, stairwells and floors in your building
Many tenants turn down an apartment because they have an extra large piece of furniture that won't fit into the new space. If you provide them with an opportunity to safely store these objects they are much more likely to sign up your lease.
The self-storage unit also allows tenants to place materials that may be flammable outside, such as paint pots or motorized bikes.
This Amish built quality craftsmanship unit also facilitates any needs for storage you might have too. You can store mowers, maintenance equipment or supplies on hand for your staff and keep it safely under lock and key. If your complex offers a swimming pool or other outdoor activities, pool accessories and sports supplies could also be stored out of the elements on site off-season. The possibilities are endless.
Additionally, keeping your property clean and tidy makes it safe, may save you on insurance costs, and makes it more appealing to the prospective tenant.
As you are saving your tenant the need to spend time and gas to drive across town to lease a self-storage unit elsewhere, your tenant will be very likely to take up the self-storage unit rental and those fees go directly into your pocket.
With the different styles and designs offered you are able to choose siding and roofing materials to complement your existing structures, and the right size to fit your particular space.
So store up some profits with our self-storage units, there's no time like the present to get started.
Self-Storage Shed Prices
Prices shown are meant to be a guide and don't include delivery or custom features. Once you find your size, click "Get A Quote" and fill out the form to submit your ideas to a project manager, who will reach out to you with a full quote!
| | | | | |
| --- | --- | --- | --- | --- |
| Size | Units | Smartside | Vinyl – LP Board & Batten | LP Lap – Pine B&B |
| 10 x 20 | 3 | $8,355 | $9,905 | $10,945 |
| 10 x 22 | 3 | $8,910 | $10,580 | $11,690 |
| 10 x 24 | 4 | $10,065 | $11,850 | $13,030 |
| 10 x 26 | 4 | $10,605 | $12,495 | $13,755 |
| 10 x 28 | 4 | $11,170 | $13,175 | $14,515 |
| 10 x 30 | 3 | $11,145 | $13,270 | $14,690 |
| 12 x 12 | 2 | $6,020 | $7,245 | $8,055 |
| 12 x 14 | 2 | $6,615 | $7,960 | $8,850 |
| 12 x 16 | 3 | $7,820 | $9,290 | $10,270 |
| 12 x 18 | 3 | $8,425 | $10,020 | $11,080 |
| 12 x 20 | 3 | $9,025 | $10,740 | $11,880 |
| 12 x 22 | 3 | $9,630 | $11,470 | $12,700 |
| 12 x 24 | 4 | $10,825 | $12,790 | $14,090 |
| 12 x 26 | 4 | $11,425 | $13,510 | $14,900 |
| 12 x 28 | 4 | $12,020 | $14,230 | $15,700 |
| 12 x 30 | 4 | $12,625 | $14,950 | $16,510 |
| 12 x 32 | 4 | $13,235 | $15,690 | $17,330 |
| 12 x 34 | 4 | $13,830 | $16,410 | $18,130 |
| 12 x 36 | 4 | $14,455 | $17,160 | $18,970 |
| 12 x 40 | 5 | $15,340 | $18,285 | $20,255 |
| 14 x 20 | 3 | $10,535 | $12,665 | $14,085 |
| 14 x 24 | 4 | $12,625 | $15,080 | $16,710 |
| 14 x 28 | 4 | $14,015 | $16,760 | $18,590 |
| 14 x 32 | 4 | $15,395 | $18,435 | $20,465 |
| 14 x 36 | 4 | $16,770 | $20,095 | $22,315 |
| 14 x 40 | 5 | $18,755 | $22,380 | $24,790 |
Colors
Paint Colors
Vinyl Colors
Aluminum Trim Colors
LP Smartside Stain Colors
Shingle Colors
Ribbed Metal Roofing Colors
Standing Seam Metal Roofing Colors
Get a Quote on a Self-Storage Shed