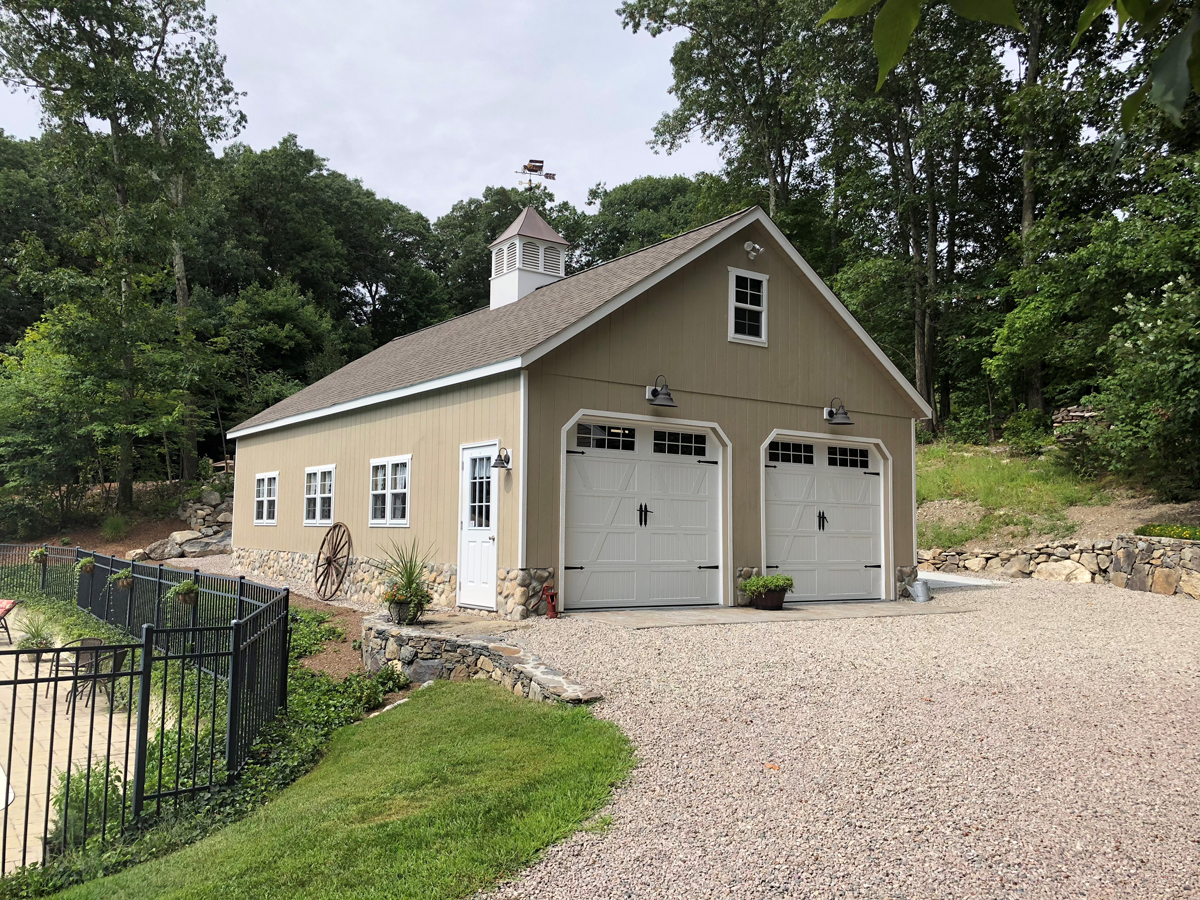 24×40
2 Story Build On-Site
The beauty of the double wide garage is easy to appreciate and so is the ample space it provides for multiple uses. The 2-story structure offers an opportunity for a mother-in-law apartment, game or movie room or adds a massive storage option or studio space.
Whatever purposes the double wide garage is used to address the fact is that not everyone has an easy access backyard where delivery of a modular building is possible. Despite our significant expertise and experience in setting up the double wide on site, sometimes an on-site build just makes better sense. Learn more about our 2 story garages for sale below.
Get a Quote
Elaborate customizations, tight site or footprint building area, neighborhood restrictions for access or permitting can be better served by our tidy, professional, and efficient Amish craftsman coming to you.
The double wide 2 story garage takes us surprisingly little time to build, and it will give you years of enjoyment when finished. And don't forget the added property value you can leverage if it comes time to move.
Call us for your 'to the penny' quote on a pre-built 2 car garage today.
2 Story Built On-Site Garage Features
Built to Customer's Concrete Pad
Pressure Treated Bottom Plate w/insulator
2×4 Walls 16″ OC
8′ Walls
½'' Painted Smartside Wood Siding , Cedar Creek Vinyl Siding with ½'' Wood Sheating and House Wrap, or Hardi Plank Siding
2 – 9×7 Insulated garage doors
4 – 24×36 Windows (downstairs)
2 – 24×36 Windows (upstairs)
6 – pair Shutters
36″ House door with 9-Lite Glass
Stairway to 2nd floor w/rail
Second Floor
Hurricane straps securing trusses to wall
8 Pitch Preengineered Attic Trusses 24″OC (20' Wide Buildings come with 10 Pitch)
12′, 14', or 16' wide attic area depending on width of building
3/4" Smart Finish Wood Flooring in attic area
1/2″ OSB roof sheathing
15 lbs Tar paper
30 year architectural shingles
2 Story Built On-Site Garage Examples
2 Story Built On-Site Garage Pricing
| | | | | |
| --- | --- | --- | --- | --- |
| Size | Smartside | Vinyl – LP Board & Batten | LP Lap – Pine B&B | Gambrel Upgrade |
| 20 x 20 |  $        26,540 |  $        31,850 |  $         35,030 |  $         2,000 |
| 20 x 24 |  $        28,330 |  $        34,000 |  $         37,400 |  $         2,400 |
| 20 x 28 |  $        30,160 |  $        36,190 |  $         39,810 |  $         2,800 |
| 24 x 24 |  $        30,835 |  $        37,000 |  $         40,700 |  $         2,880 |
| 24 x 28 |  $        32,860 |  $        39,430 |  $         43,380 |  $         3,360 |
| 24 x 32 |  $        36,505 |  $        43,810 |  $         48,190 |  $         3,840 |
| 24 x 36 |  $        38,405 |  $        46,090 |  $         50,690 |  $         4,320 |
| 24 x 40 |  $        41,910 |  $        50,290 |  $         55,320 |  $         4,800 |
| 24 x 44 |  $        43,965 |  $        52,760 |  $         58,030 |  $         5,280 |
| 24 x 48 |  $        46,350 |  $        55,620 |  $         61,180 |  $         5,760 |
| 24 x 52 |  $        48,805 |  $        58,570 |  $         64,420 |  $         6,240 |
| 24 x 56 |  $        51,210 |  $        61,450 |  $         67,600 |  $         6,720 |
| 28 x 28 |  $        40,390 |  $        48,470 |  $         53,310 |  $         3,920 |
| 28 x 32 |  $        42,395 |  $        50,870 |  $         55,960 |  $         4,480 |
| 28 x 36 |  $        46,205 |  $        55,450 |  $         60,990 |  $         5,040 |
| 28 x 40 |  $        48,470 |  $        58,160 |  $         63,980 |  $         5,600 |
| 28 x 44 |  $        50,660 |  $        60,790 |  $         66,870 |  $         6,160 |
| 28 x 48 |  $        52,925 |  $        63,510 |  $         69,860 |  $         6,720 |
| 28 x 52 |  $        55,265 |  $        66,320 |  $         72,950 |  $         7,280 |
| 28 x 56 |  $        57,525 |  $        69,060 |  $         75,390 |  $         7,840 |
2 Story Built On-Site Garage Options
Paint / Shingle Colors for 5-Pitch 2 Story Built On-Site Garage
Paint Colors
Vinyl Colors
Aluminum Trim Colors
LP Smartside Stain Colors
Shingle Colors
Ribbed Metal Roofing Colors
Standing Seam Metal Roofing Colors
Get a Quote on a 5-Pitch 2 Stoy Built On-Site Garage