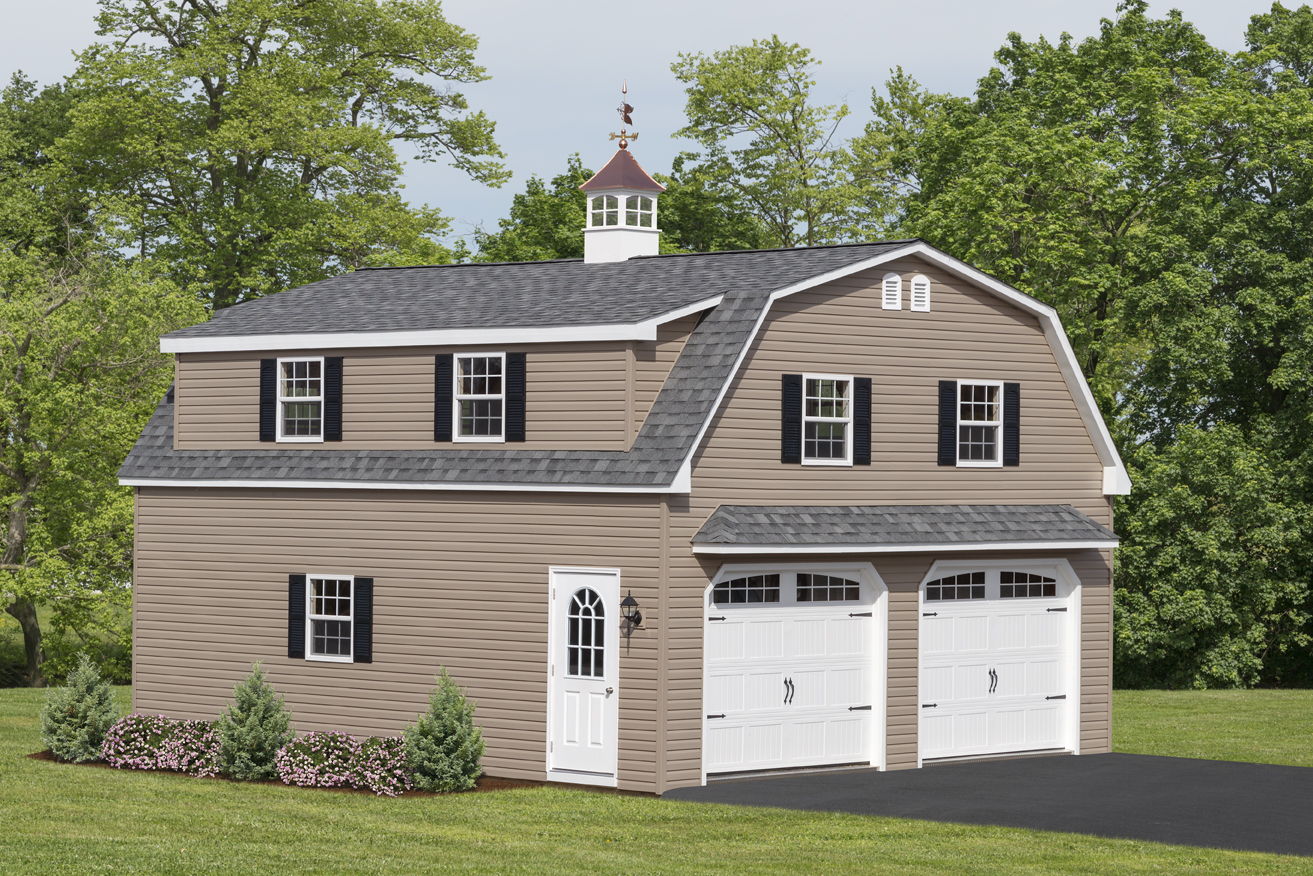 The Need For Shelter For All Types of Horsepower
By Nikki Alvin-Smith 
Just how did garages come into existence? While we know that a home with a garage is much more saleable than one without, garages come in all shapes and sizes and there are a myriad of options for the homeowner to choose from. But who came up with the idea of a garage in the first place and how have their design and placement evolved?
Transport via horse and carriage was a fine way to travel back in the day. Of course the comfort of the ride with horses pulling the vehicle, was not without some pain. The battle to fight the cold was a constant source of discontent, the jolt of your joints as the carriage moved across the cobbled streets or rutted roads could tire even the most stalwart passenger. The likelihood of a breakdown due to a broken wheel or lameness or illness in the horse(s) could make the journey eventful. Long distances that required horse and carriage travel were often tiring adventures.
There was always the chance of an accident, and carriages did collide. Horses poorly driven ended up in ditches, with the coach toppled on its side and in some areas highwaymen were a disturbing threat to the welfare of the traveler.
Carriages came in various sizes and designs and were highly prized possessions. The lavishness of the carriage and the elegance and number of horses that were harnessed to it, were a status symbol. The ownership of a carriage or cart was a necessity for daily life. These carriages needed shelter, and were often housed in a building adjacent to the stables for convenience.
In more affluent households a carriage house was built specifically to house the array of carriages that the family owned for different purposes. The open carriage for sunny warm days where short drives to the neighboring mansions was on the schedule for a visit for afternoon tea would not be suitable for taking a party of folks in their finery to an evening event. Every carriage had a specific purpose. Obviously today, the automobile has replaced the carriage. With the exception in the U.S.A. of certain communities like the Amish, the carriage has become a mode of transport to be viewed in a museum or sporting event and is not used as a 'daily driver'.
The advent of the garage (originally from the French word 'garer' meaning to shelter,) was a necessity for protecting the early automobiles from poor weather.
The first commercially produced vehicles had specific service requirements that could not be met by the carriage house next to the stables and a heated space was required as batteries could easily freeze. Their delicate nature required a 'battery room' for their care. Cars typically started better if they were warmer and as earlier models were very prone to rust it was important to shelter your investment from the rain. An article published in 1913 warned that, "Cars subjected to cold weather might suffer frozen radiators, warped doors, bowed fenders, flaking paint, and cracked frames." Oh dear!
Just as today, garages came in all shapes and sizes depending on the budget of the car owner. Initially, due to worry of fire from gasoline engines, these structures were often modified sheds or barns that were separate from the house. Very often the car was housed next to the stables, although ideally it was thought best that horses and cars were kept separately as ammonia from animal waste could tarnish the metalwork of cars and the fumes and noise of automobiles disturbed the animals. The garage was often hidden away behind the house and due to the difficulty of reversing a car the fancier garages might even have a turntable. The more affluent families built large multi-use structures to house a chauffeur and mechanic, a workshop (replete with hoists, workbenches, overhead hoses to wash the cars, and even repair pits,) as well as a line up of automobiles. So when we think today of adding an apartment above the garage to house an elderly relative or to provide a private space for studio or 'cave' use, we are not original in our thinking.
We spoke with Dave Zook, Marketing Director here at Stolzfuz Structures, to learn more about garages today. We were not too surprised to hear that the multi-use structure is still very popular:
" Our most popular garage sold today is our 24 feet x 28 feet, 2-story garage. The main reason for its popularity is because it is very user friendly and can easily hold two cars. It is always possible to add loft or living space above a garage, and this is also a favored option."
Architects realized that a garage could be attached to the house and utilize both the heat and water services that the main structure provided. In a May 1917 article for Country Life magazine, architect John Boyd argued the garage had none of the sanitary problems of the stable, so there was no reason not to attach it to a new home. He advocated each parking bay be at least 10 x 20 feet with floors for the parking area reinforced with steel or constructed of a bed of cinders 12 inches deep.
For more budget conscious car owners, the most common garage structure was an economical portable garage made of board and batten or sheet metal sections. Back in 1910 when their popularity soared the cost was just $100 -$150 and the garage might be as tiny as 9 feet x 15 feet. Then as now, it depended on the size of the vehicle you owned. These portable structures were perfect for renters as they could take the garage with them if they moved home. The first record of a portable garage was in 1908, when you could buy one from the Sears Roebuck catalog. These garages were partially prefabricated and were made from slabs of wood or metal. Sears Roebuck also sold mail-order garage kits, in a variety of patterns and styles.
Dave Zook explains today there are many more siding and design options than board and batten wood or sheet metal:
"The current trend in siding preferences is for maintenance free materials and our standard LP Smartside is extremely well-received. It has a 50-year warranty against fungal rot and termites. With its wide variety of color choices it has great aesthetic appeal too. We also use a lot of vinyl and HardiPlank siding. At Stoltfuz Structures we've been in the building business for over 43 years and can customize any building to suit the client's taste. We offer 10 standard colors in stock but it is not unusual to go with custom colors to match a customer's house. For roofing materials our lifetime dimensional shingle looks really good, is low maintenance and is very popular with our customers."
Indeed compatibility of design with existing structures is very important. By the early 1930's architects of the period such as Marc Goodnow stated,
"If the house has any pretense toward architectural design, the garage should quite naturally carry out the scheme, whether it be detached or an integral part of the house, for good architecture pre-supposes the relation of the parts to the whole… In truth, this structure, formerly regarded as just an outbuilding, has undergone a remarkable transformation in public estimation. It is no longer just a shed of cracker-box appearance, with pitch black caverns through which one explores in search of a monkey wrench or tire patch… The garage has evolved in just a few years from a 'necessary evil' into the distinctive sphere of an integral part of either the house itself or of the grounds surrounding the house. " Goodnow also contended that the garage was a necessity to protect the major investment of $500 to $5000 in a car from "the elements and from marauders" a task that "calls for substantial, water-tight, weather proof construction of materials equivalent in quality to those in the house itself."
Dave Zook agrees that the quality of the structure for great visual appeal, longevity and form and function are all significant factors to consider when investing in a garage:
"It is common for customers to upgrade the windows and doors to complement the design of their homes in style and design. Everyone wants good light for daily use of the space, and excellent security for their cars and equipment."
The advent of the radio-signaled door opener in the early 1930's and the convenience of overhead doors were both highly utilized conveniences in the history of the garage. Gone were the heavy wooden, hinged carriage doors that were awkward to use. Today garage door design is seeing a revival to more traditional carriage style designs and hinged doors that may still function electronically are gaining popularity.
There is a dizzying array of products and styles to choose from and as a leading producer of all things ' structure' Stoltzfuz exemplifies highly regarded Amish quality builds whether via modular styles with delivery and set up or on site build. When asked what advice Dave Zook would give folks shopping for a garage this is what he suggests:
"Go with a reputable builder that has been in business for a long time and read the reviews to hear what other customers have to say about their experiences."
As the garage has transitioned over a century, the same reasons it came into existence apply today as it did back in the early part of the 1900's. To keep your investment in a method of transportation warm and dry, cool and clean, safe and secure, with workspace to take care of necessary maintenance tasks as needed or extra storage and living space.
Whether you choose an affordable modular design one car, two-car garage or larger multi-use structure, the enhanced resale value to your property that a garage provides will add benefits down the road. Meantime, you'll enjoy the advantages that its ownership will provide.
Share This Post: