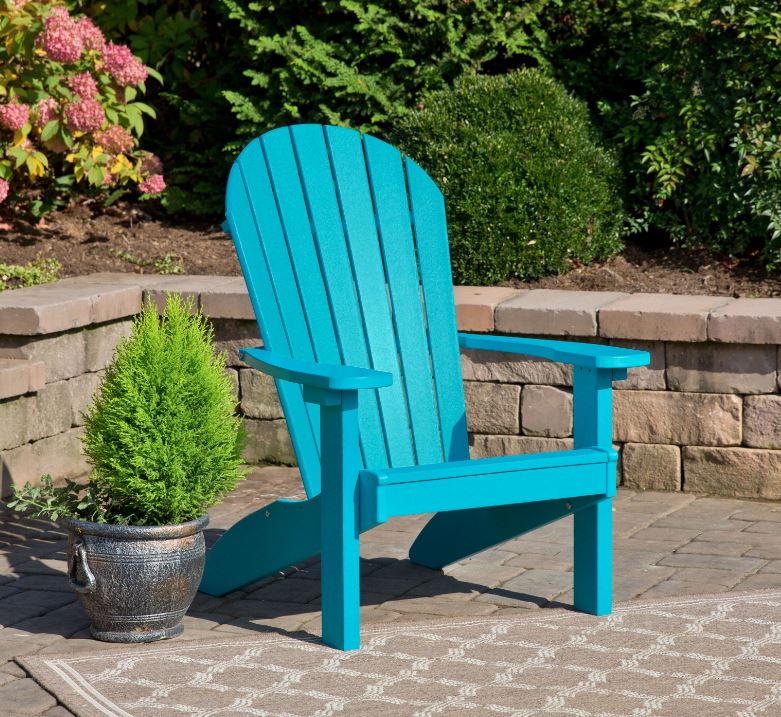 Fabulous Furniture Makes Your Backyard Better
The best backyard events will be ones that offer plenty of comfort for guests to enjoy the space you have created. You've probably thought long and hard about what type of outdoor living structure to purchase, where to place it and how to feature it with beautifully adorned by perennial plants and bright annuals. The choice of the right poly outdoor furniture is also an important factor to consider in your plans. For your own daily enjoyment of your backyard, you don't want an added chore of bringing furniture in and out from the house, and want to worry over weather changes that might otherwise damage the furniture. Making a smart selection with a low maintenance, budget friendly, Amish furniture purchase is going to provide more time to relax and less laborious tasks to see added to that never-ending list on the fridge.
While avoidance of the need to lug heavy wood furniture from place to place is certainly a smart idea, the other factor with many wooden pieces is the continual need to repaint them. As color runs through the entire poly material used, nicks and cracks are not readily visible either. The use of wicker furniture or other materials can be very expensive and not especially durable for family abuse. Your large family dog or outdoor cat may scratch or tear lesser quality fabrics that are placed to protect the wicker and chewable surfaces are to be avoided around playful puppies.
Amish poly outdoor furniture offers a durable and safe solution for your outdoor furniture needs. A variety of styles, colors and designs are available here at Stoltzfus Structures to perfectly complement the array of pergolas, pavilions, pool houses and gazebos that we also offer. With the added advantage of easy maintenance to preserve its neat appearance (just a quick wash down with warm water and mild dish detergent will do it), those of us that are not built with the strength of a heavyweight wrestler love their ease of portability. After all, when you find yourself hosting or attending a get together, it's nice to be able to move back from the table when you've finished feasting on culinary delights or to move chairs and tables around the backyard as different times of day or events require.
As our Amish poly outdoor furniture won't split, rot, or crack, and is impervious to insect damage too, it is perfect for use around the pool. If you've ever sat on a splintered wooden chair wearing a swimsuit you know how uncomfortable that can be and kids with their soft skin are especially vulnerable to splinters. Poly furniture is also easy to wipe down for immediate use after a passing shower.
An outdoor poly furniture selection can be rustic in design without being rustic in appearance. Without a doubt, the most popular chairs are the Adirondack design that were originally crafted from planks of wood with wide armrests perfect for placing a cool beverage and flat back and base. Thankfully, the early design of Thomas Lee of Wesport, New York, back in 1903, has been modified for comfort in the modern era and a contoured back and seat are more common today.
At Stoltzfus Structures, we do not limit the choice of fabulous outdoor furniture to the classic Adirondack chair. Bar height seats, dining chairs, side tables, picnic tables, round and rectangular tables are all available. Chair designs include the capability for folding, which makes storage for winter if you do decide to take them inside a breeze. If you want an easy walk to place your summer stuff away for winter storage for security and protection from the elements, consider one of our popular sheds! By the way, we have a lot on the 'lot' on liquidation sale discount.
Rectangular tables are a perfect fit for your rectangular shaped gazebo or pavilion, and a round table will obviously fit better in an octagonal shaped structure. Leave room to walk around the table and give diners room to pull the chairs in and out to come and go and to provide space to clear the table, usually an allowance of 22 to 25 inches is recommended.
If you are purchasing a shed or outdoor living structure from us (and we hope you are!), we can easily bring along your outdoor furniture in the same delivery. So you are ready to go immediately the set up of the structure is finished, which is usually the same day as delivery. In fact when you look at the costs of tent rental, transport, removal etc. and all the hassle that can be, it is no wonder that more and more families are enjoying the added value of setting up a permanent outdoor living structure in their backyards.
Just as with our shed designs, our Amish poly furniture and outdoor living structures with their modern materials and great finishes are not those of yesteryear. Low maintenance and budget friendly pricing make sense in our busy lives. As many folks now utilize their backyards for events in Spring and Fall as well as Summer, poly furniture is perfect for multi-season use.
Take a look at what's on offer in our Amish poly furniture, the rainbow of color choices and functional designs are extensive.
Share This Post: