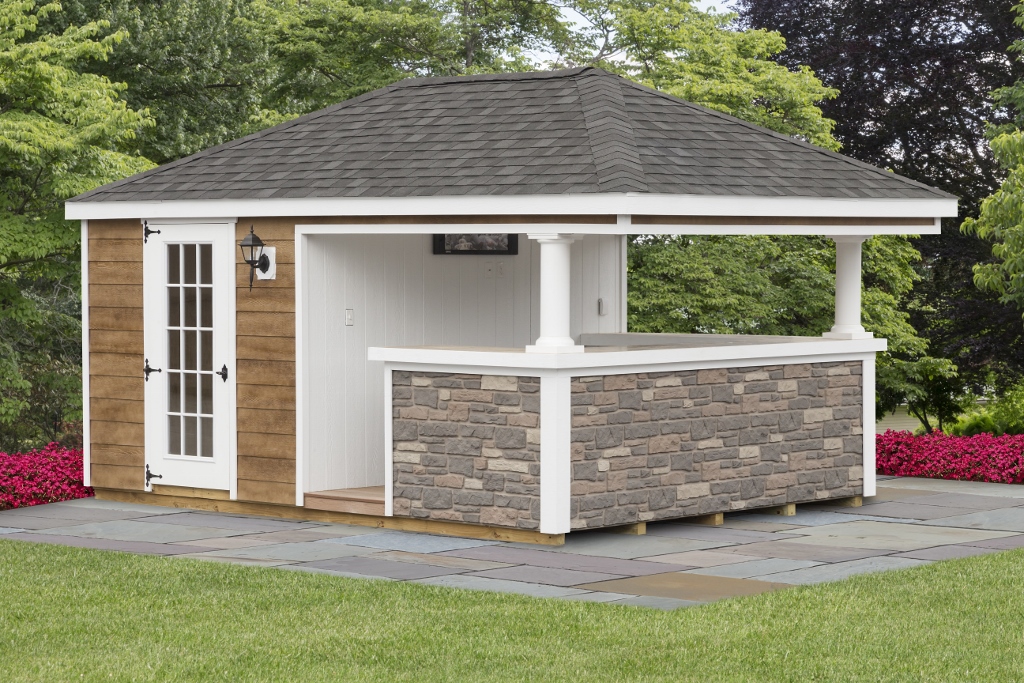 Make A Splash With A Chic Cabana
A great way to elevate the poolside experience for friends and family is the addition of a cabana. What is a cabana? The word cabana is Spanish for 'cabin' or hut. Traditionally the structure was a small space defined with a roof of natural materials such as palm fronds or fabric, and the sides were left open. Over time the cabana style migrated to include fabric curtains for the sides, to facilitate more shade and privacy for the wooden pool house.
From Bali to Beverley Hills, the cabanas of today appear with myriad of styles and designs. Utilized for poolside parties, spa treatments, changing rooms, bars and beverages, the cabana is a gathering spot that can range in size from six feet long to sixty.
For the homeowner, the cabana can be a boon for not just poolside fun, but also incorporate electric and water service to provide an outdoor bathroom, changing room, kitchen space and place to store pool paraphernalia. The unsightly pool pumps and cleaning supplies can be tucked away out of the reach of pets and inquiring children at play.
Pools necessarily create dripping wet swimsuits, damp towels and much laundry. The need to change clothes following a good swim or play in the pool, can challenge even the most stoic housekeeper with chlorine stained carpets in the house and slippery floors replete with footprints that can be followed to the nearest bathroom.
How nice would it be to have a cabana structure where guests can be directed to avoid the necessity for this cleanup and perhaps invasion of privacy in your home.
For families with dogs in the house, the need to chaperone visitors to the bathroom can become annoying, as not all dogs like complete strangers entering their domain.
There are many reasons that folks opt to buy a cabana and why not? Financing and instant delivery of prefabricated cabanas means you don't have to wait and you can literally make your selection online.
Modern materials mean low maintenance. A huge benefit for those that don't enjoy holding a paintbrush that also translates into more time relaxing by the pool. Events can be hosted outside with shade available at the cabana for those shy of the sun. A deck or porch portion can provide the perfect spot to supervise the children in the pool, to chill out with a cold beverage and chat about world events. Or not. Read a book instead.
Elaborate cabana designs can include a bar or dining area and kitchen facilities. All you need to provide is the chef or caterer. Outdoor events at your home can be the toast of the town. Graduations, baby showers and all manner of family milestones can be celebrated outside.
A cabana today is almost a crossover between a pavilion and a studio shed, with enclosed space out of the elements and an inviting roofed area to enjoy outdoor living. Colors and materials can be chosen to complement your home, or the structure can offer an alternate ambience altogether, with colors and materials that offer a different atmosphere and aesthetic to the house. The choices are endless.
Whatever style of cabana you choose, its addition will certainly improve the quality of the time that is spent poolside. Don't be shy to splash out!
Share This Post: