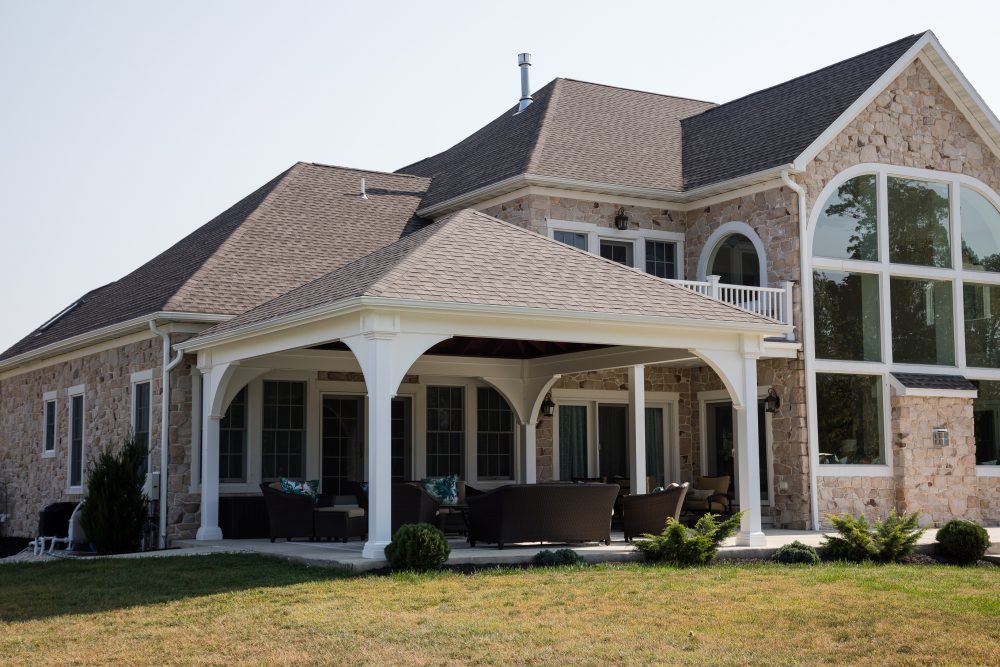 What to Put Over There
When you think about adding a structure to your backyard, business or farm there are so many choices out there. What to put 'over there' to bring benefits to your quality of life by adding a building with excellent form, function and fit can be a fun adventure with all the choices at your fingertips.
How do you make the best decision for you and your family or business?
Consider the main purpose of the building as the top priority when making your selection and be honest with yourself about what that use will actually involve.
If you really plan to use it as an outdoor living structure, then you must consider whether that use will be seasonal or if an all year around benefit would be best. This would make the decision as to shed studio versus a pavilion or pergola that has no sides. If your primary need right now is for more storage of all that 'stuff' piled up in the garage, you'll probably end up using the structure for storage in the end so what's the point in pretending otherwise. The beautifully appointed studio shed with its wood grain vinyl floor and tongue and groove walls and pretty windows will be wasted if it is just to be filled with bikes, boxes and excess tools and equipment so opt instead for a basic shed model without the expense of insulation and finished interior surfaces.
Then make a list of the outdoor living structures or backyard sheds you would like to have one day. Put them in order of priority. Take a hard look at your available site space and determine if you put one thing in one place now, whether it will hamper your long-term plans and be in the way.
For farms and homesteading the most important structure might be one for hay and equipment storage. Protection of assets from inclement or hot weather can be a valuable factor that helps ensure longevity of expensive machinery. Keeping grains vermin free and hay dry can determine the health of your animals and lessen supply costs as there is no wastage of product. Hay supplies can be purchased at the optimal price point as quantities can be obtained in larger amounts that may result in a discount price and can also be sourced during the summer months when hay prices are cheapest.
For the homeowner extension of storage place from inside the house to outside can turn a cluttered spare room into a useful office or guest room.
What size structure do you need for all that 'stuff'? The best way to determine how much space you need is to gather it together in one spot and measure it. Bear in mind you'll always need more than you think.
Plan for the future in your outdoor living structure decision making too. If your kids are in their teenage years then in the near future you'll be hosting all manner of parties. Graduation, engagements, weddings, bar mitzvahs, christenings, baby showers, and an array of seasonal activities can be accommodated with the provision of a pavilion.
If you have or plan to add a pool, a cabana can make life much more tolerable when folks come to splash about in your backyard. The 'dripping' guest can simply change outside and you won't need to clean up after them.
If you like to entertain on a grand scale, a pavilion with an outdoor kitchen and full electric service can provide a valuable addition to your events. For businesses outside structures can be used all year around, clam bakes, July 4th celebrations, Halloween apple and doughnut parties, Santa Clause appearances.
Here's a checklist on how to make your best choice of shed or outdoor living structure:
Identify top priority use
Determine size to best fit purpose
Determine type of structure to best fulfill function
Site plan your property for location bearing in mind future building needs. Do not place structure over buried service lines if possible.
Source a large manufacturer that offers the most advanced options and customization
Review their offerings with a view to price. Bear in mind cheapest may not be better, compare quality of materials and craftsmanship, warranties offered.
Request pricing, contract terms, delivery and setup costs and timeline for supply
Review their customer satisfaction ratings through BBB (Better Business Bureau), testimonials, and online reviews
Identify your budget constraints and resource financing if needed. Leading structure manufactures usually offer financing options
Check with your local authorities for planning permissions or permits required. Many companies will provide plans at nominal charge.
Ensure your preferred site is accessible by talking with the manufacturer about needs and delivery aspect
Once structure is purchased prepare the site as per manufacturer's directions. Larger manufacturers can provide help/liaison with your construction company or in some cases provide same themselves
Sit back, await delivery and make plans for its use!
Share This Post: