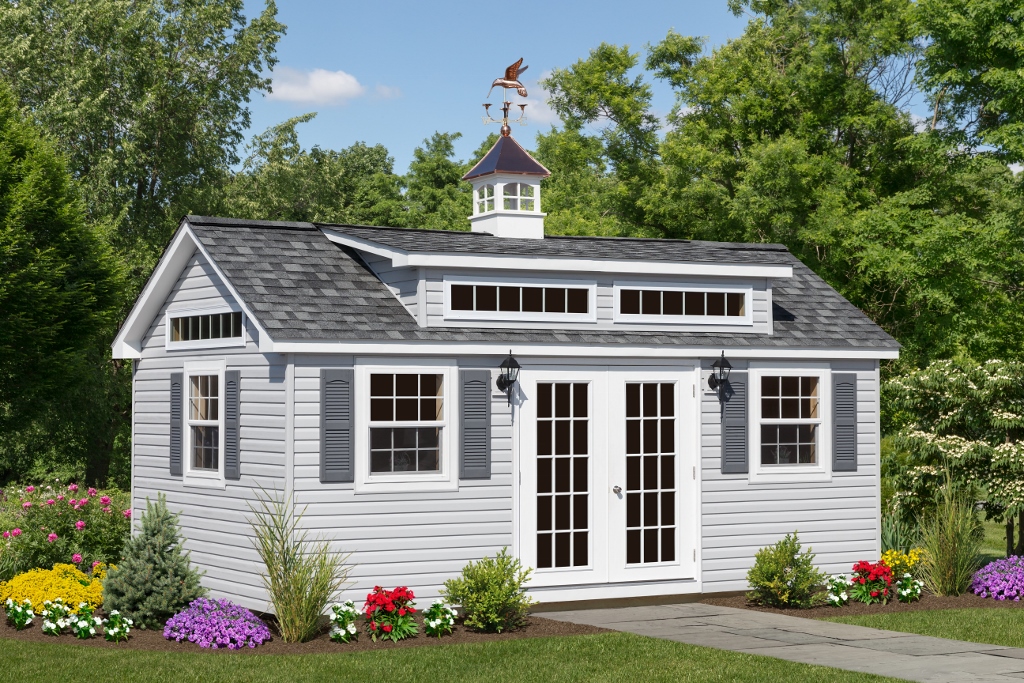 Create More Living Space On a Tight Budget
Have you ever noticed that the house grows ever smaller as our kids grow bigger? There is always an abundance of 'stuff' that comes along with family life, all that wonderful memorabilia that you just can't quite part with yet, that also sucks up much needed space. Add the equipment you need for all the sports activities the family loves, skis and ski poles, bicycles and helmets, baseball gear and shoes for all seasons and reasons, camping gear and the host of other 'stuff' that makes up our lives and it is no wonder that the house actually is smaller in terms of available space to sit down and enjoy some downtime.
If you work from home the business of finding some peace and quiet to get your job done can be quite the challenge. Noisy kids, barking dogs when the delivery person shows up with your Amazon packages and the barrage of chatter from the various screens and devices can overwhelm even the most stalwart worker.
You may not be ready to move home or be able to afford a bigger house. Increasing your living space and staying within your budget can take some innovative thinking.
What are you to do about it? You know you need a quiet place that offers privacy and a retreat: a place to focus your talents.
Add an extension to the house perhaps? Do you have the room and most importantly the money? Additions to your home will increase the square foot availability for living space and will increase your property value as a result. It will also entail a significant capital spend, a whole lot of mess and mayhem during construction and take a while to achieve. It might also require permits from the local council and a few headaches finding the right contractor for the job.
You might consider finishing the basement? This can run into a big bill fairly quickly, but it is an option that appeals to many if the space is not damp, the machinations of oil burners or water heaters can be easily cordoned off and the basement is not already full of the above mentioned 'stuff'.
A great option you should consider is the addition of an outside studio shed. It is a quick an easy method to have a home office or additional living space in your back garden. It will provide a place to study, work or simply retreat for some peace and quiet. Additionally, it will also not just improve your quality of life but also increase your property value.
Let's look at how the cost of an outside studio shed compares to a stick-built addition to your home or basement refinish.
The cost to refinish the basement will include adding sheetrock walls, painting, floor finishes or carpeting, walls to divide off the 'services' of the house such as heat and water. Additional electric outlets and lighting will be required, ventilation may need to be improved and stairway access upgraded. The costs for these improvements will quickly add up and could surpass $30,000.
For your stick-built addition you can easily plan on $200 per square foot, perhaps even higher depending on the site requirements such as present topography of the site and presence of underground or overhead power lines or septic/water services and an easily available access point from the current house. For access you may lose a window to make a door, a portion of your driveway or parking space, or incur the wrath of your neighbors with the noise of the construction and end result that may overlook their previously private property.
The 2018 national average for a home addition is $40,000, and costs can fluctuate from $200 to $300 per square foot depending on the type of room you are planning to add. You will need to have plans drawn up, which can cost 10-17 percent of your budget or $1-$5 per square foot. Add costs for site excavation, framing and roofing
($80-$100 per square foot), insulation, drywall and utilities such as HVAC hookups, electric etc. and you can see where the money goes.
The thought of this bevy of work and sincere expense may even tempt you to think about moving house altogether. Of course, you know it's not the best time to move. You are just making headway into your mortgage and interest rates are increasing, the kids don't want to move school and your spouse loves their short commute to work. Your neighbors are awesome, in fact you know you couldn't find nicer people! Your church family and community are a valued part of your life and your friends are nearby.
Or, you could purchase a home office studio or prebuilt storage shed for under $8500 that complements your house, have it quickly delivered with no fuss, and have an immediate workspace or living space ready to use in a matter of days. With all that money you have saved you can furnish it just as you'd like and make it a space to use however you need to use it. Home office, place to entertain friends, place to create your next masterpiece. Whatever you want. Highly adaptable in design both inside and out, this studio space can provide the perfect place of peace and quiet, privacy and retreat or space to watch the game or chat with friends.
There is still work to be done to locate just the right studio and the company to build it to the top quality you deserve and provide it in a timely manner with no fuss with a 'to the penny' quote and warranties and financing if needed.
Jonathan Zook, General Manager here at Stoltzfus Structures, explains what the most popular use is that customers enjoy with their studios. There is a huge variety of options for the studio shopper on hand and much to choose from for the homeowner.
"The great thing about a studio space is that you can use it for anything you'd like. We offer options on size, roof pitch, window size and placement, door types and entryways, flooring, types of materials used for roofing and siding. One of the most popular uses is definitely for office space. "
You may have heard that you should not watch TV or work at a desk in your bedroom as it may negatively affect your ability to attain a good night's sleep. So, it is not surprising that folks are increasingly searching for a better place to focus on their work, away from their regular living space.
As the pace and pressures of life increase it is little wonder that we all seek affordable options to increase our quality of life. So don't wait to make that dream space a reality for you and your loved ones, give our experts here at Stoltzfus Structures a call at 610-595-4724 and get started today planning your outdoor office shed and don't forget to check out our Lot Liquidation page for extra discount deals.
Share This Post: