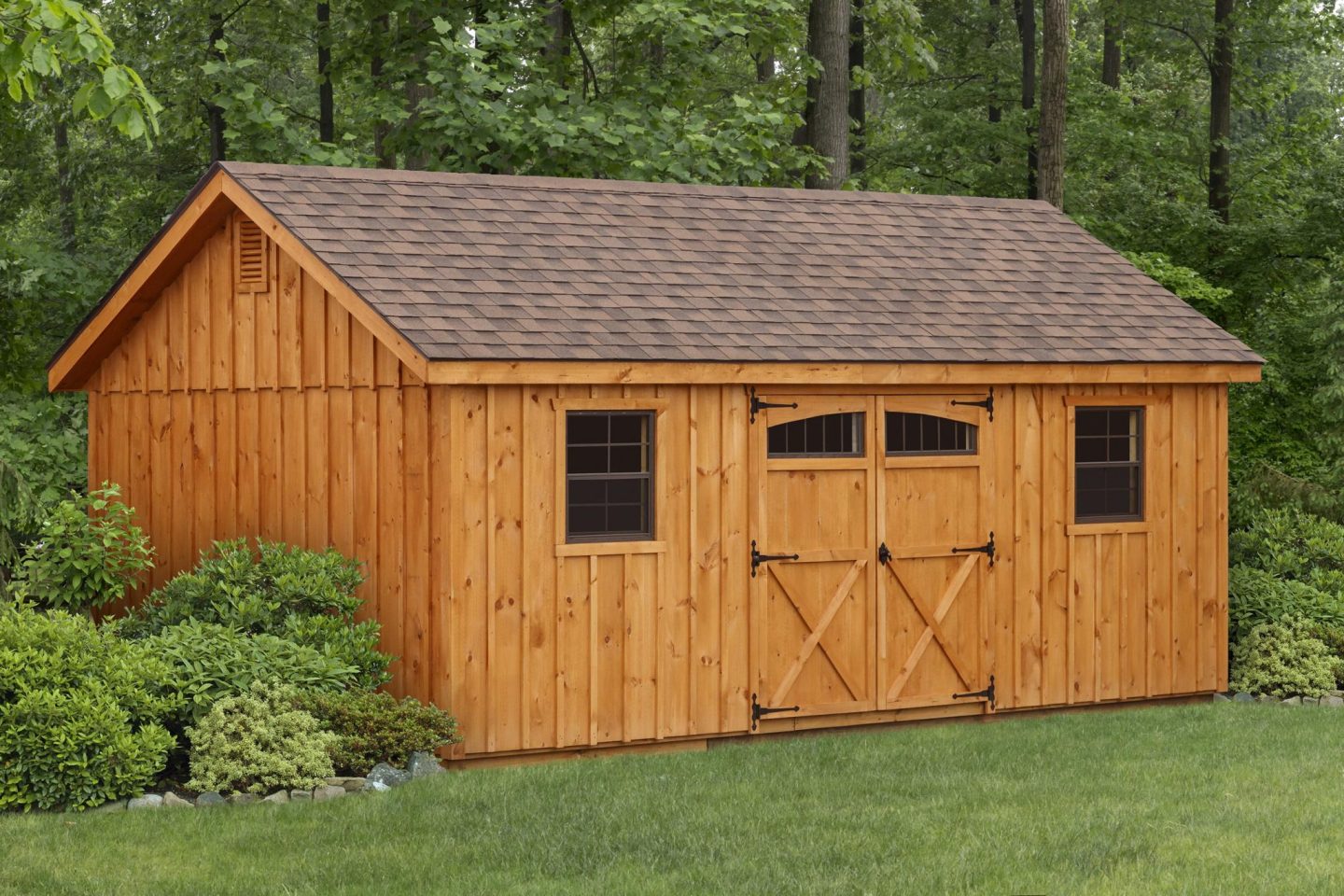 Out with The Old, In with The New
Whatever your present property looks like or however it functions it could probably use some improvements.
Perhaps it's time to shed your reservations and give that old lean-to a heave ho and replace it with a low maintenance structure where you can secure your 'stuff' and enjoy a better view from the kitchen window. Perhaps your neighborhood isn't quite as safe as it used to be, or your road became busier with inevitable development and parking your vehicle on the street keeps you up at night. Building a garage that complements your home offers ample storage not just for your vehicles, but also de-clutters your house of kids' toy boxes, sports equipment, and seasonal use gear.
Changing things up can add to your quality of life and refresh your spirit. When you beautify your backyard, improve your daily routines and let go of worries over the security and safety of your valuable belongings, life can become more pleasant.
Even the tiniest of garden spaces can be transformed into useful places that your family and friends, and importantly you, can enjoy with some thoughtful planning.
Making the decision to go 'out with the old, in with the new,' does not have to be an insurmountable challenge. The way forward for any change is to plan carefully and utilize modern day resources that are at your disposable. The telephone company slogan used to say, "Let your fingers do the walking," and today that is true of the internet. So many resources exist online that you don't have to limit your choice to structures that are on offer on the side of the road on your drive to work, or within a reasonable driving radius of your home.
Here are a few tips on how to make the buying process fun and budget friendly.
Pertinent Price Points
When you've made a decision as to which type of structure you want to buy, a new garden shed, shed studio, garage, outdoor living structure, kennel or storage building, the question of shed cost will probably play a huge part in your decision as to what to buy.
Remember that price is largely determined by the quality of the materials used and the craftsmanship of the build. As with anything else in life, there are always ways to cut costs, but make sure they make sense. For example, a structure sided with traditional wood in board and batten will take more maintenance over time than one sided with modern 'smart' materials. But if you can't truly afford the extra for the modern materials you have options. Today there are staining options for wood that can last as long as 15 years that can alleviate the worry and expense of repainting.
Not every contractor or manufacturer will offer a range of choices in how a garage or shed is sided so choose one to work with that has the experience and is willing to explain to you all the options available. Try and work directly with the manufacturer and put their expertise to work for you.
Funding and Budget Issues
Property values and salability (curb appeal) are obviously increased when you take down an old structure and replace it with a newer one with better aesthetic appeal and improved functionality. Take the old garden shed or broken-down gazebo for example. Prefab manufacturers will often take down and take away your old structure and replace it promptly with the new building. That makes your life much easier as you don't have to break down a building, haul it across your property to an expensive and hard to place dumpster and deal with the mess. It can save you money in the overall cost basis of the new project.
As you are making a home improvement, especially with a highly useful addition such as a garage, the increase in property value can offset the expense of the capital improvement over time. To fund the improvement, you can use a line of credit or equity loan, or simply find a good-sized manufacturer that offers financing with a simple application process.
Another advantage of working with a prefab manufacturer is they aren't going to take a bite out of your paycheck when it comes to supervising the build. No extra days off work will be needed for you to administrate an involved construction project and you don't have to worry about piles of building materials littering the driveway. Even larger structures can be composed in a modular fashion and delivered by the manufacturer's own team of professional and set up in much less time than a full-on site construction can offer. This advantage also translates into less noise, mess and upset for you and your family, and also for your neighbors.
Additional costs of your garage or shed and over budget expenses are also eradicated with the purchase of a modular or prefab structure. No weather delays, no material substitutions, and no mistakes in building methods or construction.
The need for planning permission will require plans be submitted to the local authorities for permits, and these plans can be easily be provided by the manufacturer of the structure for a nominal fee with a known upfront cost. Larger manufacturers may also be able to help you with site preparation.
Collaboration is Key
We spoke with Jonathan Zook, partner with his brothers and father at one of the leading manufacturers of prefab and modular structures of all sorts and sizes, Stoltzfus Structures, to find out what a prospective purchaser of a shed, garage, or outdoor structure should expect and demand from their chosen partner in the building project:
"It's key that you work with a company that will take the time to walk you through the details for your individual needs and one that will provide a delivered, 'to the penny' quote with defined contract terms and full warranties. Our team at Stoltzfus Structures is very experienced. We know questions to ask that you didn't know you needed to consider. We are very proud of our Amish craftsmanship and after 43 years in the business, at Stoltzfus Structures we know a thing or two about the building business. Such as best materials to use, ways to expedite the build without cutting any corners, how to access and deliver to tight spaces, how to ensure that the entire purchasing experience is a positive and rewarding one for our customers. Our business is transparent, our customers testimonials are open and honest, and our work ethic and desire to ensure complete happiness with the finished project is always our priority," said Zook.
Take Control for The Best End Result
To paraphrase a well-known saying, if you don't know the answer then it's because you need more information. This is true for most things in life and purchasing a new garage, shed, studio, pergola or pavilion or kennel is no different. Researching online can save you much heartache down the road and don't be shy to ask lots of questions.
Whoever you choose to collaborate on with a new project, it certainly pays to 'follow your gut' when it comes to making the purchase. It is important that you trust the folks you give your business to and that they respond consistently throughout the process in a positive manner, and that they aren't all keen upfront with no follow through after you've put down the deposit.
Nail down all the details before you make a commitment. And nail them down in writing. As Jonathan Zook of Stoltzfus Structures recommended above, demand a contract and full warranty disclosure. Read all the fine print and ask questions before signing or parting with any money. There should be a timeline included in the contract, so you know what is happening and when.
Share This Post: