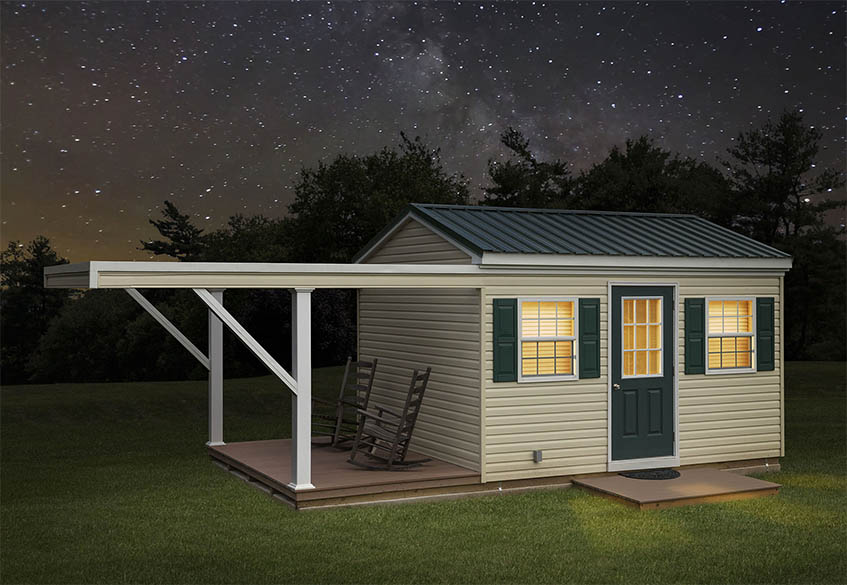 Stargazer Sheds: The New Backyard Addition Your Home Needs
When it comes to adding functional structures to your backyard, there is no shortage of different options available. She Sheds, greenhouses, storage structures and more can all add valuable space to your property. However, if you are looking for a totally unique structure that can help you feel more in touch with nature, then a Stargazer Shed may be just what your property needs.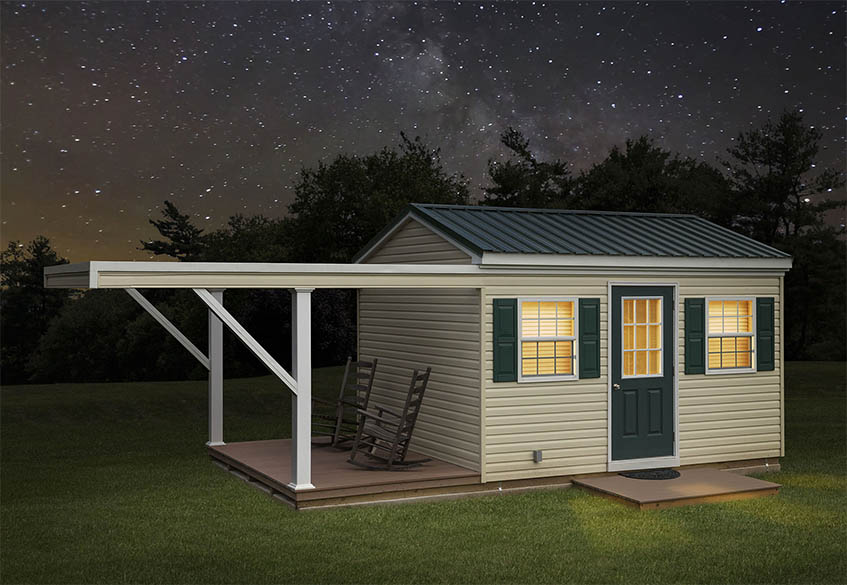 Although it's a relative newcomer to the world of prefab structures, these sheds are becoming one of the most sought-after structures on the market, and for good reason. They combine the functionality of a finished-off storage shed with covered patios that allow for unfiltered (yet protected) access to stare up at the stars.
How does it work? Here at Stoltzfus Structures, we take the existing plan for one of our most popular backyard sheds and add a convenient roll-off roof feature.
Sound intriguing? We thought it might. Take a look at a few of our top reasons why you should consider Stargazer Sheds for your property.
It Allows You to Turn Your Passion into a Hobby
If you have a passion for stargazing and following moon patterns, then a stargazer shed can be just what you need to create a truly one-of-a-kind backyard observatory. From astronomers to amateur nature enthusiasts and photographers alike—many are starting to add these Stargazer Sheds, or "Sky Sheds" to their backyards.
If you're someone who clears their schedule for every meteor shower or loves showing their kids their favorite constellation—then this backyard structure may just be the perfect addition to your space. It allows you to enjoy looking at the stars year-round, no matter the weather, and right from the comfort of your backyard.
This allows for convenient and comfortable year-round use, without the need to mod out existing structures or attempt DIY backyard observatories.
It's Great for Kids
If you have little ones that have a pension for adventure and the great outdoors, then a Sky Shed is a great option to keep your kids entertained.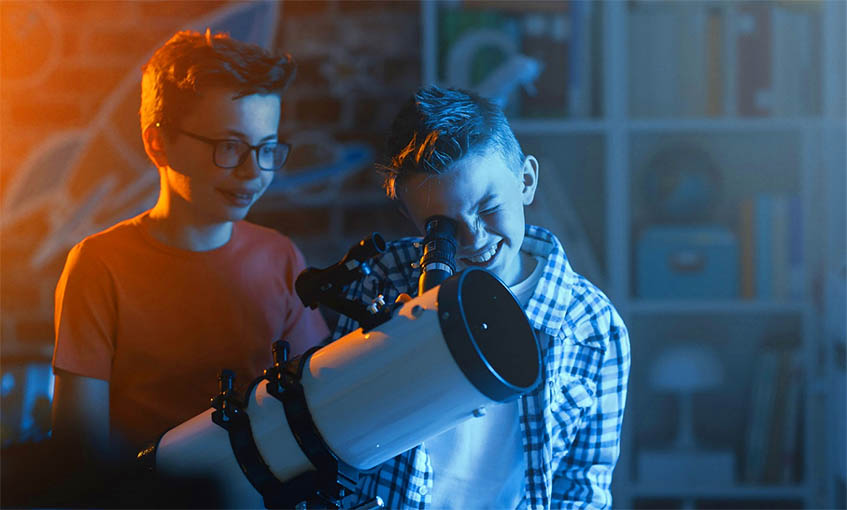 These unique structures provide a comfortable space for you and your children to learn more about the planets and the stars while engaging their imagination and sense of wonder.
Plus, with so many additional features, including plenty of electrical outlets, this shed can easily become your kids' new favorite hangout space in your own backyard.
It Provides Your Space with Multiple Functions
One of the many things that sets Stargazer Sheds apart from other DIY observatories, is that it can be a truly multi-functional addition to your property. The covered roof comes in a convenient roll-off style, meaning it can be used for stargazing, or other purposes, without the need to manually lift the roof off of your observatory.
Just roll the roof back over your equipment when done for extra protection. It's easy as that.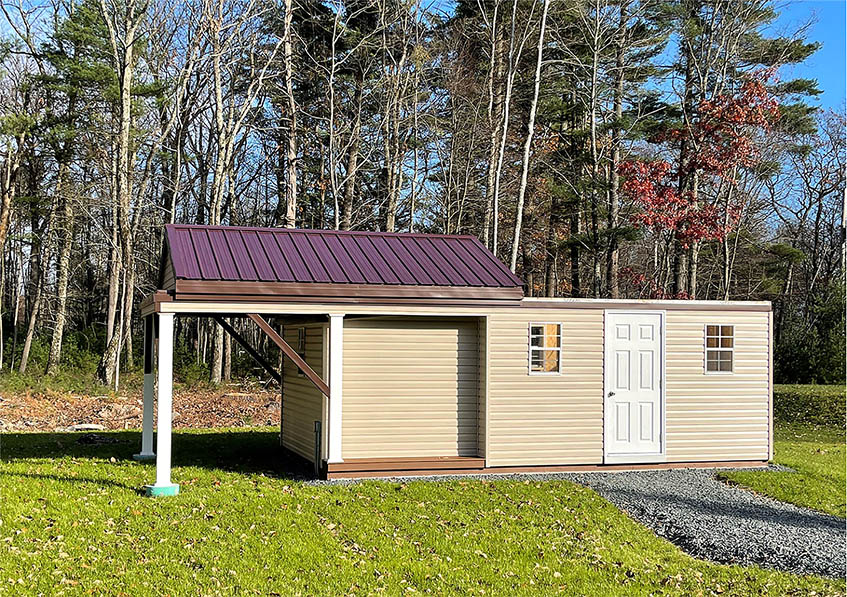 Thanks to smart features such as built-in outlets, insulated doors, and 40-year metal roofing, this shed can also be used as a man cave, storage option, She Shed, or anything else that your backyard may need. This has made these storage sheds particularly popular for photographers as well—especially nature photographers and those interested in.
It's A Visually Appealing Addition to Your Property
While many backyard astronomers had to deal with DIY observatory structures, with the right Sky Shed, you can bring a beautiful structure to your property that adds value to your home. By partnering with a high-end structure company such as Stoltzfus, the design opportunities are virtually endless. In addition to offering premium materials, these Stargazer Sheds can come in virtually any color combination or style you want.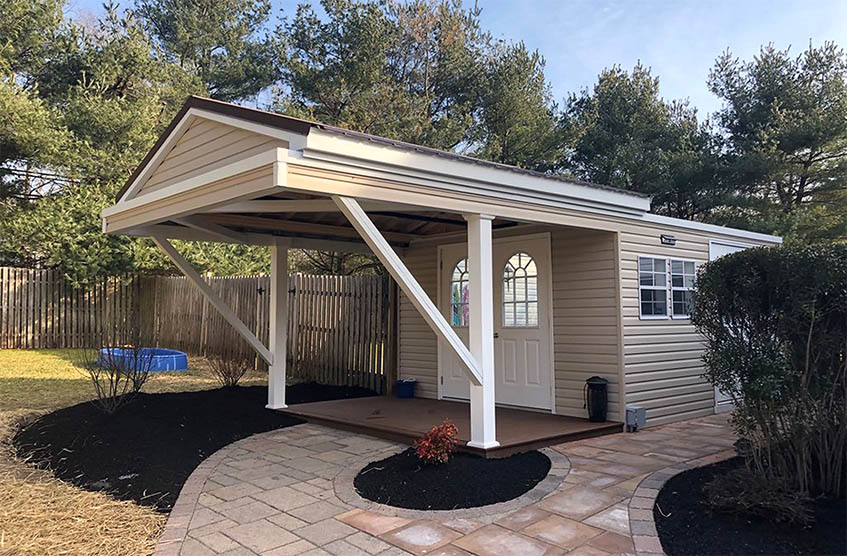 Interested in decorative shutters? Planter boxes? Bold trim? All of these features can be added to your shed so that it not only becomes a place you love to spend time in, but one that you love to look at as well.
It Allows You to Enjoy the Outdoors in All Types of Weather
Most nature enthusiasts will agree, there's only one thing that can ruin their love of the great outdoors: bad weather. And if you are resigning to a DIY stargazing set up in your backyard, then the wrong weather conditions can put a real damper on your gazing.
With the right shed, this no longer has to be a worry. So, whether you are tracking the latest meteor shower, trying that new long exposure technique for your latest photo, or simply looking for a romantic evening under the stars—the right shed can make all of the difference in the world in your experience. With full electrical, an insulated design, and a sliding roof, there are plenty of options to ensure you stay comfortable whenever you want to take in the great outdoors.
It's Completely Customizable
One of the biggest hesitations that homeowners often have when it comes to adding a new structure to their property is the aesthetics of this new addition. As a homeowner, chances are you take pride in how your property looks and want to make sure that your new backyard structure meets the same standards you've set for your home.
You also want a structure that fits your needs when it comes to features, add-ons, extras, and size. Here at Stoltzfus Structures, we know that no one property is one-size-fits-all, which is why our sheds aren't one-size-fits-all either. These customizable features ensure that this new addition will be exactly what you want for your home.
Here at Stoltzfus Structures, we take pride in creating high-quality structures designed to last. Using the same premium materials that you expect to find in your own home, we design quality structures that anyone would love to have on their property.
Your home is supposed to be a reflection of you, who you are, and your hobbies.
Whether you are looking for a Stargazer Shed or one of our other quality-built structures, our buildings are meant to last and designed to be beautiful additions to your home. All you need to do is decide what type of structure your home needs, while we help you create a building that will complement your existing property and bring the functionality you've been missing to your home.
Share This Post: