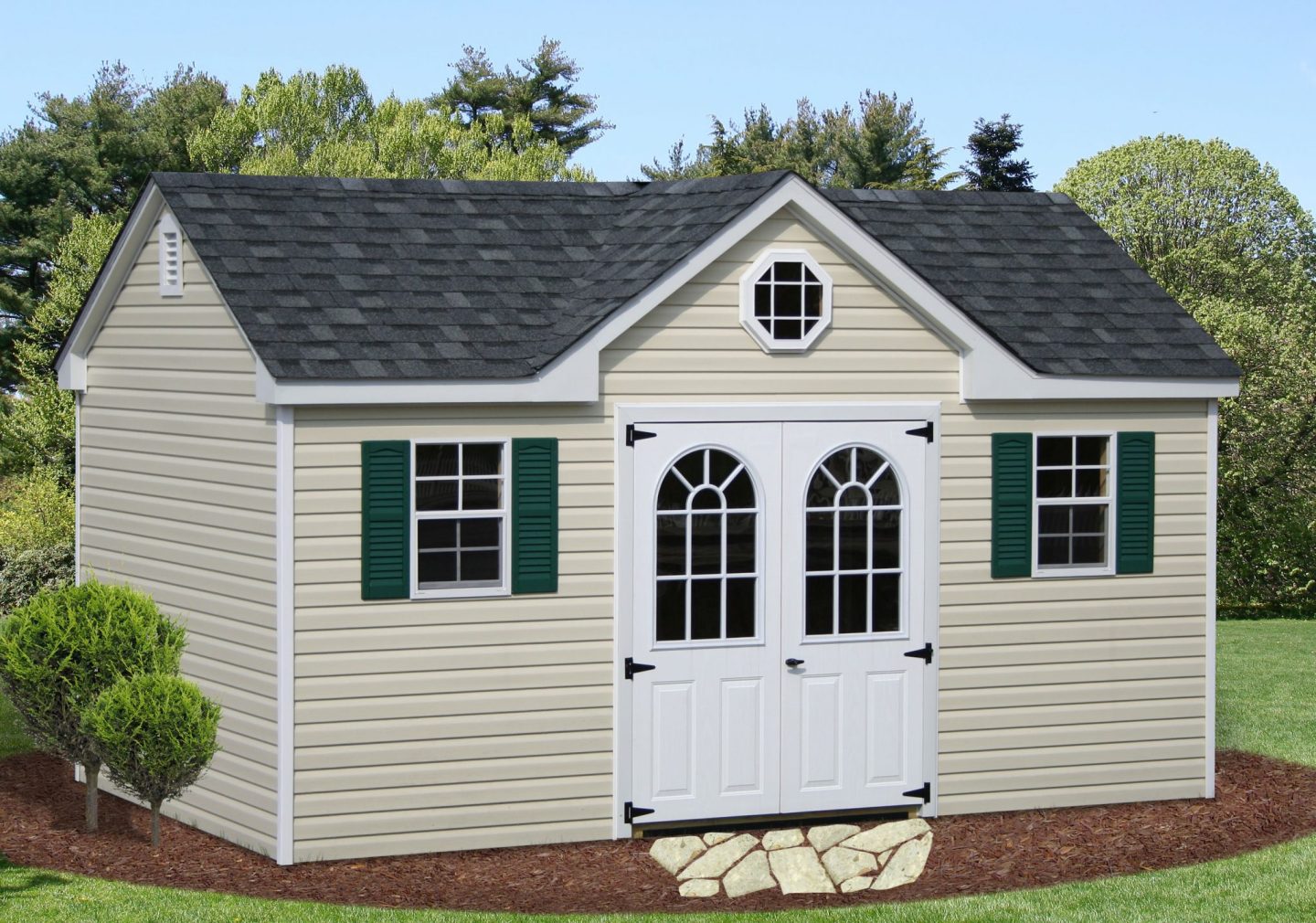 10×16 – Shown with optionial shutters and gable vents
Standard Dormer
The Dormer garden shed is simply an enhanced A-frame shed with a steeper pitch roof. It includes the same standard features as the A-frame. Upgrading with the dormer package adds an attractive, distinguished facade. Dormer package included dormer roof, dormer window and fiberglass raised panel door with arched glass.
Get a Quote
Standard Dormer Highlights
Steeper Roof Pitch
Dormer w/ Continuous Front Wall
Standard Dormer Shed Features
4 X 4 Pressure Treated Skid form the foundation
Floor joists are standard 2 X 4's 16" on center
5/8" SmartFinish Wood Flooring
Walls are Standard with 2 X 4s 16" OC
6'7" High Walls
½" LP Smartside Siding Finishes the Exterior OR
Optional (Cedar Creek Vinyl Siding w/ ½" Wood Sheating) OR
Optional (Hardi-Plank Lap Siding)
Choice of either a

Set of Double Doors with Arch Glass Or
Set of Solid Doors and Single Door with Glass

Includes 2- 18 X 27' Window
Rafters are constructed of 2 X 4s 16' OC
Open Dormer Style Roof w/ Octagon Window
Roof consists of ½" sheeting
Tar Paper
30 year Architectural Shingles
Standard Double Door widths:

8 wide building = 4' Wide x 6' High Doors
10 wide building = 5' Wide x 6' High Doors
12 and 14 wide buildings = 6' Wide x 6' High Doors
Standard Dormer Shed Examples
Standard Dormer Shed Prices
Prices shown are meant to be a guide and don't include delivery or custom features. Once you find your size, click "Get A Quote" and fill out the form to submit your ideas to a project manager, who will reach out to you with a full quote!
| | | | |
| --- | --- | --- | --- |
| Size | Smartside | Vinyl – LP Board & Batten | LP Lap – Pine B&B |
| 6 X 8 | $3,015 | $3,685 | $4,250 |
| 6 X 10 | $3,270 | $4,015 | $4,630 |
| 8 X 8 | $3,295 | $4,045 | $4,670 |
| 8 X 10 | $3,525 | $4,345 | $5,020 |
| 8 X 12 | $3,780 | $4,675 | $5,400 |
| 8 X 14 | $4,020 | $4,985 | $5,760 |
| 8 X 16 | $4,260 | $5,295 | $6,120 |
| 10 X 10 | $4,120 | $5,115 | $5,910 |
| 10 X 12 | $4,500 | $5,615 | $6,480 |
| 10 X 14 | $4,875 | $6,095 | $7,040 |
| 10 X 16 | $5,220 | $6,545 | $7,560 |
| 10 X 18 | $5,605 | $7,045 | $8,140 |
| 10 X 20 | $5,975 | $7,525 | $8,690 |
| 10 X 22 | $6,355 | $8,025 | $9,260 |
| 10 X 24 | $6,730 | $8,515 | $9,820 |
| 10 x 26 | $7,095 | $8,985 | $10,370 |
| 10 x 28 | $7,480 | $9,485 | $10,950 |
| 10 x 30 | $7,880 | $10,005 | $11,550 |
| 12 X 12 | $4,870 | $6,095 | $7,030 |
| 12 X 14 | $5,270 | $6,615 | $7,630 |
| 12 X 16 | $5,685 | $7,155 | $8,260 |
| 12 X 18 | $6,100 | $7,695 | $8,880 |
| 12 X 20 | $6,510 | $8,225 | $9,490 |
| 12 X 22 | $6,925 | $8,765 | $10,120 |
| 12 X 24 | $7,330 | $9,295 | $10,720 |
| 12 X 26 | $7,740 | $9,825 | $11,340 |
| 12 X 28 | $8,145 | $10,355 | $11,950 |
| 12 x 30 | $8,560 | $10,885 | $12,570 |
| 12 X 32 | $8,980 | $11,435 | $13,200 |
| 12 X 34 | $9,385 | $11,965 | $13,810 |
| 12 X 36 | $9,820 | $12,525 | $14,460 |
| 12 X 40 | $10,620 | $13,565 | $15,660 |
| 14 X 20 | $7,885 | $10,015 | $11,560 |
| 14 X 24 | $8,970 | $11,425 | $13,180 |
| 14 X 28 | $9,950 | $12,695 | $14,650 |
| 14 X 32 | $10,925 | $13,965 | $16,120 |
| 14 X 36 | $11,890 | $15,215 | $17,560 |
| 14 X 40 | $12,870 | $16,495 | $19,030 |
Standard Dormer Options
Colors
Paint Colors
Vinyl Colors
Aluminum Trim Colors
LP Smartside Stain Colors
Shingle Colors
Ribbed Metal Roofing Colors
Standing Seam Metal Roofing Colors
Get a Quote on a Standard Dormer Shed