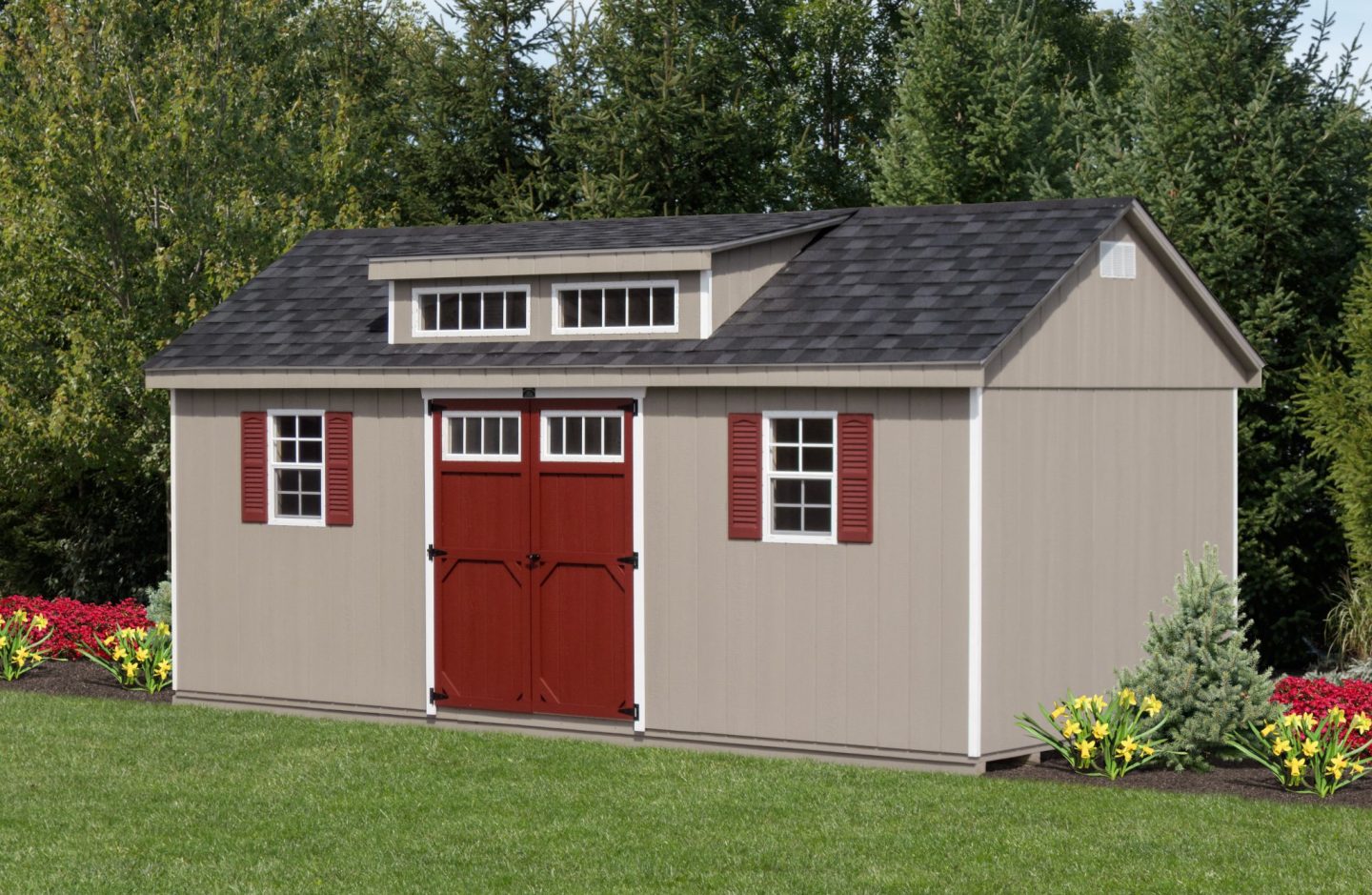 12×20 – Shown with Optional Shutters and Gable Vents
STANDARD TRANSOM DORMER HIGHLIGHTS
Steeper Roof Pitch
Transom Dormer w/ Transom Windows
Double Doors w/ Transom Windows
The functional benefits of the Standard Transom Dormer Kit include a lighter and airier feel inside the shed. Natural light is a great benefit in any building, and smaller structures like sheds will feel roomier inside with the increase in light.
When you choose to add the transom design you also magically improve the presence of the storage shed by making it appear wider. When Stoltzfus Structures manufactures the sheds with transom design, the roof pitch is also steeper than a standard shed build, so the building is taller. The additional interior height can be very beneficial for adding valuable storage room for larger objects and to maximize shelving options.
The double door design ensures easy access that will be appreciated when it comes to storing larger equipment such as ride-on lawn mowers, wheelbarrows or ATV/UTVs.
With the variety of materials and colors to choose from in siding and roofing and multiple size options in shed selection to fit your space, the standard transom dormer kit feature will elevate your storage shed both literally and figuratively with its chic and practical design.
Standard Transom Shed Features
4 X 4 Pressure Treated Skid form the foundation
Floor joists are standard 2×4's 16″ on center
5/8″ SmartFinish Wood Flooring
Walls are Standard with 2x4s 16″ OC
6'7″ High Walls
½" LP Smartside Siding Finishes the Exterior OR
Optional (Cedar Creek Vinyl Siding w/ ½" Wood Sheating) OR
Optional (Hardi-Plank Lap Siding)
Set of Double Doors w/ Transome Windows
Includes 2- 18×27″ Windows
Rafters are constructed of 2x4s 16″ OC
Transome Dormer w/ Transome Windows
Roof consists of ½" sheeting
Tar Paper
30 year Architectural Shingles
Standard Double Door widths:

8 wide building = 4′ Wide x 6′ High Doors
10 wide building = 5′ Wide x 6′ High Doors
12 and 14 wide buildings = 6′ Wide x 6′ High Doors
Standard Transom Shed Examples
Standard Transom Shed Prices
Prices shown are meant to be a guide and don't include delivery or custom features. Once you find your size, click "Get A Quote" and fill out the form to submit your ideas to a project manager, who will reach out to you with a full quote!
| | | | |
| --- | --- | --- | --- |
| Size | Smartside | Vinyl – LP Board & Batten | LP Lap – Pine B&B |
| 6 X 8 | $3,015 | $3,685 | $4,250 |
| 6 X 10 | $3,270 | $4,015 | $4,630 |
| 8 X 8 | $3,295 | $4,045 | $4,670 |
| 8 X 10 | $3,525 | $4,345 | $5,020 |
| 8 X 12 | $3,780 | $4,675 | $5,400 |
| 8 X 14 | $4,020 | $4,985 | $5,760 |
| 8 X 16 | $4,260 | $5,295 | $6,120 |
| 10 X 10 | $4,120 | $5,115 | $5,910 |
| 10 X 12 | $4,500 | $5,615 | $6,480 |
| 10 X 14 | $4,875 | $6,095 | $7,040 |
| 10 X 16 | $5,220 | $6,545 | $7,560 |
| 10 X 18 | $5,605 | $7,045 | $8,140 |
| 10 X 20 | $5,975 | $7,525 | $8,690 |
| 10 X 22 | $6,355 | $8,025 | $9,260 |
| 10 X 24 | $6,730 | $8,515 | $9,820 |
| 10 x 26 | $7,095 | $8,985 | $10,370 |
| 10 x 28 | $7,480 | $9,485 | $10,950 |
| 10 x 30 | $7,880 | $10,005 | $11,550 |
| 12 X 12 | $4,870 | $6,095 | $7,030 |
| 12 X 14 | $5,270 | $6,615 | $7,630 |
| 12 X 16 | $5,685 | $7,155 | $8,260 |
| 12 X 18 | $6,100 | $7,695 | $8,880 |
| 12 X 20 | $6,510 | $8,225 | $9,490 |
| 12 X 22 | $6,925 | $8,765 | $10,120 |
| 12 X 24 | $7,330 | $9,295 | $10,720 |
| 12 X 26 | $7,740 | $9,825 | $11,340 |
| 12 X 28 | $8,145 | $10,355 | $11,950 |
| 12 x 30 | $8,560 | $10,885 | $12,570 |
| 12 X 32 | $8,980 | $11,435 | $13,200 |
| 12 X 34 | $9,385 | $11,965 | $13,810 |
| 12 X 36 | $9,820 | $12,525 | $14,460 |
| 12 X 40 | $10,620 | $13,565 | $15,660 |
| 14 X 20 | $7,885 | $10,015 | $11,560 |
| 14 X 24 | $8,970 | $11,425 | $13,180 |
| 14 X 28 | $9,950 | $12,695 | $14,650 |
| 14 X 32 | $10,925 | $13,965 | $16,120 |
| 14 X 36 | $11,890 | $15,215 | $17,560 |
| 14 X 40 | $12,870 | $16,495 | $19,030 |
Standard Transom Options
Colors
Paint Colors
Vinyl Colors
Vinyl Colors
Metal Roofing Colors
Get a Quote on a Standard Transom Shed