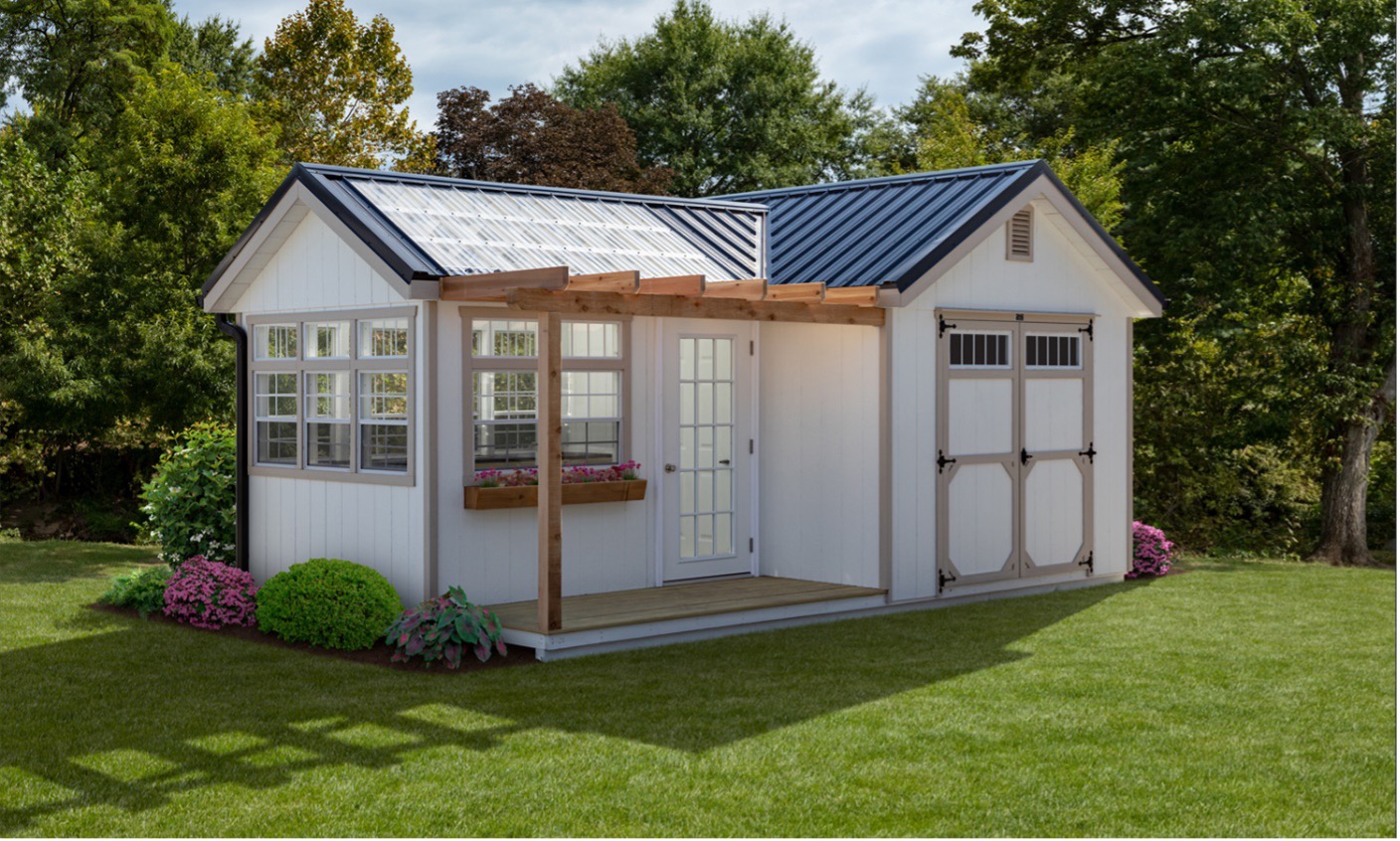 Why Choose a Shed/Greenhouse Combo?
Do you want a beautiful space, full of natural light, but with room for privacy and hobbies as well? The Cottage Greenhouse might meet your needs. The building is composed of two distinct areas: the greenhouse portion with sunroof and wall-to-wall windows on three sides, and the shed portion, with charming double doors and a window on each wall.  A door adjoins the two areas for easy access between the spaces without needing to step outside.
This is a solid structure, made to last through the years. A peaked roof effortlessly sheds snow, a sturdy structure made of southern yellow pine stands up well to alterations, and tough but clear 8mm twin wall polycarbonate panels are nearly shatterproof and offer excellent insulation.
The greenhouse portion is completely finished, with lovely windows and painted wood siding around them. The peaked roof is composed of solid wooden beams and clear roofing panels that allows in plenty of natural light from above. The shed portion is open to whatever kind of finishing you'd like, or you can leave it as is.
Keep the double doors closed to hold in the warmth or throw them open and enjoy the weather. This shed and greenhouse combo structure is attractive enough to look appropriate on any property, with its natural wood details and adorable pergola over the front porch.
This Cottage Greenhouse is Highly Customizable
The shed/greenhouse combo can be built in different sizes to meet different needs. You have your choice of metal or shingle roofing material, several siding options, and a wide variety of colors or stains. The model pictured has a charming combination of painted wood and stained accents.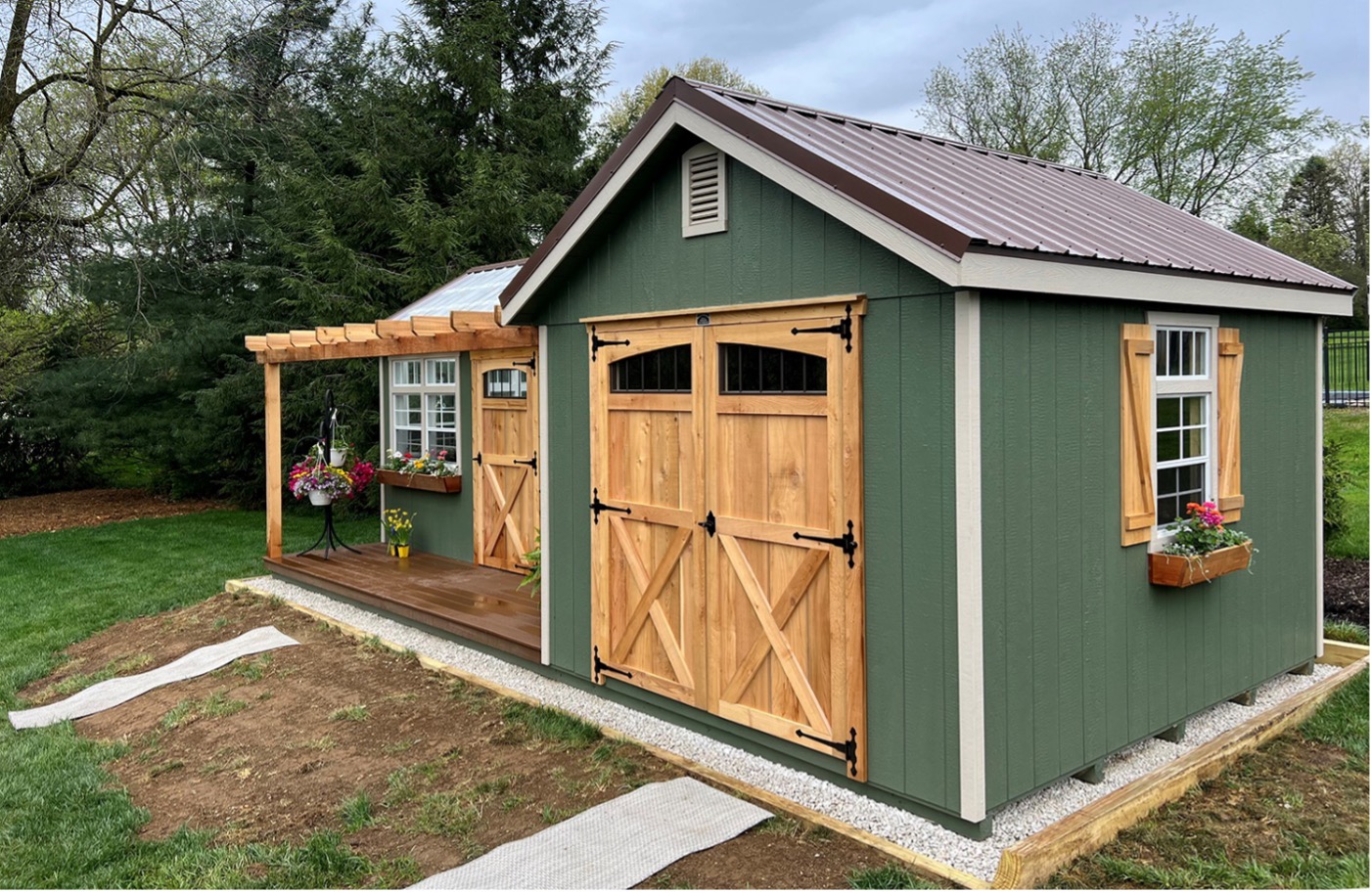 Once the structure is delivered to your home, you have even more opportunities to customize it exactly how you want it. Solid wood construction is not only sturdy but serves as an excellent framework for any number of alterations.
While the structure was conceived as a greenhouse and potting shed, there are really any number of possibilities for how it could be used. Here are just a few ideas:
Ideas for the Cottage Greenhouse
Greenhouse and Potting Shed
This structure was originally intended to be a greenhouse/potting shed combo, and it's very good for this purpose. The greenhouse section lets in plenty of natural light to grow pretty much anything you want. The potting shed portion is the perfect place to store supplies and work on projects sheltered from the weather.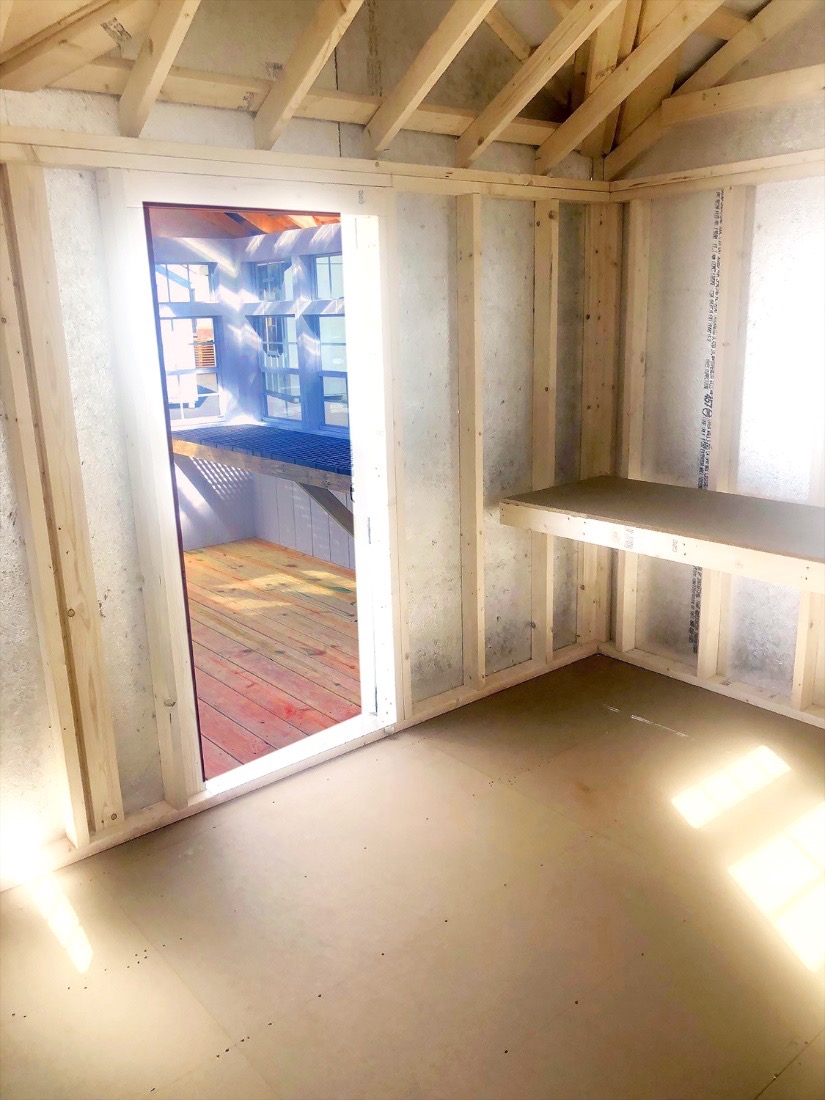 The attached shed doesn't get as hot as the greenhouse portion since it doesn't have as many windows or clear panels in the roof.  Additionally, the silver radiant barrier lining the panels of the interior walls helps deflect heat and brighten the interior.  CLICK HERE for a virtual tour and to take a closer look!
We're happy to install optional fans with three speeds to direct airflow and cool the greenhouse in hot weather. The greenhouse and shed can be heated in winter or cooled in summer as needed.
Chicken or Quail Coop
If you want your chickens to have the luxury of greenhouse living, this is an excellent option. Chickens or quail who are often harassed by predators in a wire enclosure may feel safer in a greenhouse set up like this.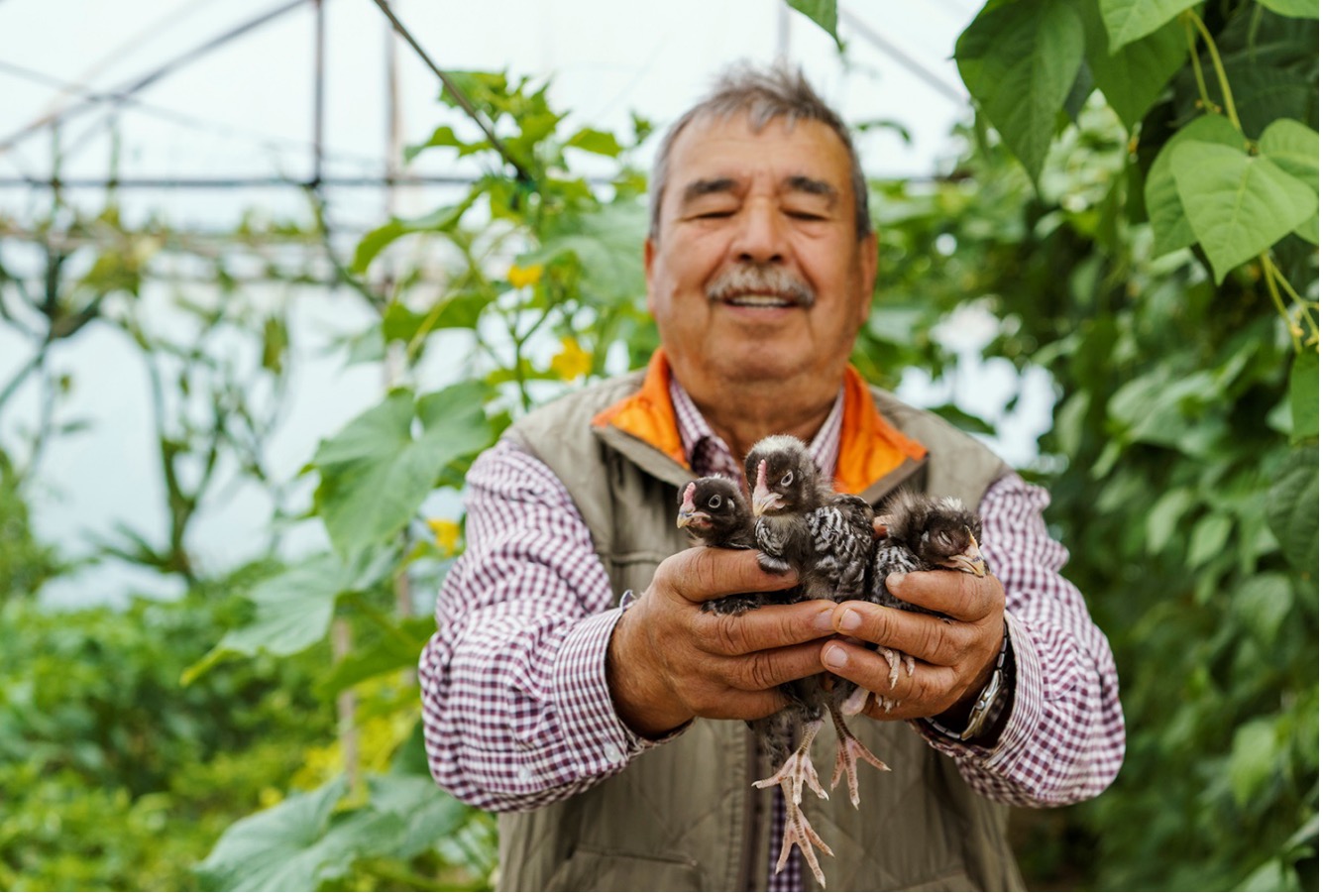 You can even grow plants that chickens would like to eat in the greenhouse portion, enabling them to have plenty of fresh foraging even in the winter or in places they can't forage outdoors. We're happy to attach chicken coop features like a little chicken door with a ramp, nest boxes, roost bars, etc. if you'd like.
Tiny House
If you want a tiny house full of natural light where you can grow vegetables to eat year-round, this may be the perfect option for you. It would be simple to insulate and finish the shed portion so that it feels comfortable and homey. Plenty of windows and lovely double doors make it feel like a comfortable living space.
We're happy to build you a structure large enough to fit a little kitchen area and bathroom. The peaked ceiling is the ideal spot for a loft bed if you are so inclined. A little front porch and pergola is the perfect touch to make this structure feel like your little home.
She Shed or Studio
Even if you don't want to move in completely, this can be a great space for whatever you do want to do. The natural light in the greenhouse portion is unbeatable for hobbies that demand good light, such as painting or photography. The pleasant design and details make this structure a place where you want to relax. Hang a hammock among the plants and feel your stress melt away as you lay back with a good book in the sunshine, even in the heart of winter. Whatever kind of hobby or space for relaxation you'd like to create, this structure is a good option.
Exotic Pet Enclosure
You may be intrigued by the idea of having an exotic pet but keeping an animal or collection of lizards or snakes, servals or jungle cats, sugar gliders, or other exotic animals in your home can be a challenge. This enclosure offers the natural sunlight that so many of these animals crave, along with the temperature and humidity control they need, all in a space that's easy for you to customize and clean.
Whether you want a large animal or a collection of small exotics that need a specific atmosphere, this may be the perfect enclosure. Talk to us about what you may need from an exotic pet enclosure. We may be able to add an extra entry door to ensure animals don't escape, watertight floors and a convenient drain to make cleaning easier or make many other alterations you may need.
A Meticulously Crafted Structure Customized to Your Needs and Delivered to Your Door
The Cottage Greenhouse is delivered to your door fully-assembled and ready to use. You'll get a pre-built structure just as you see in these pictures, NOT a kit. Whether you want your shed/greenhouse combo to match your house or you're looking for something completely unique, we're happy to accommodate your needs.
CLICK HERE to Learn MORE About Our PreBuilt Greenhouses
See Other Styles ~ Get Pricing
Share This Post: