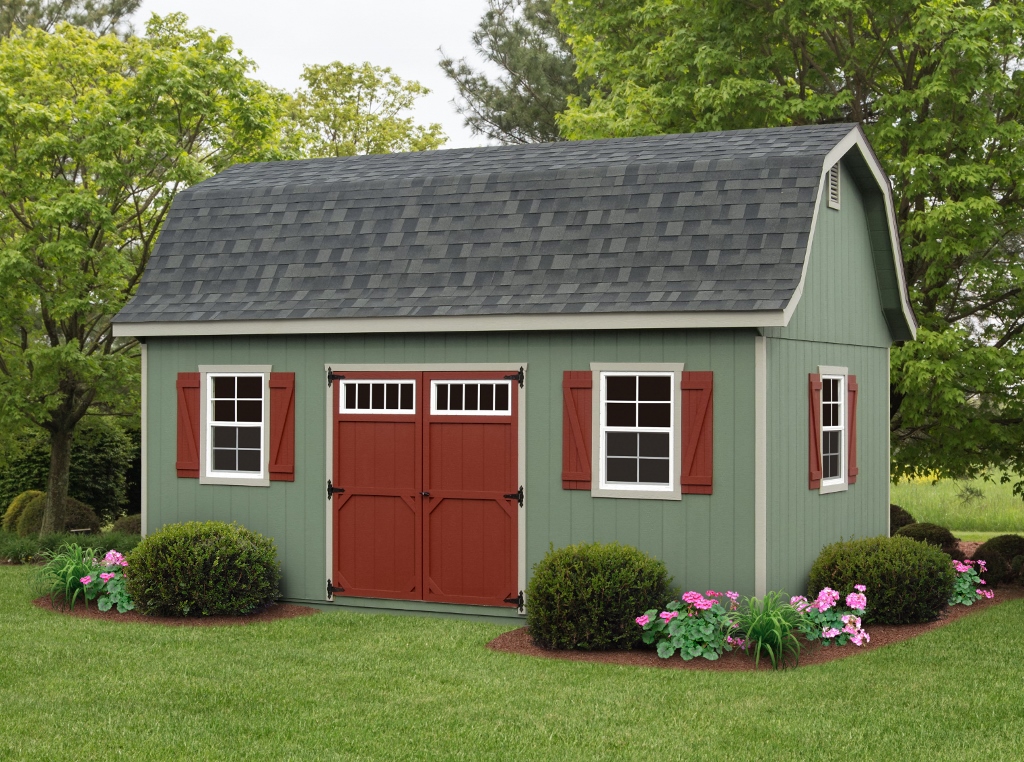 12×20 – Shown with Optional Transom Windows in Doors and Additional Window
Garden Hywall Elite Highlights
8′ High Sidewalls
Barn Style Roof w/ Flared Edges
Larger Overhangs
Decorative Miratec Trim for Corners, Windows and Faceboard
10 Year Warranty
If you love the traditional farm landscape of barns built with the European influence of the Dutch gambrel style roof then our Elite garden hywall Amish built garden sheds are for you. While it may not be as big as a dairy barn it certainly feels like it when you step inside.
The height of the roof is higher than our standard hywall shed, so the overall interior space is massive. This extra 'head' room will be appreciated for not just the extra storage space it provides, but also the extra ventilation and airy atmosphere it imbues.
The world-renowned excellent Amish craftsmanship is evident in the build, and along with the 'Dutch' heritage statement that the garden hywall elite shed's gambrel roof style includes, this shed design offers a legacy design that everyone appreciates.
Make it your own and choose between 2 transom windows in the gable end or in the doors. It comes with all the bonus features of our Elite series in larger window sizes, extended eaves, gable venting. Enjoy selecting the best color combination for your setting from the array of color choices in the fine Miratec trim and siding. Learn more about our small wood garden sheds below.
Garden Hywall Elite Shed Features
4 x 4 Pressure Treated Skids form the foundation
Floor joists are standard 2 x 4's 12″ on center
3/4″ T&G SmartFinish Wood Flooring
Walls are Standard with 2 x 4s 16″ OC
8′ High Walls
½" LP Smartside Siding Finishes the Exterior OR
Optional (Cedar Creek Vinyl Siding w/ ½" Wood Sheating) OR
Optional (Hardi-Plank Lap Siding)
Set of Double Doors with Aluminum Diamond Plate Guard
2- Transome Windows in 1-Gable OR in Doors
Includes 2- 24×36″ Windows w/Screens
Trim around Windows
2- Pair Shutters
Rafters are constructed of 2x4s 16″ OC
3 ½" x 7 ½" LVL Ridge Beam
Hurricane Ties securing Rafters to Wall
7″ Gable Overhang
Arch Gable Vents
4′ Loft on Gable of Building
Roof consists of ½" sheeting
Tar Paper
30 year Architectural Shingles
Standard Double Door widths:

8 wide building = 4′ Wide x 6'4″ High Doors
10 wide building = 5′ Wide x 6'4″ High Doors
12 and 14 wide buildings = 6′ Wide x 6'4″ High Doors
Garden Hywall Elite Shed Prices
Prices shown are meant to be a guide and don't include delivery or custom features. Once you find your size, click "Get A Quote" and fill out the form to submit your ideas to a project manager, who will reach out to you with a full quote!
| | | | |
| --- | --- | --- | --- |
| Sizes | Smartside | Vinyl – LP Board & Batten | LP Lap – Pine B&B |
| 10 x 14 | $8,230 | $10,290 | $11,520 |
| 10 x 16 | $8,905 | $11,130 | $12,465 |
| 10 x 18 | $9,630 | $12,040 | $13,480 |
| 10 x 20 | $10,340 | $12,925 | $14,475 |
| 10 x 22 | $11,065 | $13,830 | $15,490 |
| 10 x 24 | $11,790 | $14,740 | $16,505 |
| 10 x 26 | $12,475 | $15,595 | $17,465 |
| 10 x 28 | $13,225 | $16,530 | $18,515 |
| 10 x 30 | $13,995 | $17,495 | $19,595 |
| 12 x 12 | $8,325 | $10,405 | $11,655 |
| 12 x 14 | $9,090 | $11,365 | $12,725 |
| 12 x 16 | $9,875 | $12,345 | $13,825 |
| 12 x 18 | $10,680 | $13,350 | $14,950 |
| 12 x 20 | $11,460 | $14,325 | $16,045 |
| 12 x 22 | $12,255 | $15,320 | $17,155 |
| 12 x 24 | $13,035 | $16,295 | $18,250 |
| 12 x 26 | $13,820 | $17,275 | $19,350 |
| 12 x 28 | $14,585 | $18,230 | $20,420 |
| 12 x 30 | $15,390 | $19,240 | $21,545 |
| 12 x 32 | $16,190 | $20,240 | $22,665 |
| 12 x 34 | $16,960 | $21,200 | $23,745 |
| 12 x 36 | $17,800 | $22,250 | $24,920 |
| 12 x 40 | $19,330 | $24,165 | $27,060 |
| 14 x 20 | $14,180 | $17,725 | $19,850 |
| 14 x 24 | $16,270 | $20,340 | $22,780 |
| 14 x 28 | $18,145 | $22,680 | $25,405 |
| 14 x 32 | $20,005 | $25,005 | $28,005 |
| 14 x 36 | $21,860 | $27,325 | $30,605 |
| 14 x 40 | $23,735 | $29,670 | $33,230 |
Garden Hywall Elite Shed Options
Paint / Shingle Colors for Garden Hywall Elite Shed
Paint Colors
Vinyl Colors
Aluminum Trim Colors
LP Smartside Stain Colors
Shingle Colors
Ribbed Metal Roofing Colors
Standing Seam Metal Roofing Colors
Get a Quote on a Garden Hywall Elite Shed