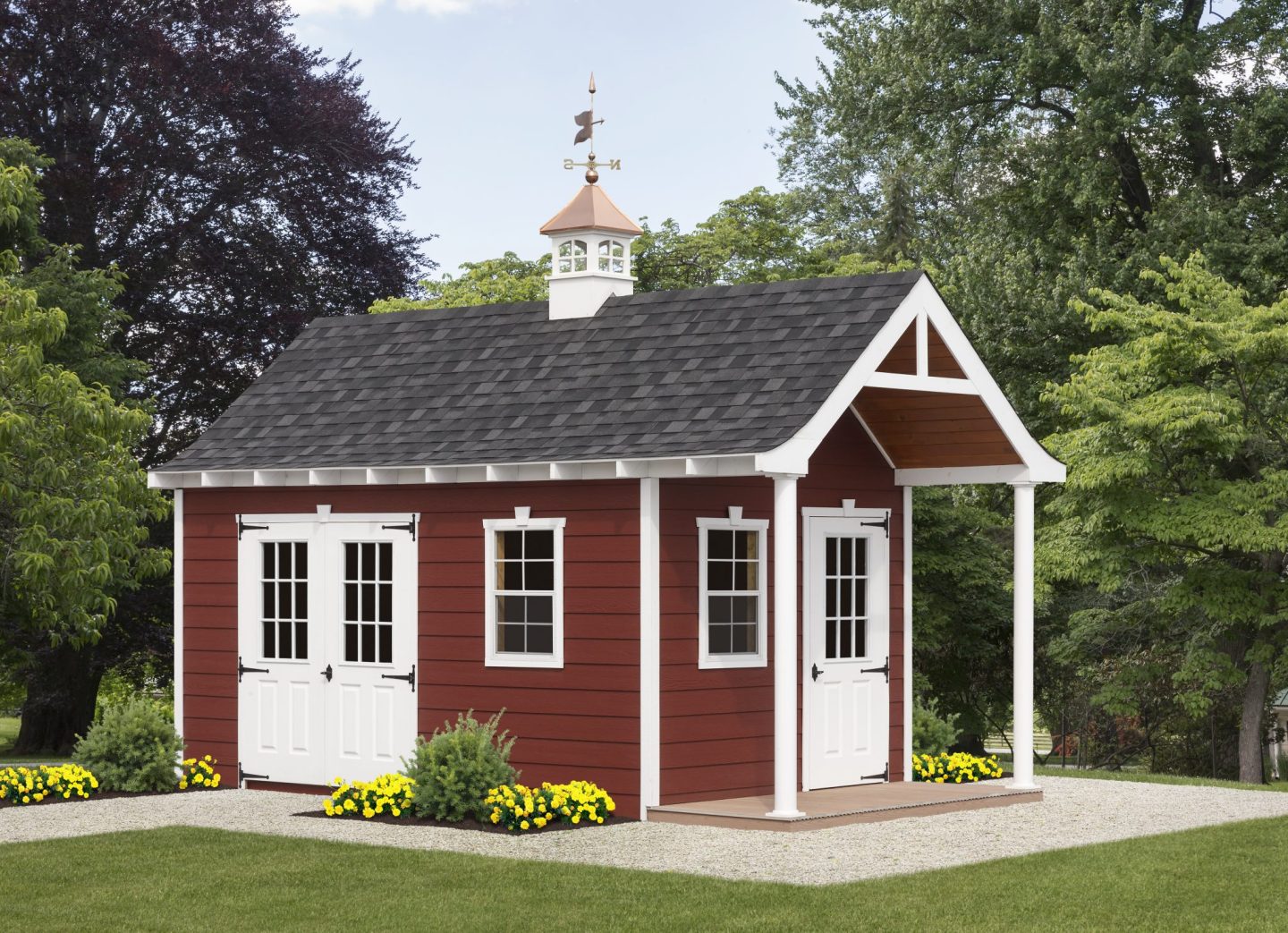 Manor Elite
Stoltzfus Structures Manor Elite outdoor wooden sheds are beautiful centerpieces in any backyard. The design of our Amish storage sheds allows you to store tools while also having a backyard porch.
Manor Elite Highlights
8′ High Sidewalls
10 Pitch Roof
12" Manor Style Open Eaves
4′ Porch w/ Pine T&G Ceiling
Decorative Miratec Trim for Corners, Windows and Faceboard
10 Year Warranty
Manor Elite Shed Features
Our Porch was designed for you to enjoy Life to the Fullest. Whether it is to watch it rain or just to slip away for a bit of Peace and Quiet, Stoltzfus Structures realizes how important it is for you to enjoy life.
---
4 x 4 Pressure Treated Foundation Runners
2 x 4 Floorjoist 12″ OC with 3/4″ T&G SmartFinish Wood Flooring
2 x 4 Wall Studs 16″ OC
8′ Sidewalls
½" LP Smartside Siding
2 – 24″ x 36″ Windows with Screens
Trim Around Each Window
Crown Top on Doors and Windows
1 – Set of Double Fiberglass Doors with 9-Lite Glass
36″ Single Fiberglass Door with 9-Lite Glass
4′ Porch on Front with Vinyl Decking
6″ Round Vinyl Posts with Trim
Stained Pine T&G Ceiling w/ Decorative Brace
2 x 6 Rafters 24″ OC
3 1/2″ x 7 1/2″ LVL Ridge Beam
Hurricane Ties Securing Rafters to Wall
10 Pitch Roof –
12″ Side Overhangs with Manor Style Open Eves
4′ Loft on Gable of Building
1/2″ Wood Sheating on Roof
15 Lbs Tar Paper
30 Yr Architectural Shingles
GARDEN MANOR ELITE SHED PRICES
| | | | |
| --- | --- | --- | --- |
| Sizes | Wood | Vinyl & LP Board & Batten | Hardie Plank & Pine Board & Batten |
| 10 x 14 | 6,845 | 7,805 | 8,900 |
| 10 x 16 | 7,410 | 8,445 | 9,635 |
| 10 x 18 | 8,065 | 9,195 | 10,485 |
| 10 x 20 | 8,690 | 9,905 | 11,295 |
| 10 x 22 | 9,330 | 10,635 | 12,130 |
| 10 x 24 | 9,945 | 11,335 | 12,930 |
| 10 x 26 | 10,570 | 12,050 | 13,740 |
| 10 x 28 | 11,205 | 12,775 | 14,565 |
| 10 x 30 | 11,880 | 13,545 | 15,445 |
| 12 x 12 | 6,830 | 7,785 | 8,880 |
| 12 x 14 | 7,515 | 8,565 | 9,770 |
| 12 x 16 | 8,210 | 9,360 | 10,675 |
| 12 x 18 | 8,890 | 10,135 | 11,555 |
| 12 x 20 | 9,590 | 10,935 | 12,465 |
| 12 x 22 | 10,275 | 11,715 | 13,360 |
| 12 x 24 | 10,955 | 12,490 | 14,240 |
| 12 x 26 | 11,640 | 13,270 | 15,130 |
| 12 x 28 | 12,330 | 14,055 | 16,030 |
| 12 x 30 | 13,020 | 14,845 | 16,925 |
| 12 x 32 | 13,735 | 15,660 | 17,855 |
| 12 x 34 | 14,405 | 16,420 | 18,725 |
| 12 x 36 | 15,125 | 17,245 | 19,665 |
| 12 x 40 | 16,480 | 18,785 | 21,425 |
| 14 x 20 | 11,890 | 13,555 | 15,455 |
| 14 x 24 | 13,700 | 15,620 | 17,810 |
| 14 x 28 | 15,355 | 17,505 | 19,960 |
| 14 x 32 | 16,980 | 19,355 | 22,075 |
| 14 x 36 | 18,610 | 21,215 | 24,195 |
| 14 x 40 | 20,255 | 23,090 | 26,330 |
Manor Elite Shed Options
Paint / Shingle Colors for Manor Elite Shed
Paint Colors
Vinyl Colors
Shingle Colors
Metal Roofing Colors
Get a Quote on a Manor Elite Shed