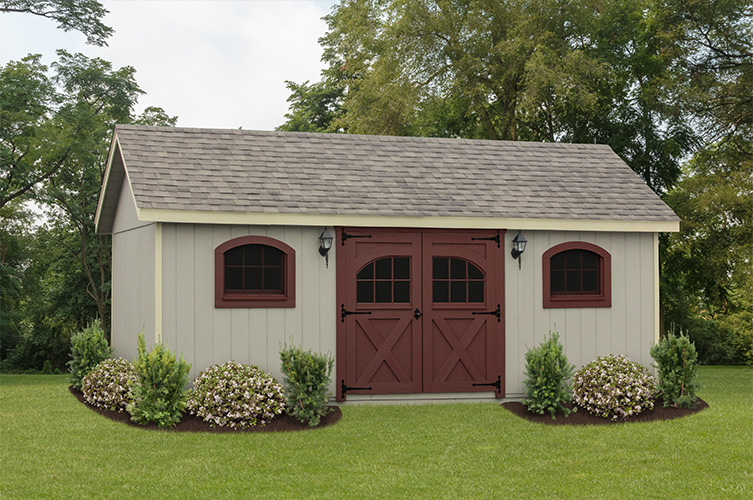 Garden Carriage
Stoltzfus Structures now offers you a new and rustic style looking Carriage shed. It was designed for the people who take pride in their backyard. It give you this amazing Carriage Style look to your Property. You will love your new addition. What a beautiful place to store your toys, garden tools, mower, and lots more and still enjoy the clean beautiful backyard. Call Stoltzfus Structures and talk to one of our Experts to customize your dream Carriage Style Shed. Also check out our Elite Carriage Shed plans for the same great features but with a 10 pitch roof and 8 foot high walls.
Get a Quote
Garden Carriage Highlights
Carriage Doors w/ Glass
Carriage Windows
Decorative Miratec Trim for Corners, Windows and Faceboard
Electric Package
10 Year Warranty
Garden Carriage Shed Features
4×4 Pressure Treated Foundation Runners
2×4 Floor joist with 5/8″ SmartFinish Wood Flooring
2×4 Wall Studs 16″
½" LP Smartside Siding or
(Optional) Cedar Creek Vinyl Siding with ½" Wood Sheating
2 – 28″ x 26″ Arched Windows with Screens
Trim Around Each Window
6′ Double Hinged Door w/ Arched Wood Sash Windows
2×4 Rafters 16″ OC
7″ Gable Overhangs
7 Pitch Roof  (6 Pitch on 14′ Wide)
2 Arch Gable Vents
1/2″ Wood Sheating on Roof
30 Yr Architectural Shingles
Electric Package Including:

70 Amp Breaker Box
2- Outlets
2- Interior Bulb Lights
2- Outside Lights at Doors
2- Switches
Make your garden shed a potting shed!
Our potting sheds come with all the standard features of our garden sheds, Along with additional features to make nurturing tender seedlings or potting flowers easy and convenient!
Potting Sheds Include:
Garden Shed Options
4-24 x 27 Windows – Along back wall
1-69x 30 Sky Light
Workbench
Carriage Garden Shed Examples
GARDEN CARRIAGE SHED PRICING
Prices shown are meant to be a guide and don't include delivery or custom features. Once you find your size, click "Get A Quote" and fill out the form to submit your ideas to a project manager, who will reach out to you with a full quote!
| | | | |
| --- | --- | --- | --- |
| Size | Smartside | Vinyl – LP Board & Batten | LP Lap – Pine B&B |
| 10 X 16 | $6,920 | $8,245 | $8,825 |
| 10 X 18 | $7,410 | $8,850 | $9,475 |
| 10 X 20 | $7,880 | $9,435 | $10,105 |
| 10 X 22 | $8,360 | $10,030 | $10,750 |
| 10 X 24 | $8,835 | $10,620 | $11,390 |
| 10 x 26 | $9,300 | $11,190 | $12,010 |
| 10 x 28 | $9,790 | $11,795 | $12,665 |
| 10 x 30 | $10,300 | $12,425 | $13,345 |
| 12 X 16 | $7,510 | $8,975 | $9,615 |
| 12 X 18 | $8,035 | $9,630 | $10,320 |
| 12 X 20 | $8,560 | $10,275 | $11,015 |
| 12 X 22 | $9,085 | $10,925 | $11,720 |
| 12 X 24 | $9,600 | $11,560 | $12,410 |
| 12 X 26 | $10,120 | $12,205 | $13,105 |
| 12 X 28 | $10,635 | $12,840 | $13,795 |
| 12 x 30 | $11,160 | $13,490 | $14,500 |
| 12 X 32 | $11,695 | $14,150 | $15,215 |
| 12 X 34 | $12,210 | $14,785 | $15,905 |
| 12 X 36 | $12,760 | $15,470 | $16,645 |
| 12 X 40 | $13,780 | $16,725 | $18,005 |
| 14 X 20 | $10,305 | $12,430 | $13,355 |
| 14 X 24 | $11,680 | $14,135 | $15,200 |
| 14 X 28 | $12,925 | $15,675 | $16,865 |
| 14 X 32 | $14,165 | $17,205 | $18,520 |
| 14 X 36 | $15,390 | $18,720 | $20,160 |
| 14 X 40 | $16,635 | $20,260 | $21,830 |
Garden Carriage Shed Options
Paint / Shingle Colors for Garden Carriage Shed
Paint Colors
Vinyl Colors
Aluminum Trim Colors
LP Smartside Stain Colors
Shingle Colors
Ribbed Metal Roofing Colors
Standing Seam Metal Roofing Colors
Get a Quote on a Garden Carriage Shed