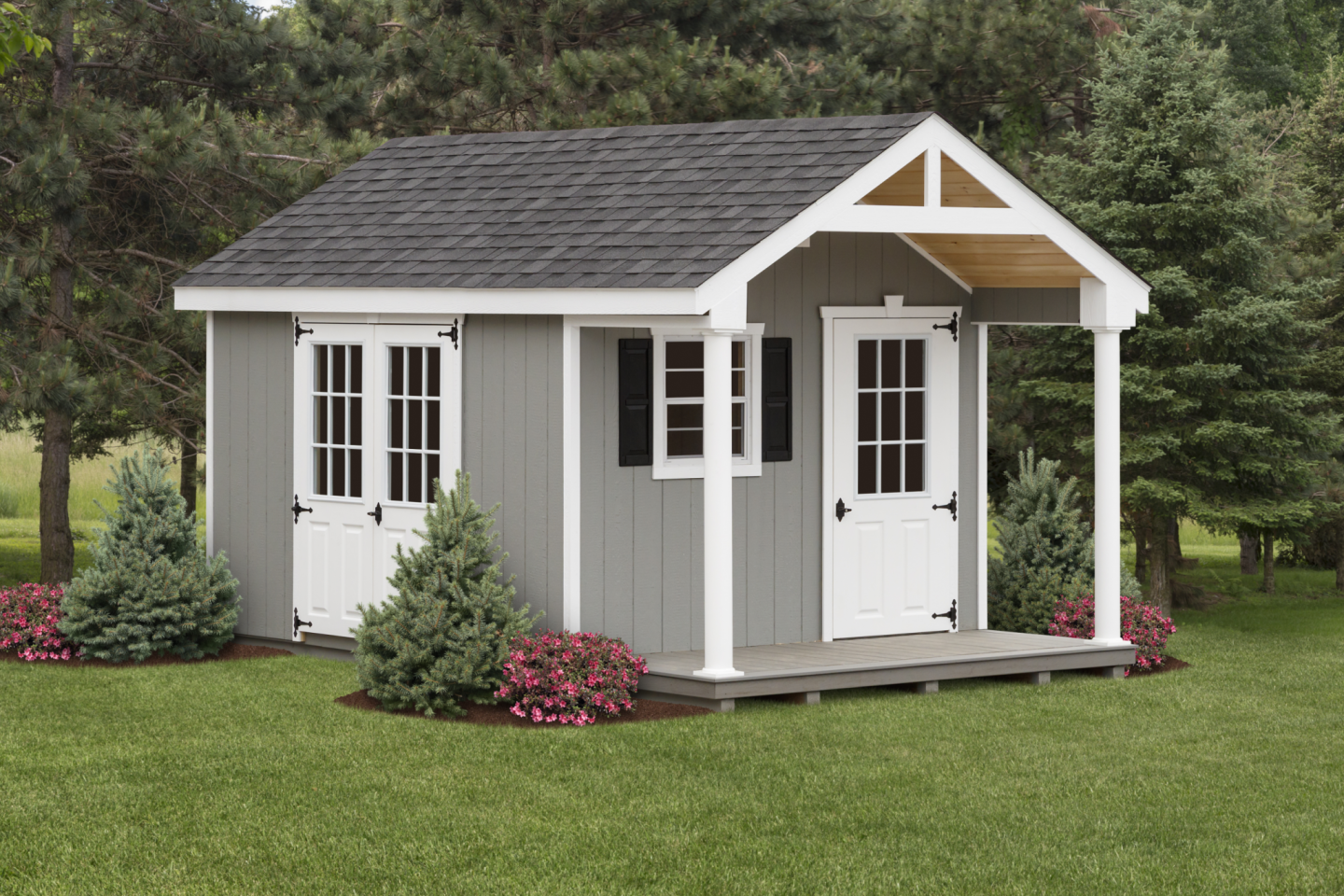 10×16 – Shown with Optional Shutters
Garden Manor
The Manor Garden Shed is a very affordable and pretty structure that includes a front porch. It allows space for storage of your lawn equipment plus you can sit on the front porch and relax for the afternoon. Stoltzfus Structures provides a well-built Manor garden shed that adds beauty and functionality to your property. With our professional team of Amish carpenters and experienced delivery staff, you know you will enjoy the product and the delivery experience, all at a great price. So give us a call and let's get busy.
Get a Quote
Garden Manor Highlights
Steeper Pitch Roof
Larger Overhangs
4′ Porch w/ T&G Ceiling
Decorative Miratec Trim for Corners, Windows and Faceboard
10 Year Warranty
Garden Manor Features
4 X 4 Pressure Treated Foundation Runners
2 X 4 Wall Studs 16" OC
2 X 4 Floor joist 16'' OC w/ 

5/8" Smart Finish Wood Flooring

2 Arch Gable Vents
4′ Porch on Front with Vinyl Decking
2 – 24'' x 27'' Windows with Screens
1/2" Painted Smartside Wood Siding or Cedar Creek Vinyl Siding with ½'' Wood Sheating
Trim Around Each Window
Crown Top on Doors and Windows
Set of Double Fiberglass Doors with 9-Lite Glass
36" Single Fiberglass Door with 9-Lite Glass
Choice of 6" Round Vinyl Posts with Trim or 6″ Square Posts
1 X 6 Stained Pine T&G Ceiling w/ Decorative Brace
2 X 4 Rafters 24" OC
1/2" Wood Sheating on Roof
15 Lbs Tar Paper
30 Yr Architectural Shingles
Garden Manor Shed Pricing
Prices shown are meant to be a guide and don't include delivery or custom features. Once you find your size, click "Get A Quote" and fill out the form to submit your ideas to a project manager, who will reach out to you with a full quote!
| | | | |
| --- | --- | --- | --- |
| Size | Smartside | Vinyl – LP Board & Batten | LP Lap – Pine B&B |
| 8 X 12 | $5,390 | $6,285 | $6,675 |
| 8 X 14 | $5,695 | $6,665 | $7,085 |
| 8 X 16 | $6,000 | $7,040 | $7,490 |
| 10 X 10 | $6,025 | $7,020 | $7,455 |
| 10 X 12 | $6,505 | $7,615 | $8,100 |
| 10 X 14 | $6,980 | $8,205 | $8,735 |
| 10 X 16 | $7,420 | $8,745 | $9,325 |
| 10 X 18 | $7,910 | $9,350 | $9,975 |
| 10 X 20 | $8,380 | $9,935 | $10,605 |
| 10 X 22 | $8,860 | $10,530 | $11,250 |
| 10 X 24 | $9,335 | $11,120 | $11,890 |
| 10 x 26 | $9,800 | $11,690 | $12,510 |
| 10 x 28 | $10,290 | $12,295 | $13,165 |
| 10 x 30 | $10,800 | $12,925 | $13,845 |
| 12 X 12 | $7,335 | $8,560 | $9,090 |
| 12 X 14 | $7,845 | $9,185 | $9,770 |
| 12 X 16 | $8,370 | $9,835 | $10,475 |
| 12 X 18 | $8,895 | $10,490 | $11,180 |
| 12 X 20 | $9,420 | $11,135 | $11,875 |
| 12 X 22 | $9,945 | $11,785 | $12,580 |
| 12 X 24 | $10,460 | $12,420 | $13,270 |
| 12 X 26 | $10,980 | $13,065 | $13,965 |
| 12 X 28 | $11,495 | $13,700 | $14,655 |
| 12 x 30 | $12,020 | $14,350 | $15,360 |
| 12 X 32 | $12,555 | $15,010 | $16,075 |
| 12 X 34 | $13,070 | $15,645 | $16,765 |
| 12 X 36 | $13,620 | $16,330 | $17,505 |
| 12 X 40 | $14,640 | $17,585 | $18,865 |
| 14 X 20 | $11,525 | $13,650 | $14,575 |
| 14 X 24 | $12,900 | $15,355 | $16,420 |
| 14 X 28 | $14,145 | $16,895 | $18,085 |
| 14 X 32 | $15,385 | $18,425 | $19,740 |
| 14 X 36 | $16,610 | $19,940 | $21,380 |
| 14 X 40 | $17,855 | $21,480 | $23,050 |
Garden Manor Shed Options
Paint / Shingle Colors for Garden Carriage Shed
Paint Colors
Vinyl Colors
Aluminum Trim Colors
LP Smartside Stain Colors
Shingle Colors
Ribbed Metal Roofing Colors
Standing Seam Metal Roofing Colors
Get a Quote on a Garden Manor Shed