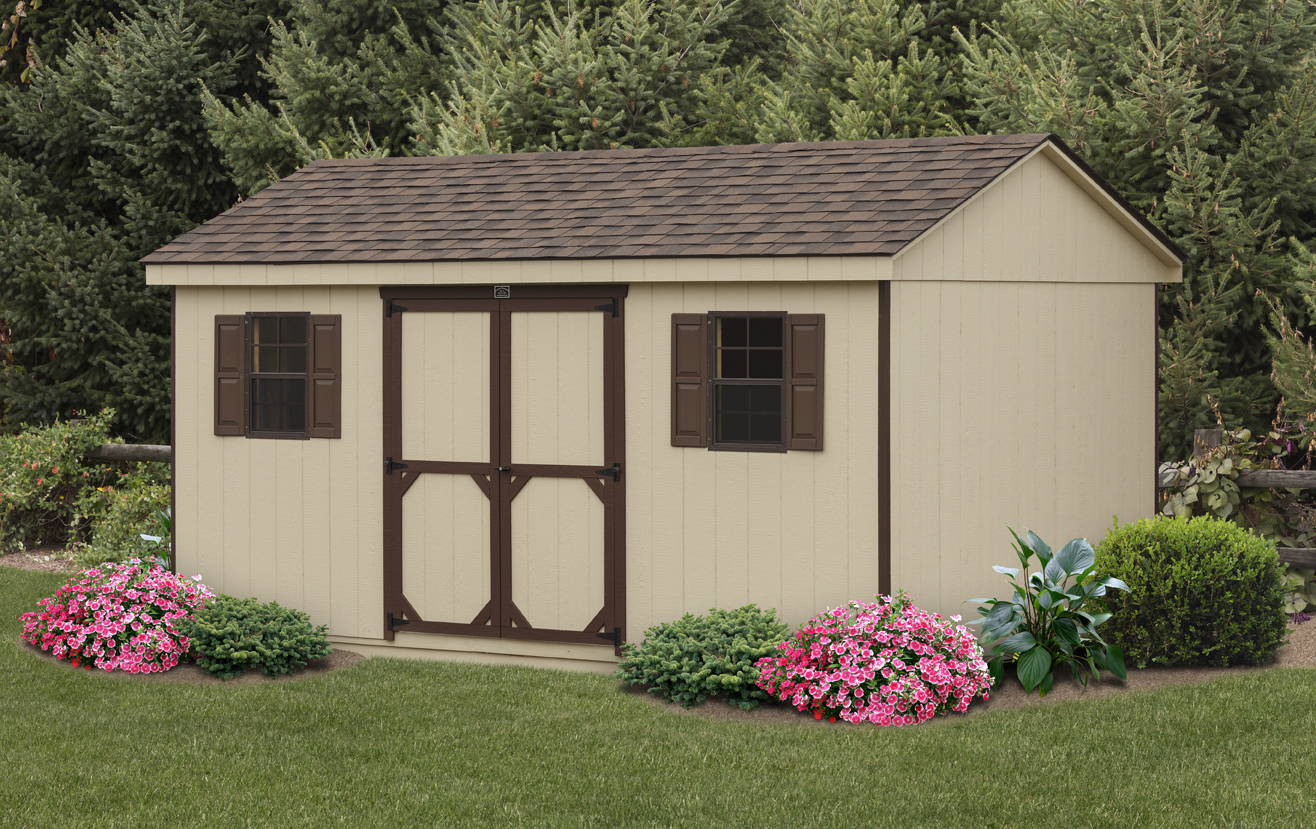 10×16 a-frame with optional shutters
A-Frame
Our A-Frame small backyard sheds offer versatile storage space for lawn care equipment, tools or sports equipment. This backyard shed building can also be used a convenient one-car garage or a modest handyman's garden workshop!
A-Frame Shed Highlights
Most Popular Shed Style
Provides most storage space for least cost
Choosing an A-Frame Shed
Caring for your home and yard takes a lot of tools and equipment. Where do you store all those items? Do you take up your garage space and park your cars outside? While many people do this, it doesn't seem to be the best or most practical solution. As you look to add to your storage space you want to something that both compliments your home and gives you the space that you need. The ideal solution is an A-frame, backyard shed workshop to give you the space you need.
Whether you are looking to store lawn care equipment, bicycles, your tools, or all of the above, a-frame workshop sheds are the way to go. With versatility and practicality, a-frame storage sheds are an attractive addition to any home. You just need to select an a-frame shed design that is right for you. You will be surprised to see the number of a frame shed plans that can be customized to meet your needs.
A-frame garden sheds and a-frame storage sheds will only work for you if they are large enough to be useful without overtaking your yard. If extra space is what you are really looking for but don't have the space to expand the size of the backyard shed, consider a new a-frame 2 story shed. You can now build upward, allowing you to utilize your space more effectively. What a great way to store your lawn care equipment on the first floor and all of your extra boxes and totes on the second floor.
If style and appearance is a key factor for you, you will want to look at the elite a-frame sheds. With details not included in the basic models, you can select from a-frame sheds with windows, customize your paint and shingle colors, and select from many options of doors, floors, roof, and ramps. You can build a backyard shed workshop as practical or as unique as your style allows.
While building a backyard shed may be a big decision, the options available make it a breeze. The finished product will make you glad you made the choice to add an a-frame shed. All of the extra space will be just what you are looking for.
A-Frame Shed Features
4 X 4 Pressure Treated Skids form the foundation
Floor joists are standard 2×4's 16″ on center
5/8″ SmartFinish Wood Flooring
Walls are Standard with 2 X 4s 16″ OC
Standard Wall Height is 6'7″ on 8′ & 10′ Wide Buildings
And 7′ High Walls on 12′ & 14′ Wide Buildings
½" LP Smartside Siding Finishes the Exterior OR
Optional (Cedar Creek Vinyl Siding w/ ½" Wood Sheating) OR
Optional (Hardi-Plank Lap Siding)
Set of Double Doors with Aluminum Diamond Plate Guard
Includes 2- 18″ X 27″ Windows
Rafters are constructed of 2 X 4s 16″ OC
Roof consists of ½" sheeting
Tar Paper
30 year Architectural Shingles
Standard Double Door widths:

8 wide building = 4′ Wide x 6′ High Doors
10 wide building = 5′ Wide x 6′ High Doors
12 and 14 wide buildings = 6′ Wide x 6'4" High Doors
A-Frame Shed Prices
| | | | |
| --- | --- | --- | --- |
| Size | Wood | Vinyl & Board & Batten | Hardie Plank |
| 6 x 8 | $1,545 | $2,010 | $2,320 |
| 6 x 10 | $1,720 | $2,240 | $2,580 |
| 8 x 8 | $1,740 | $2,260 | $2,610 |
| 8 x 10 | $1,900 | $2,470 | $2,850 |
| 8 x 12 | $2,075 | $2,700 | $3,110 |
| 8 x 14 | $2,245 | $2,920 | $3,370 |
| 8 x 16 | $2,415 | $3,140 | $3,620 |
| 10 x 10 | $2,315 | $3,010 | $3,470 |
| 10 x 12 | $2,575 | $3,350 | $3,860 |
| 10 x 14 | $2,840 | $3,690 | $4,260 |
| 10 x 16 | $3,075 | $4,000 | $4,610 |
| 10 x 18 | $3,345 | $4,350 | $5,020 |
| 10 x 20 | $3,605 | $4,690 | $5,410 |
| 10 x 22 | $3,870 | $5,030 | $5,810 |
| 10 x 24 | $4,125 | $5,360 | $6,190 |
| 10 x 26 | $4,385 | $5,700 | $6,580 |
| 10 x 28 | $4,650 | $6,050 | $6,980 |
| 10 x 30 | $4,930 | $6,410 | $7,400 |
| 12 x 12 | $2,835 | $3,690 | $4,250 |
| 12 x 14 | $3,120 | $4,060 | $4,680 |
| 12 x 16 | $3,405 | $4,430 | $5,110 |
| 12 x 18 | $3,690 | $4,800 | $5,540 |
| 12 x 20 | $3,975 | $5,170 | $5,960 |
| 12 x 22 | $4,265 | $5,540 | $6,400 |
| 12 x 24 | $4,545 | $5,910 | $6,820 |
| 12 x 26 | $4,830 | $6,280 | $7,250 |
| 12 x 28 | $5,115 | $6,650 | $7,670 |
| 12 x 30 | $5,400 | $7,020 | $8,100 |
| 12 x 32 | $5,695 | $7,400 | $8,540 |
| 12 x 34 | $5,975 | $7,770 | $8,960 |
| 12 x 36 | $6,275 | $8,160 | $9,410 |
| 12 x 40 | $6,835 | $8,890 | $10,250 |
| 14 x 20 | $4,935 | $6,420 | $7,400 |
| 14 x 24 | $5,685 | $7,390 | $8,530 |
| 14 x 28 | $6,370 | $8,280 | $9,560 |
| 14 x 32 | $7,045 | $9,160 | $10,570 |
| 14 x 36 | $7,720 | $10,040 | $11,580 |
| 14 x 40 | $8,400 | $10,920 | $12,600 |
A-Frame Shed Options
Colors
Paint Colors
Vinyl Colors
Shingle Colors
Metal Roofing Colors
Get a Quote on an A-Frame Shed