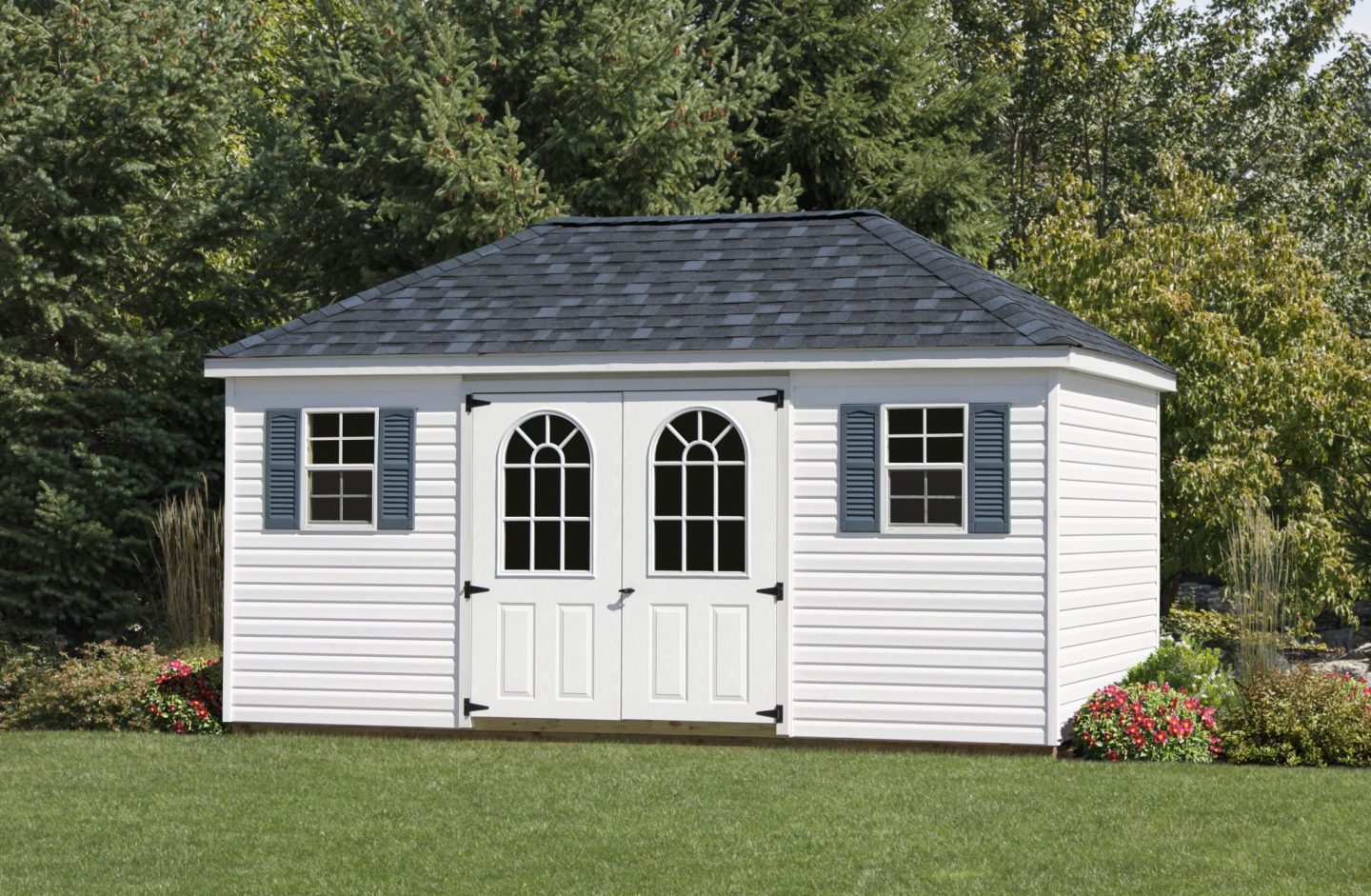 10×16 – Shown with Optional Shutters and Fiberglass Doors w/ 11-Lite Glass
Step back in time with the hip-roof storage shed. While the hip roof design dates back as far as Egyptian and Roman times, its use in America became popular during the late 18th Century during Georgian times and utilized heavily on stately homes.
The 4-sided hip roof design is very strong because the sides of the roof provide structural bracing making it resistant to damage from high winds. The hip roof also adds height and thus presence to any building, that is accented with a stunning cupola and ball atop. A garden hip-roof storage shed complements historic properties with its nod to colonial times but it also offers a practical purpose easily shedding snow and rain with its steeper pitch.
Choose a square footprint to fit easily into smaller spaces, and don't forget Stoltzfus Structures' experienced delivery crew is able to maneuver backyard storage sheds into the tightest of spaces with ease utilizing our special 'mule'.
Hip Roof Shed Features
4 X 4 Pressure Treated Skid form the foundation
Floor joists are standard 2 X 4's 16" on center
5/8" SmartFinish Wood Flooring
Walls are Standard with 2 X 4s 16" OC
Standard Wall Height is 6'7″ on 8′ & 10′ Wide Buildings
And 7′ High Walls on 12′ & 14′ Wide Buildings
½" LP Smartside Siding Finishes the Exterior OR
Optional (Cedar Creek Vinyl Siding w/ ½" Wood Sheating) OR
Optional (Hardi-Plank Lap Siding)
Set of Double Doors with Aluminum Diamond Plate Guard
Includes 2- 18 X 27' Window
Rafters are constructed of 2 X 4s 16' OC
Hip Roof Design Roof
Roof consists of ½" sheeting
Tar Paper
30 year Architectural Shingles
Standard Double Door widths:

8 wide building = 4' Wide x 6' High Doors
10 wide building = 5' Wide x 6' High Doors
12 and 14 wide buildings = 6' Wide x 6' 4″High Doors
Hip Roof Shed Pricing
Prices shown are meant to be a guide and don't include delivery or custom features. Once you find your size, click "Get A Quote" and fill out the form to submit your ideas to a project manager, who will reach out to you with a full quote!
| | | | |
| --- | --- | --- | --- |
| Size | Smartside | Vinyl – LP Board & Batten | LP Lap – Pine B&B |
| 6 X 8 | $3,015 | $3,685 | $4,125 |
| 6 X 10 | $3,270 | $4,015 | $4,505 |
| 8 X 8 | $3,295 | $4,045 | $4,545 |
| 8 X 10 | $3,525 | $4,345 | $4,895 |
| 8 X 12 | $3,780 | $4,675 | $5,275 |
| 8 X 14 | $4,020 | $4,985 | $5,635 |
| 8 X 16 | $4,260 | $5,295 | $5,995 |
| 10 X 10 | $4,120 | $5,115 | $5,785 |
| 10 X 12 | $4,500 | $5,615 | $6,355 |
| 10 X 14 | $4,875 | $6,095 | $6,915 |
| 10 X 16 | $5,220 | $6,545 | $7,435 |
| 10 X 18 | $5,605 | $7,045 | $8,015 |
| 10 X 20 | $5,975 | $7,525 | $8,565 |
| 10 X 22 | $6,355 | $8,025 | $9,135 |
| 10 X 24 | $6,730 | $8,515 | $9,695 |
| 10 x 26 | $7,095 | $8,985 | $10,245 |
| 10 x 28 | $7,480 | $9,485 | $10,825 |
| 10 x 30 | $7,880 | $10,005 | $11,425 |
| 12 X 12 | $4,870 | $6,095 | $6,905 |
| 12 X 14 | $5,270 | $6,615 | $7,505 |
| 12 X 16 | $5,685 | $7,155 | $8,135 |
| 12 X 18 | $6,100 | $7,695 | $8,755 |
| 12 X 20 | $6,510 | $8,225 | $9,365 |
| 12 X 22 | $6,925 | $8,765 | $9,995 |
| 12 X 24 | $7,330 | $9,295 | $10,595 |
| 12 X 26 | $7,740 | $9,825 | $11,215 |
| 12 X 28 | $8,145 | $10,355 | $11,825 |
| 12 x 30 | $8,560 | $10,885 | $12,445 |
| 12 X 32 | $8,980 | $11,435 | $13,075 |
| 12 X 34 | $9,385 | $11,965 | $13,685 |
| 12 X 36 | $9,820 | $12,525 | $14,335 |
| 12 X 40 | $10,620 | $13,565 | $15,535 |
| 14 X 20 | $7,885 | $10,015 | $11,435 |
| 14 X 24 | $8,970 | $11,425 | $13,055 |
| 14 X 28 | $9,950 | $12,695 | $14,525 |
| 14 X 32 | $10,925 | $13,965 | $15,995 |
| 14 X 36 | $11,890 | $15,215 | $17,435 |
| 14 X 40 | $12,870 | $16,495 | $18,905 |
Hip Roof Options
Colors
Paint Colors
Vinyl Colors
Shingle Colors
Metal Roofing Colors
Get a Quote on a Hip Roof Shed