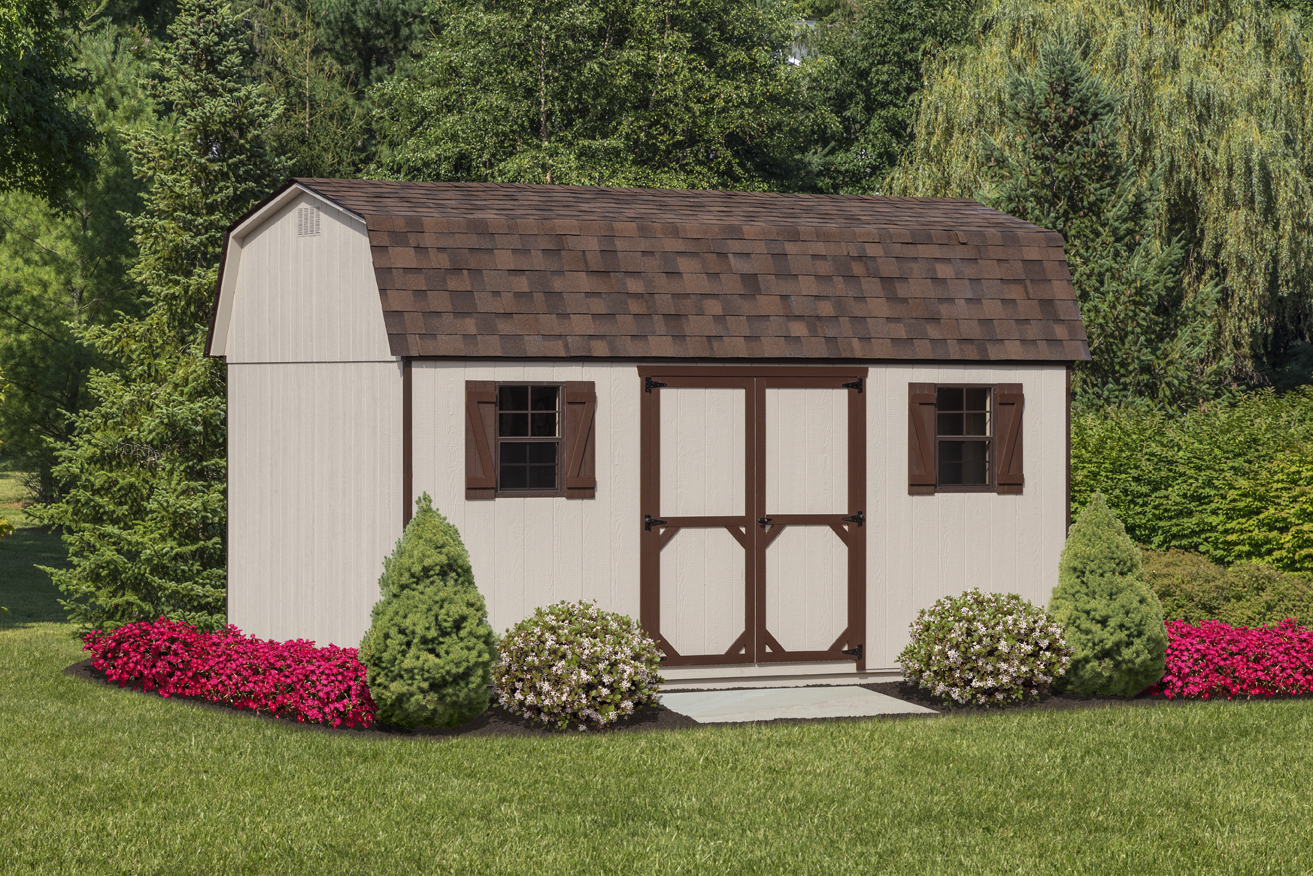 10×16 – Shown with Optional Shutters
Hywall
Maximum overhead storage and attractive design make the Hywall Barn Shed one of our most popular offerings! Complete with double doors and 2 standard windows our Hywall Amish wooden sheds make an attractive addition to any yard or garden setting. Add optional shutters and window boxes to customize this shed to your liking.
Get a Quote
Hywall Highlights
Barn Style Roof
Provides More Upper Roof Space 
Hywall Shed Features
4 X 4 Pressure Treated Skid form the foundation
Floor joists are standard 2 X 4's 16″ on center
5/8″ SmartFinish Wood Flooring
Walls are Standard with 2 X 4s 16″ OC
6'7″ High Walls
½" LP Smartside Siding Finishes the Exterior OR
Optional (Cedar Creek Vinyl Siding w/ ½" Wood Sheating) OR
Optional (Hardi-Plank Lap Siding)
Set of Double Doors with Aluminum Diamond Plate Guard
Includes 2 – 18″ X 27″ Windows
Rafters are constructed of 2 X 4s 16″ OC
Roof consists of ½" sheeting
Tar Paper
30 year Architectural Shingles
Standard Double Door widths:

8 wide building = 4′ Wide x 6′ High Doors
10 wide building = 5′ Wide x 6′ High Doors
12 and 14 wide buildings = 6′ Wide x 6' High Doors
Hywall Shed Price
Prices shown are meant to be a guide and don't include delivery or custom features. Once you find your size, click "Get A Quote" and fill out the form to submit your ideas to a project manager, who will reach out to you with a full quote!
| | | | |
| --- | --- | --- | --- |
| Size | Smartside | Vinyl – LP Board & Batten | LP Lap – Pine B&B |
| 6 X 8 | $2,400 | $3,120 | $3,600 |
| 6 x 10 | $2,650 | $3,450 | $3,980 |
| 8 X 8 | $2,680 | $3,480 | $4,020 |
| 8 X 10 | $2,910 | $3,780 | $4,370 |
| 8 X 12 | $3,160 | $4,110 | $4,740 |
| 8 X 14 | $3,400 | $4,420 | $5,100 |
| 8 X 16 | $3,640 | $4,730 | $5,460 |
| 10 X 10 | $3,550 | $4,620 | $5,330 |
| 10 X 12 | $3,930 | $5,110 | $5,900 |
| 10 X 14 | $4,300 | $5,590 | $6,450 |
| 10 X 16 | $4,650 | $6,050 | $6,980 |
| 10 X 18 | $5,030 | $6,540 | $7,550 |
| 10 X 20 | $5,400 | $7,020 | $8,100 |
| 10 X 22 | $5,780 | $7,510 | $8,670 |
| 10 X 24 | $6,160 | $8,010 | $9,240 |
| 10 x 26 | $6,520 | $8,480 | $9,780 |
| 10 x 28 | $6,910 | $8,980 | $10,370 |
| 10 x 30 | $7,310 | $9,500 | $10,970 |
| 12 X 12 | $4,350 | $5,660 | $6,530 |
| 12 X 14 | $4,750 | $6,180 | $7,130 |
| 12 X 16 | $5,160 | $6,710 | $7,740 |
| 12 X 18 | $5,580 | $7,250 | $8,370 |
| 12 X 20 | $5,990 | $7,790 | $8,990 |
| 12 X 22 | $6,400 | $8,320 | $9,600 |
| 12 X 24 | $6,810 | $8,850 | $10,220 |
| 12 X 26 | $7,220 | $9,390 | $10,830 |
| 12 X 28 | $7,620 | $9,910 | $11,430 |
| 12 x 30 | $8,040 | $10,450 | $12,060 |
| 12 X 32 | $8,460 | $11,000 | $12,690 |
| 12 X 34 | $8,860 | $11,520 | $13,290 |
| 12 X 36 | $9,300 | $12,090 | $13,950 |
| 12 X 40 | $10,100 | $13,130 | $15,150 |
| 14 X 20 | $7,410 | $9,630 | $11,120 |
| 14 X 24 | $8,500 | $11,050 | $12,750 |
| 14 X 28 | $9,480 | $12,320 | $14,220 |
| 14 X 32 | $10,450 | $13,590 | $15,680 |
| 14 X 36 | $11,420 | $14,850 | $17,130 |
| 14 X 40 | $12,400 | $16,120 | $18,600 |
Hywall Shed Options
Colors
Paint Colors
Vinyl Colors
Shingle Colors
Metal Roofing Colors
Get a Quote on a Hywall Shed